Homeowners Phil and Rocio spent some time moving about the US, landing in the bay area for about a decade, but always with a plan to return to their farm in Oregon. Recently retired, they headed back to Oregon, returning to the eight acres they had rented out for 15 years, planning to build a "small but perfect home". The couple had always been enthralled with the beauty of wood which lead them to timber framing with our sister company New Energy Works and an abundance of our reclaimed and sustainable wood. Phil kindly gave us some insight into the wood in their NEW Jewel of a home: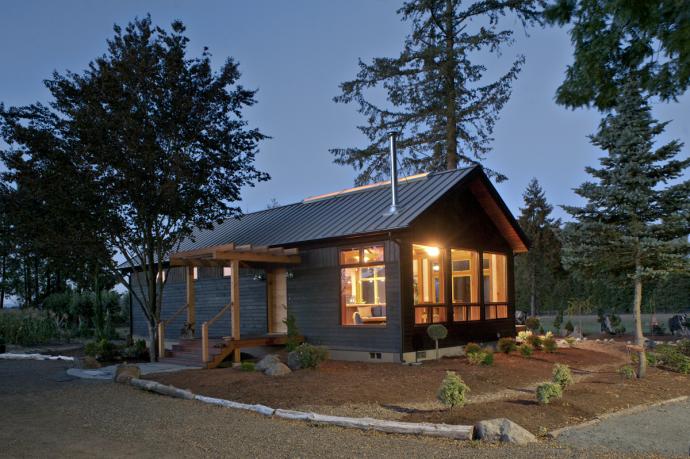 How did this all begin for you and Rocio?
Well, we knew we wanted a modest but highly-detailed home to spend our retirement in. We'd been renting out the land for 15 years…it was a major task to re-conquer the wilderness and visualize a new home on-site. Jonathan and David [of New Energy Works/Pioneer Millworks] visited early on and saw the raw material we had to work with. They were able to see the possibilities with us.
What sparked the desire to use reclaimed wood in your home?
A visit to the Pioneer Millworks Portland showroom. We are simply enthralled with the beauty of old wood, new wood, reclaimed wood. We were looking for some initial design concepts and found it was an eye-opening and alluring experience. We both love wood in general but seeing the various types and uses on display in the showroom was compelling and inspired us to think of uses we hadn't previously considered.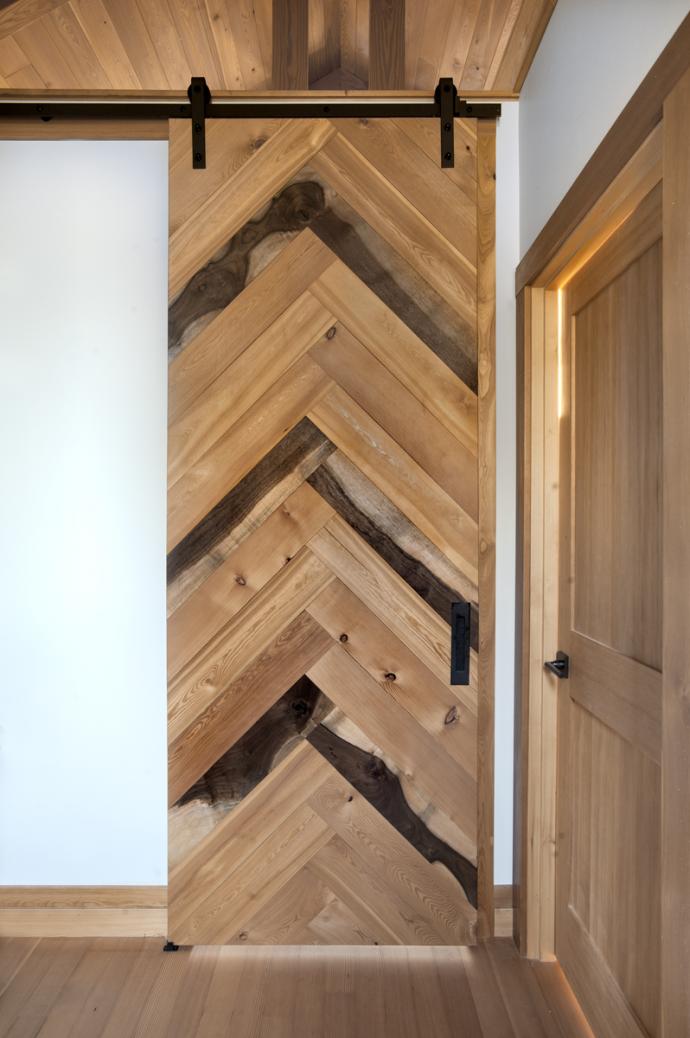 What is your favorite reclaimed wood? Where does it appear in your home?
Our floors are the main reclaimed product in the house. They're vertical grain [Douglas] fir…from the 100+ year old Centennial Mills in Portland. Stunningly beautiful stuff.
On the other hand, our kitchen cabinets are made from a 22' black walnut log I had laying about and wondering what I was going to do with it after felling the tree. During the first visit to the property I posed the question to Jonathan and David, could it be used? The answer is now a set of gorgeous, unique cabinets. I'm not sure that counts as 'reclaimed'…but we love them.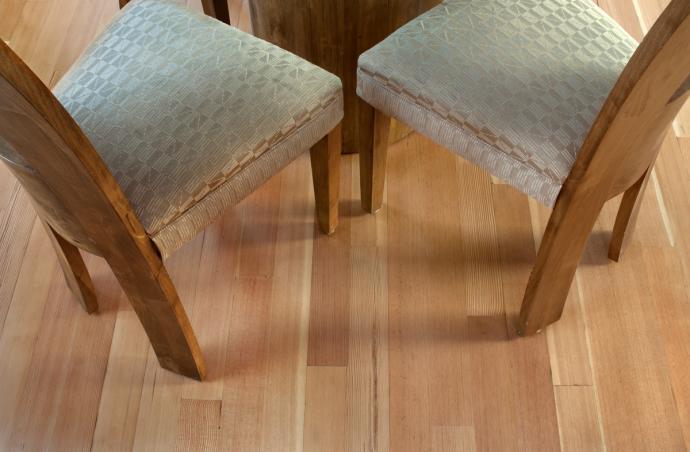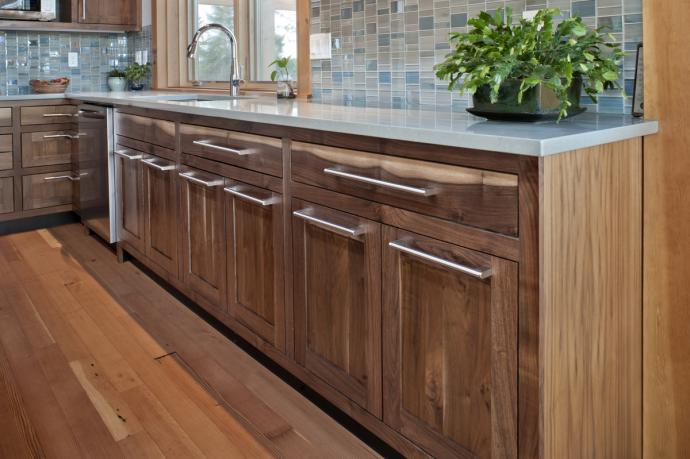 How did you come to use the Larch with Shou Sugi Ban finish on the exterior of your home?
Jonathan mentioned Shou Sugi Ban as an option very early on; Rocio was thrilled with the idea. She loves the uniqueness. The fact that it isn't plastic was a good selling point too.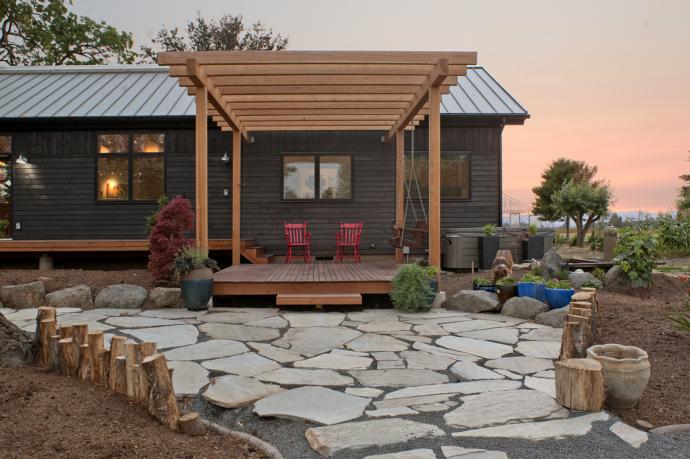 What do you like most about any of the wood in your home?
Sheesh…I could go on and on and on here…but I'll condense and focus on the sustainable larch from Canada. It is our interior ceiling, outside soffits, pergola and decking. When we were oiling the ceiling material we both kept 'oohing' and 'aahing' with almost every piece we pulled off the pile. Furniture quality in almost every piece. THEN, we saw the Larch (there's that Larch again!) pergola and front entry beams unreal! Material that simply can't be found or sourced. THEN we got the Larch decking material…triple wow!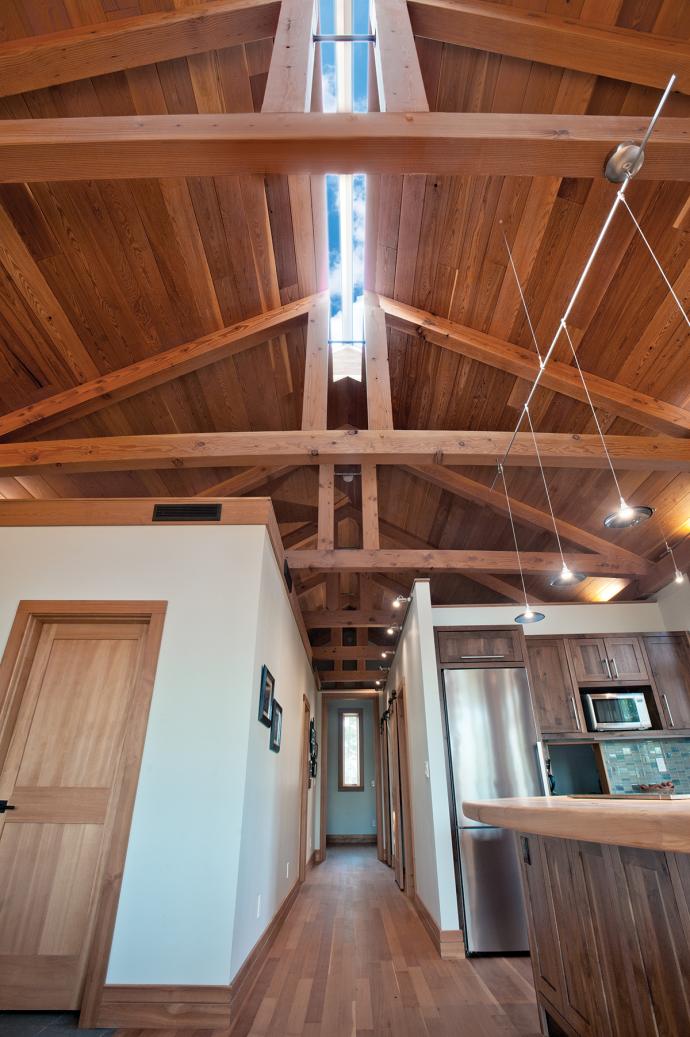 Your entry door is crafted from reclaimed oak and is very modern in design. How did you arrive at that design/material?
Jonathan suggested creating a feature entry door. We (quite strategically and collaboratively) said 'ok'. Needless to say, when they unwrapped the door here on-site we were ecstatic! We're really into the reclaimed oak's contrast with our siding and the original marks, like the occasional staining from old nails, that we spot here and there on both sides of the door.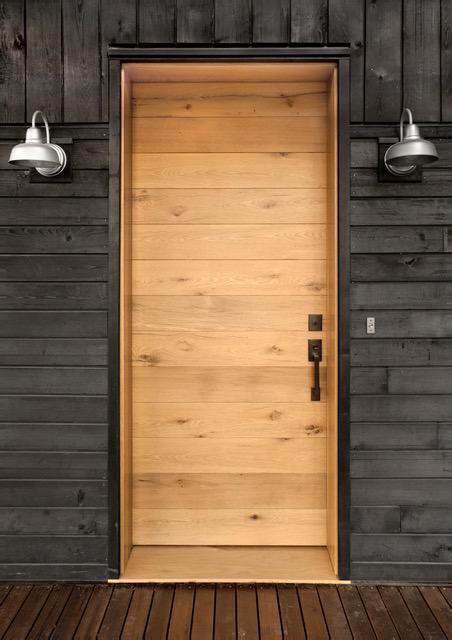 Other favorite aspects of your home?
Hmmmm…so many things.  The various woods used for timber frame/floors/ceilings/pergolas/decks/doors top the list. But the custom cabinets made out of a black walnut tree from our site, and maybe, especially, the daylight via the awesome windows and ridge skylight…the way the house lights up at night via strategic lighting.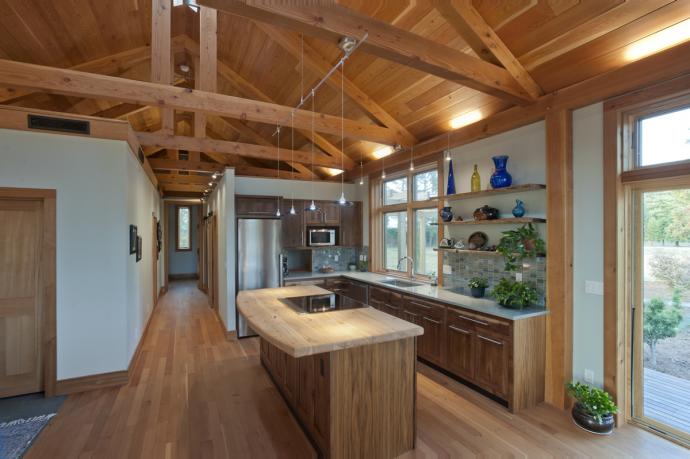 It is quite difficult to express the deep sense of gratitude we feel towards everyone that contributed to our home…many of which I don't have the ability to connect with, or am even be able to name. The artistic, creative flair combined with real-life practicality is a major component of our place we will love for many years to come.
Please pass on our thanks to everyone that was involved. We look forward to visits from any and all as time goes by.
It is always a pleasure to work with folks who share our appreciation of craft and all things wood. Many thanks to Phil and Rocio for making us part of their journey. To see all of the Pioneer Millworks products in this home, click here. We'd be happy to answer any questions you have about the wood in the Jewel.