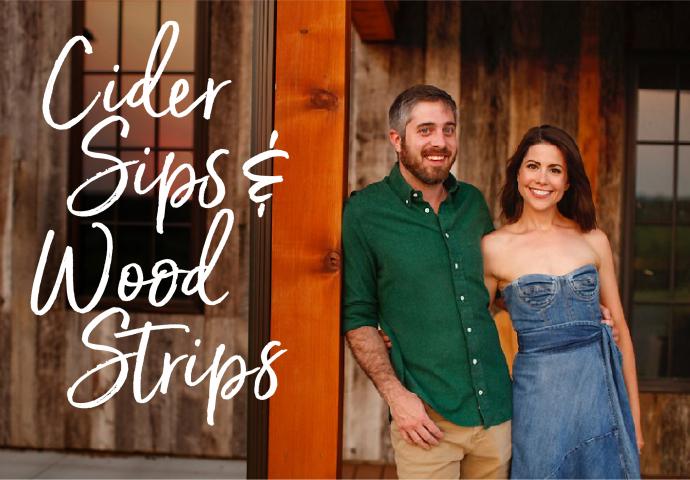 Christian and Christina Krapf are owners of Oak and Apple Cidery, a new Rochester, NY micro-cidery that shows off its fair share of Pioneer Millworks reclaimed wood. They partnered with Ketmar Development to build the production and tasting room in Penfield, NY. Many thanks to them for taking some time out to talk with us (amidst getting ready for their public opening on September 22nd) about the space's design, how they chose materials, and what makes for a really good cider.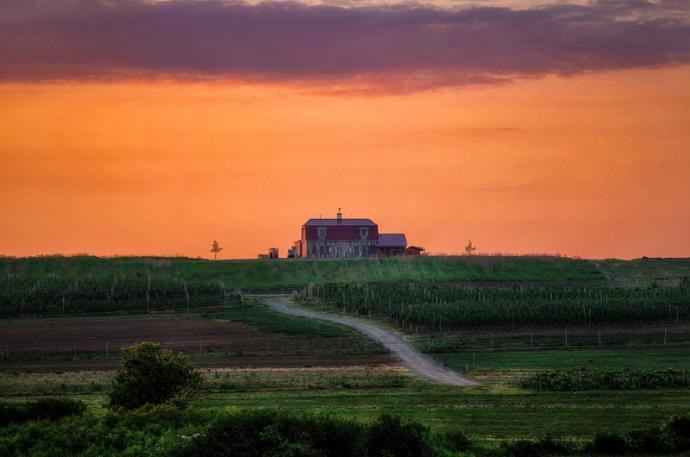 Deanna: Tell me about Oak & Apple Cidery…
Christian: 11 years ago my best friend took me to a picnic in Olean [NY] where they have this tradition of farmers bringing their homemade ciders. The ciders I had had up to that point were really sweet, candy-tasting ciders, and the cider I had at the picnic were really different. I wanted to try making cider myself–and bring my own the following year.
When I met Christina, my wife, we started making it together. We had a lot of fun doing it and improving. We thought maybe we could sell it, so we set out on this journey to Oak & Apple. Our mission is to make the best quality cider we can.
Christina: What makes us unique is we do all of the production on site—the whole process is done here right on our farm. So we grow the apples, we press the apples, we ferment on site, bottle, filter, and sell right here. So it's really a farm to glass experience.
We farm 700 trees, and our varietals are rare apples. Not your typical old English style and French varietals…Golden Russet, Balmers…they're more rare, very bittersweet tart apples, which are good for hard cider.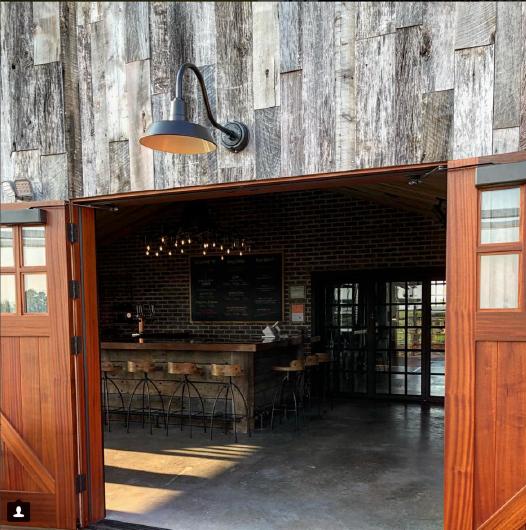 Deanna: What was the design inspiration for the tasting room?
Charlie, Ketmar Development: Christina and Christian designed all of it themselves, we just followed their instructions and put it up the way they wanted it. I think they did a great job on it. Often you don't get the opportunity to work with people who really know what they want, but they got out ahead of us and it helped the project go really smoothly.
Christina: We went for modern industrial barn.
Christian: Yeah, I originally wanted a pole-barn. But over the five years we've been working on the cidery Christina and I kept seeing things that we liked and kept adding to the drawings. We started with a basic barn and kept incorporating things that we liked.
Christina: Coming to Pioneer Millworks and being able to look around was super fun and we discovered new ideas.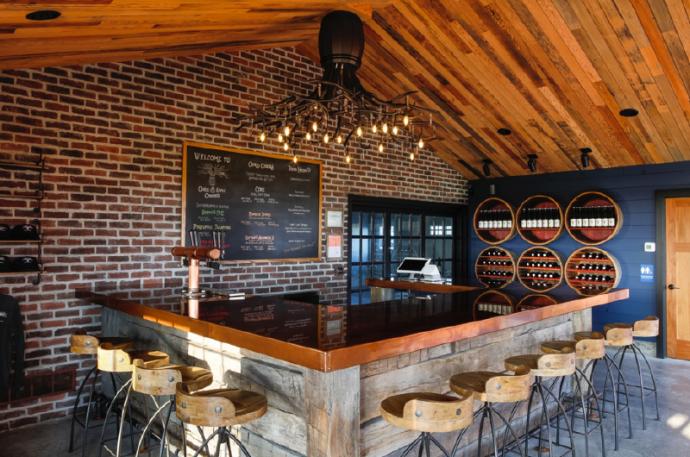 Deanna: How did you choose material? 
Christian: We wanted to have the Oak from our name in the tasting room, and a lot of our ciders experiment with oak aging. So when we found the Oak staves from Pioneer Millworks, it was a perfect fit. You walk into the space and it still smells like oak. I thought that it would disappear over time, but it's still there and it's cool.
Christina: Christian drew the logo and we contacted Orion Chandeliers in LA to make a custom chandelier just like the logo. It weighs over 300lbs! The tasting room really is a collection of things that we love, and an articulation of our brand.
Christian: We knew we wanted to use Pioneer Millworks barn siding on the exterior, I like that it's maintenance-free—it looks cool and I don't have to paint it. We also had planned to use the timber skins on the bar. But seeing the oak staves in person really changed our mind on the ceiling.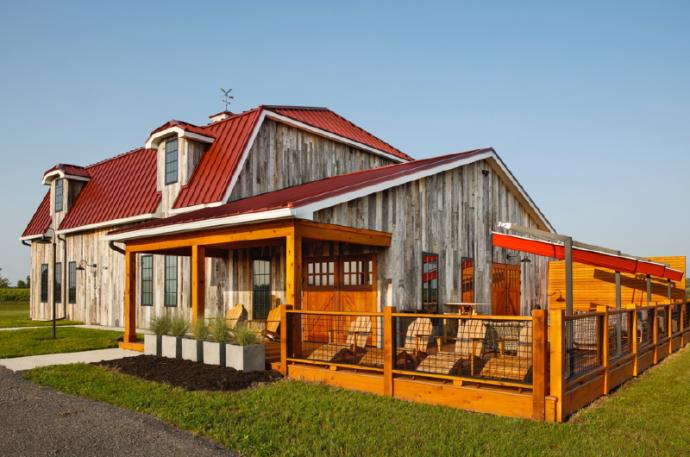 Deanna: How did social and environmental responsibility play a role in the design? 
Christian: Honestly, a lot of it came because we're running this like a mom and pop. I needed materials that last and have little maintenance so that Christina and I could focus our efforts on making really good cider.
Charlie KD: I love the sustainable materials we used in this, the metal roof…everything about this project has been fantastic. I count myself lucky at Ketmar because we've never built the same thing twice. We don't replicate, we get to do new things and every single project is different.
Christina: And we hope to keep moving toward a more sustainable operation over the years, perhaps adding solar panels or geothermal.
Deanna: A lot of people think reclaimed wood and think of only barn wood—what are your thoughts on that? 
Christian: Reclaimed wood's value is in its character. So with the staves on the ceiling, not one piece looks alike, they all look different. They all have different colors. That character and that variation is what we were buying.
Christina and I like old homes, we like the character. When you're building new, you have to add that character, so one way was to bring in reclaimed products. Make the new old.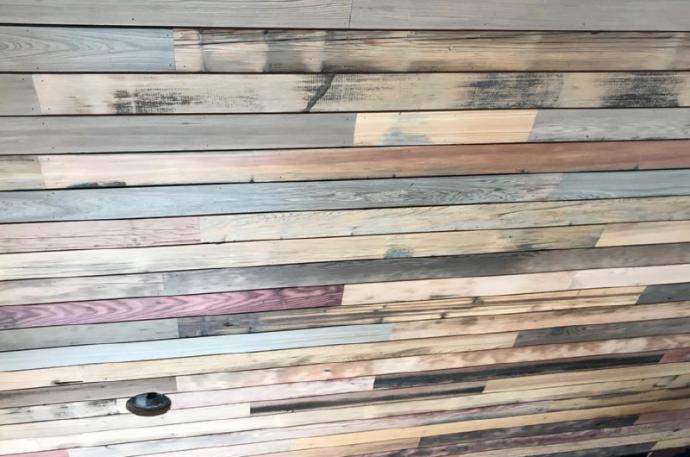 Deanna: What is your favorite Pioneer Millworks reclaimed or sustainable wood?  
Charlie KD: We keep going back to the staves, it makes that room–it's awesome. Between that and the chandelier, the first thing I do is look up and go, wow. The imagination that you put into something—you can look at any product and say, "What's the use of this? What can we make this into or what are the applications for it?" And so given the amount of material that is out there that can be repurposed, it's about where do you put the effort into repurposing. You guys do a really good job of it.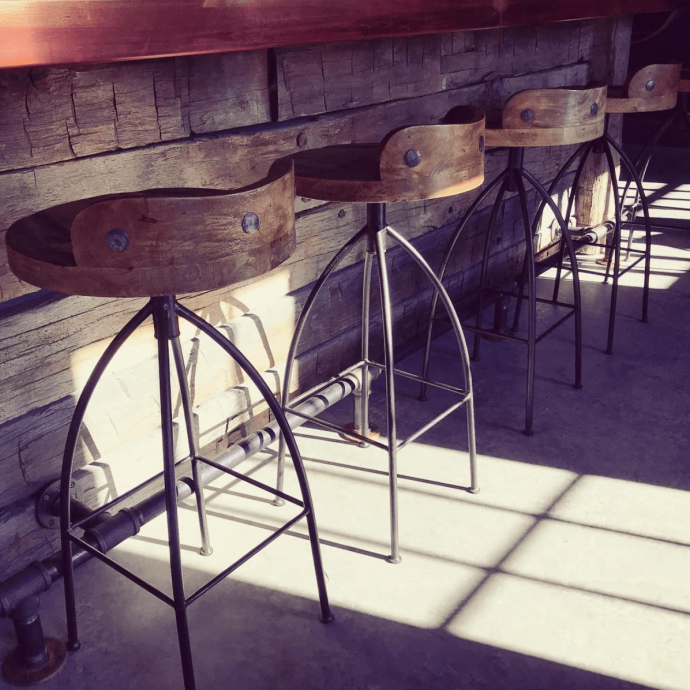 Deanna: What's inspiring you right now?
 Christian: Trying to get the best taste [in cider] that we can, that's really our focus. Our mission is to have our visitors have a winery-type feel where people come in and the focus is on finding the taste that appeals to them, trying it, and buying it. We're not trying to do a bar here, we're working on true a tasting room.
Charlie: It's taking today's construction, making it fit to the site and the taste of people. Always being up for something new.
 Deanna: We love a good spontaneous dance party here at Pioneer Millworks, what's currently on your playlist we should add to ours?
Christian: The new Dave Matthew's album, almost to the point where Christina tells me to turn it off.
Charlie KD: Reggae, reggae, reggae.
Christina: I'm into Reggae, I was in a reggae band in College.
Christian: Christina traveled the country as a conga star.
Our thanks to Christian, Christina, and Charlie for taking time out to talk with us. If you'd like to visit Oak & Apple, you can find more information here. And don't forget their grand opening on September, 22nd.