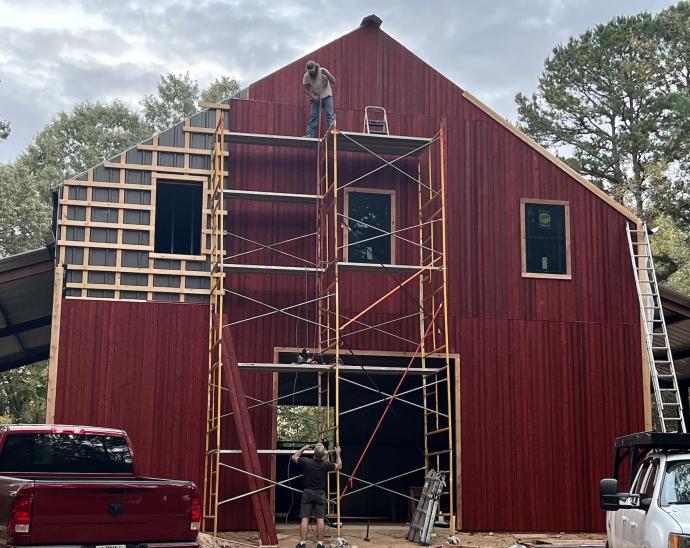 For homeowner & cattle rancher Derick and his wife Claudia, building a lakefront weekend home on their ranch in northeast Texas was a dream decades in the making. Designing and building a custom home, garage, and functional barn would be a challenging project under any circumstances but selecting materials that can endure the unique weather conditions of the region made it even more so. 
We caught up with Derick to talk about the cattle ranching business, construction projects, land conservation, and why the couple selected Pioneer Millworks Shou Sugi Ban cladding for their ranch property.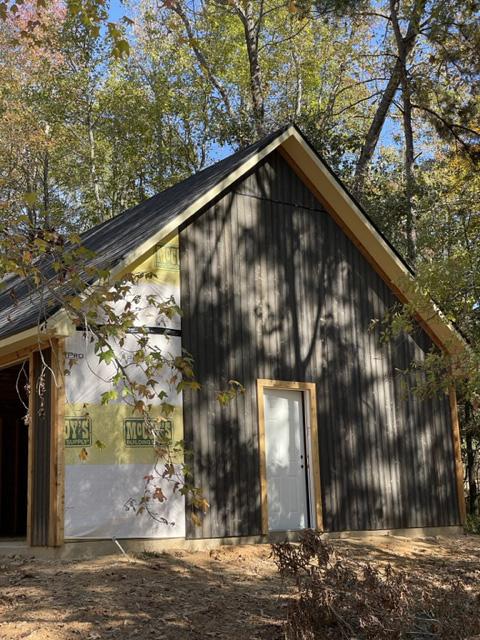 Q. How did this construction project get started?
A. My wife Claudia and I are both corporate executives in Dallas Texas, but for the past twenty-three years we have maintained some additional property in northeast Texas. Throughout the years we have added ranch land to our acreage and started raising & breeding registered Texas longhorn cattle on our property which is now called The Grün Ranch.

During the pandemic we were set to acquire more land to expand our cattle operations, and my wife suggested that some of that new land be located on a nearby lake so we could build a retreat and cut down on some of the back-and-forth communing to and from the ranch. As luck would have it, we were able to purchase an adjoining property that was a 65-acre plot with 1,500 sf of lakefront where we could build our weekend home and expand our ranching capacity, that is how this particular project got going.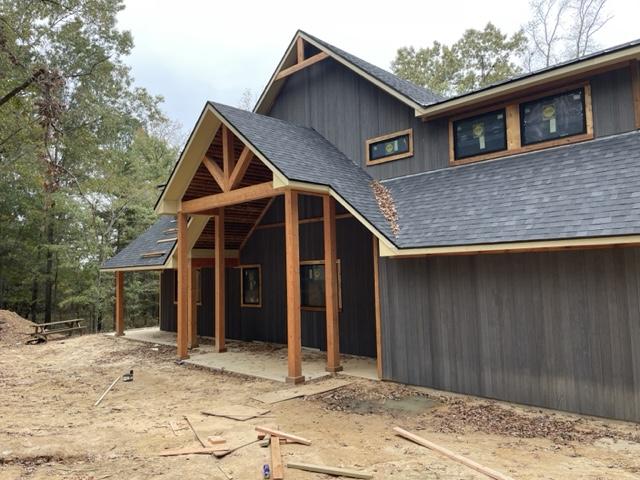 Q: How did the project evolve once you acquired this new property?
A: We came up with a master plan over two years that included transforming the land to suit our ranching needs and the addition of a new lake house, garage, and barn to the property. We are now at the stage where the new structures have been designed and are currently being built and finished.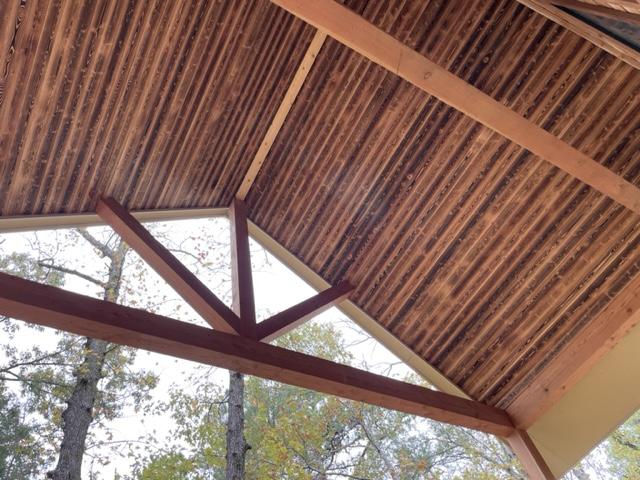 Q: Why did you choose Pioneer Millworks Shou Sugi Ban siding for this project?
A: From a practical standpoint, northeast Texas is brutal on any material. We have heavy rains, insects, lots of wildlife to deal with, and of course punishing Texas sun. We were looking for something that would be as tough as possible, and Larch and Douglas fir are both good choices for this area, but adding the Japanese Shou Sugi Ban process to it gave us an edge in dealing with the environmental challenges the property faces.

From a design perspective when my wife and I have had the opportunity to build a new house, we have always paid a lot of attention to the material choices, because we feel they make a big difference.

We settled on Douglas Fir Cinder for the exterior of main house because it gave a statement of quality without distracting from the architecture. For the garage we used Larch Charcoal, and for some of the interior and exterior ceiling details we went with Larch Shallow Char because of the color pop and texture of the burning process.

But when it came to the barn, we went with bold red Larch Ember that really makes it stand out and have a voice of its own in the narrative of landscape. This is a fully functional barn, which by necessity is made out of steel, but we chose to clad it in wood to give it a traditional look that really helps the structure blend into its surroundings organically.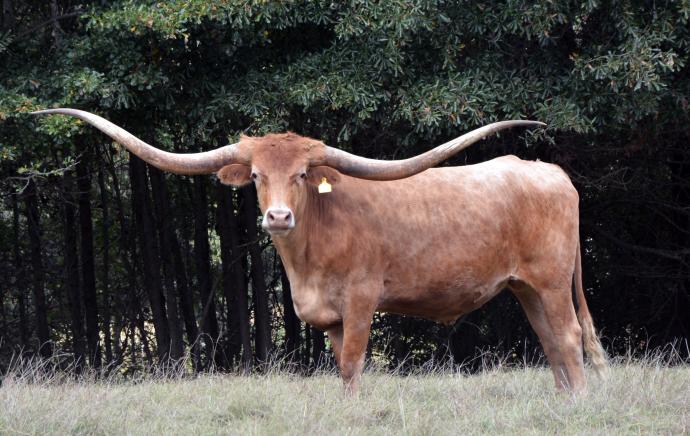 Q: Why is it important to you to use sustainable materials on your ranch? 
A: In the cattle business, you are a farmer of grass & conservationist of water first, and a livestock rancher second. It is all about the stewardship of land, water, and animals – in that order. Everything we do as part of this operation is constantly looking at nature and how we can be as sustainable and responsible as possible. So, when it came to these new buildings, we wanted to use natural wood products that would last, that was the motivation to work with Pioneer Millworks.

The background Pioneer Millworks has in responsible harvesting, sustainability, and healthy manufacturing practices was certainly what attracted us to the brand. We also default to products that are made in the U.S.A. for our ranch, so the fact that Pioneer Millworks harvests and manufactures these products domestically was also a big factor for us.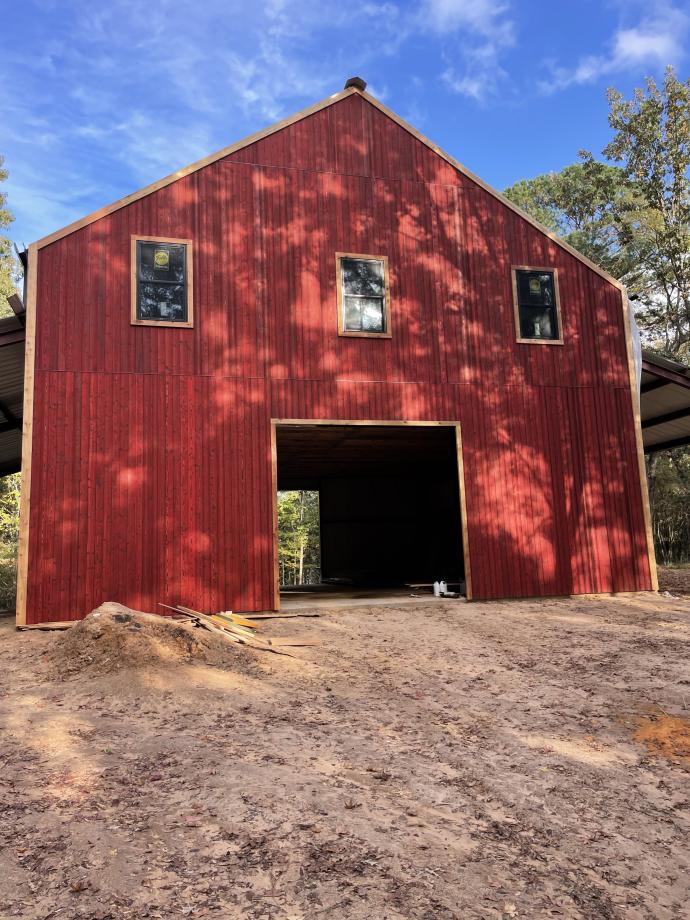 Q: Now that this project is nearing completion, what advice would you give to someone else who is looking to build a new home or commercial space?
A: If you are building a home and you have the opportunity to add some character and originality though a material choice, you should really think about doing something special. When we built our primary residence in Dallas we went with some wood, a lot of metal, and some expensive limestone. If I had it to do over again, I would have incorporated more Pioneer Millworks products instead of some of those more expensive and less flexible options.

It is one thing to see a product online, or to get a sample, but it is another to actually see the final product fully installed. Through the building process on this project, we came to really trust Pioneer Millworks. They went out of their way to work with our builder, which isn't always easy. When it comes to builders, if you are not using a product or material that they are already familiar with, they tend to get a little nervous. But the Pioneer Millworks products showed up on time, were packed property and arrived in great condition with minimal issues. Our builder was able to install everything smoothly with no problems. That really says it all.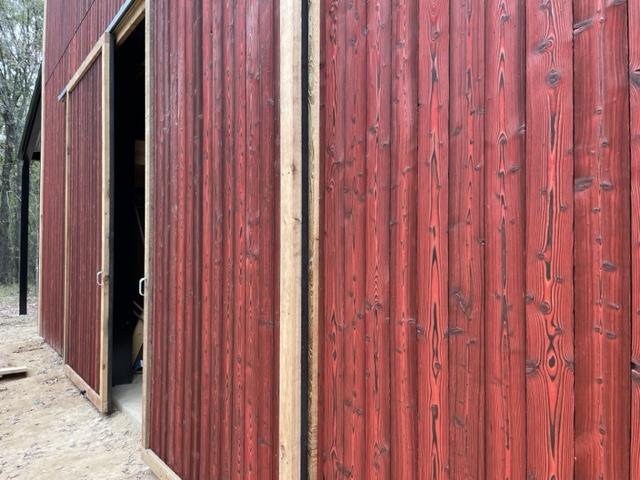 About:
Both Derick & Claudia are officers in corporate America who for the past 23 years have retreated over the weekends to Northeast, TX.  In 2016 they decided they wanted to expand their footprint in the area and do something meaningful for nature and animals.  The Grün Ranch is the result.  Their son Sebastian has also been a regular on the ranch learning how to work the land and the herd.
Learn more: About Us - The Grün Ranch (grunlonghorns.com)
Building Partner: RC Construction - https://rcconstruction.info/