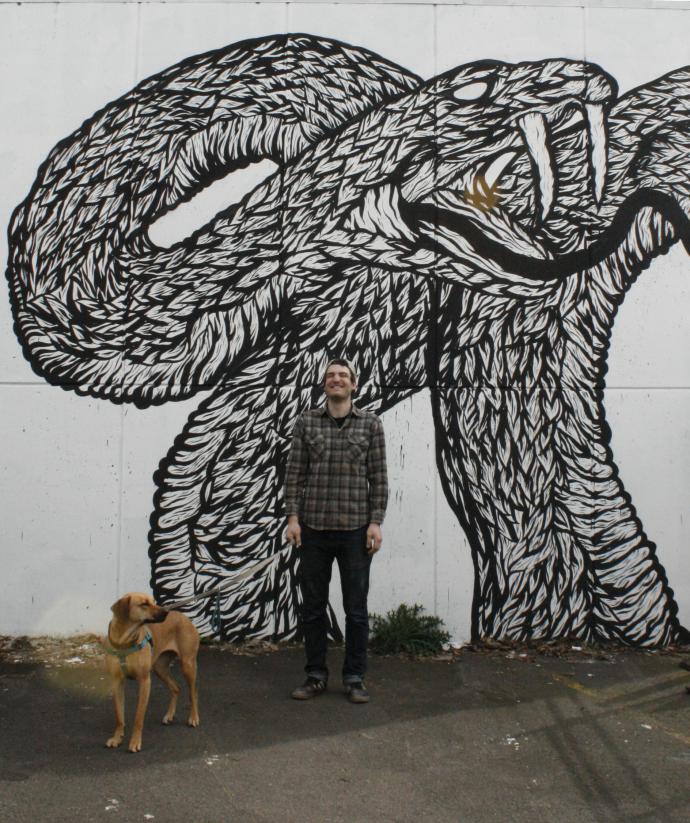 Henry Silvestrini has been working at ADX since 2013. His mother was an art teacher and so Henry has been immersed in a creative world from a young age. After studying neuroscience in college he realized that this was not the career path he wanted and refocused on the studio art classes he had started to take at ADX in his free time.
Henry joined ADX's shop steward program making tables, cabinets, and furniture. Now, in addition to leading the fabrication department, he has begun his own woodworking business, Work PDX. Henry's project for our Design Week Portland Open House makes use of timbers reclaimed from Centennial Mills.
1. How would you refer to yourself? Woodworker? Artisan? Craftsman?
Fabricator/Designer.
2. How did you get started?
I started building things in college (4 years of studio art/sculpture).
3. Why wood?
Every piece is different and the tools you need to work it are accessible to someone just starting out.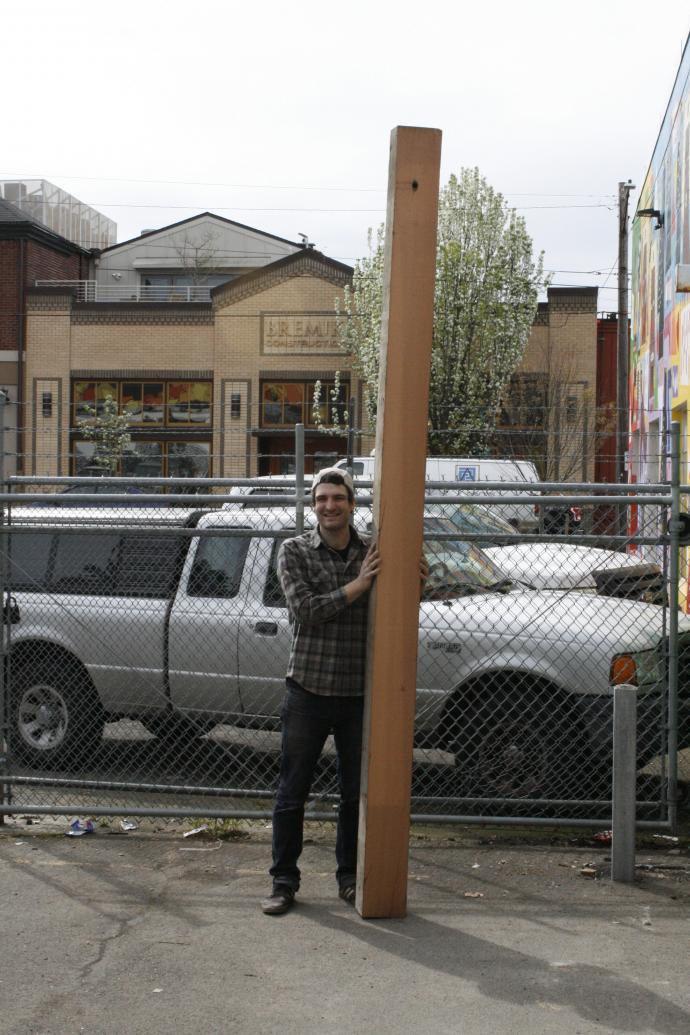 4. What was the first thing you made from wood?
A toy sword as a kid.
5. What does being creative meant to you?
I'm not sure. I guess just having the desire to come up with new ideas or solutions.
6. Do you have any rituals?
None other than my morning coffee.
7. What is your favorite piece?
Michael Heizer's, "City". There are not many people who successfully build objects that stand against the scale of nature. He gets close.
My favorite pieces that I've made are cast aluminum coyote skulls. Melting and pouring metal by hand is exciting.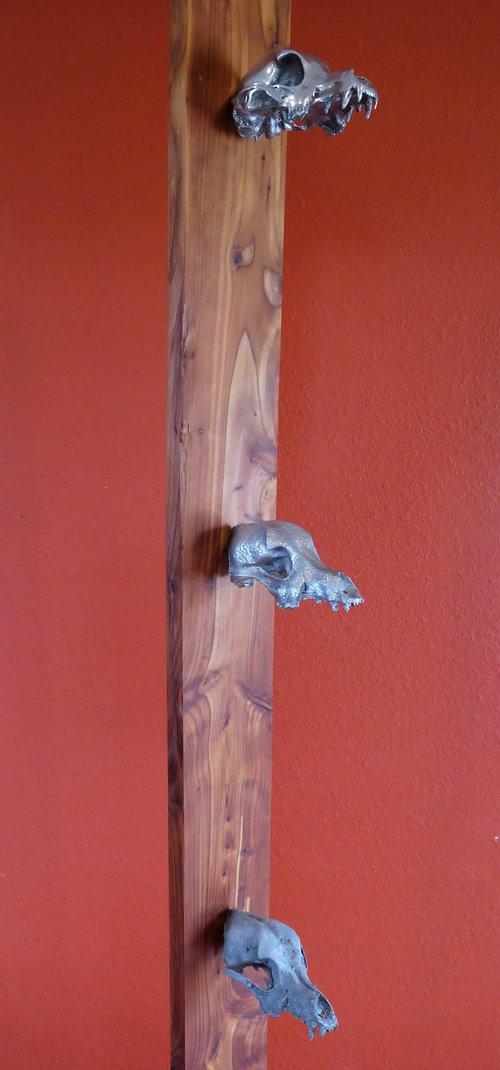 8. Who inspires you?
My biggest influence was my sculpture teacher from college Mike Rathbun. The man could build anything from wood and he did. He also emphasized consideration before building.
9. What do you hope to communicate through your work?
Nothing. I'm happy if people look at it and think, "that's cool." I'm interested in ideas of permanence and weight; I like to build big heavy things that will last.
10. If you weren't doing this what would you be doing?
Working on my house. I bought a teardown and I made the mistake of fixing it up one room at a time.
11. Ultimate piece you want to create
A fire lookout tower out in the middle of nowhere. I love having a view, and living 50' the air sounds perfect.
12. What's your favorite thing about PDX?
The people and the food.
13. Favorite song?
Mean, by Taylor Swift. Classic.
14. Favorite bridge?
Steel Bridge.
15. Favorite neighborhood?
South East.
16. What's your favorite tool?
A table saw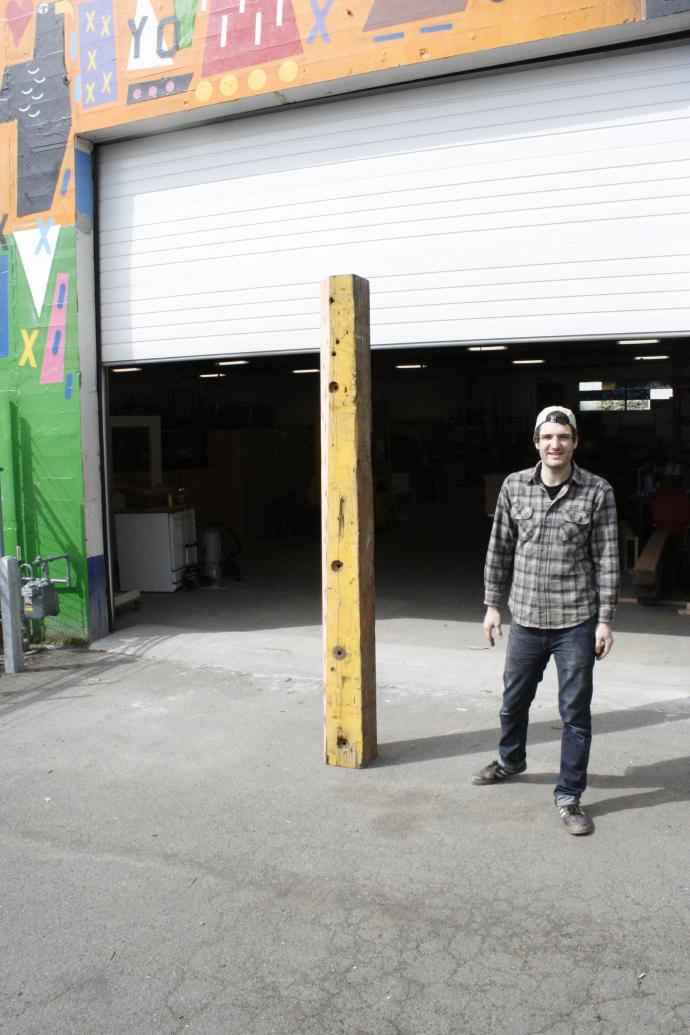 Henry Silvestrini from Work PDX at read:grain, works with reclaimed wood on Friday, April 28th from 4-7pm during Design Week Portland. For more information, go here.