A forward-thinking menu with historic décor: welcome to Franklin Social – Tavern & Garden a new restaurant and bar in downtown Jersey City. Operated by Skopos Hospitality, the tavern was inspired by a desire to create a space for community members to socialize and further by a biography about Benjamin Franklin.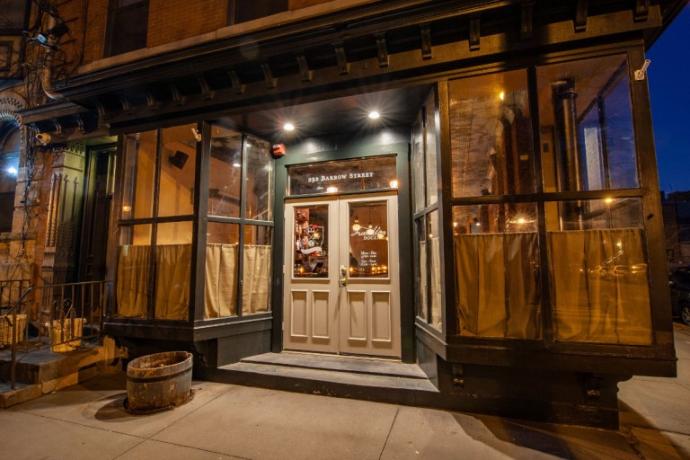 "We have a need to come together, to gather much like our ancestors did," shared Dean Maroulakos, co-founder of NJ based Skopos Hospitality. "In Franklin Social we wanted to pay homage to Ben Franklin and his beliefs in self and community betterment …we wanted to give the neighborhood a place to have insightful conversation, unwind after a long day, or have a good meal with family and friends."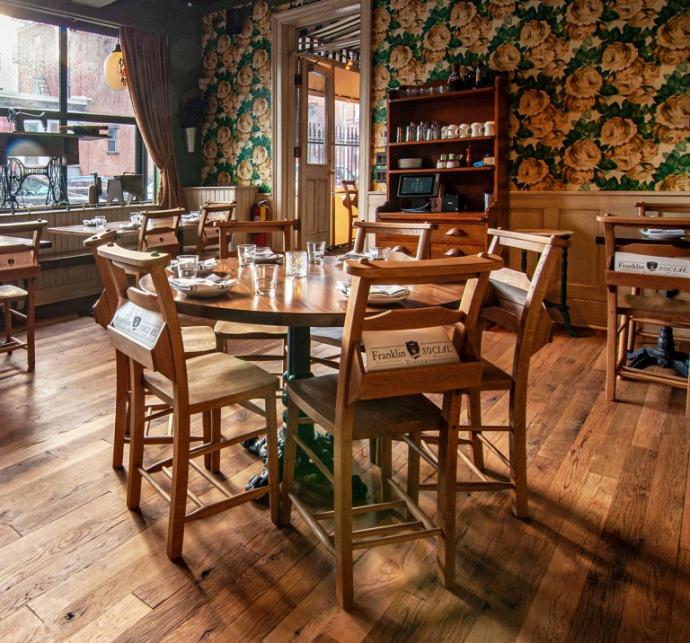 The main tavern & bar room embrace rugged antique elements while the detached carriage house has a more feminine vibe. Bold custom wallpaper in the carriage house adds warm tones adjacent to the natural wood tones throughout this level. In effort to bring historic elements back to the original building, traditional and storied reclaimed oak Black & Tan–Tan flooring runs throughout the eatery.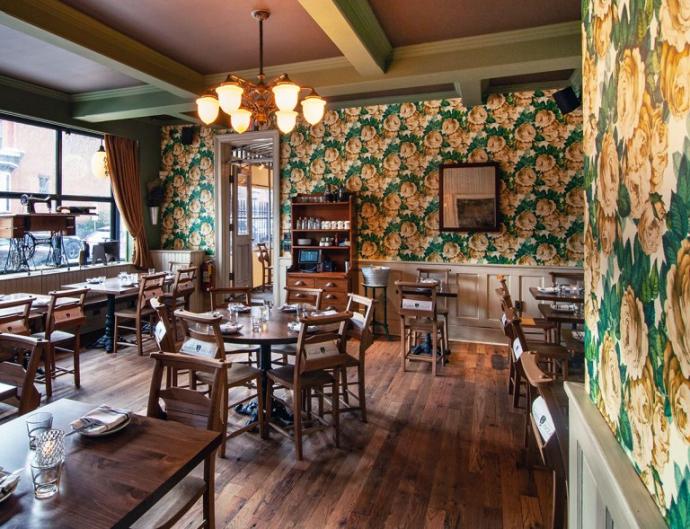 "Overall the bar area is quite narrow. It was important to elongate the space, to have some character and authenticity. We've worked with Jered at Pioneer on several projects and he steered us to the Black & Tan–Tan with a Pure finish. It has the consistent widths and history we were looking for," explains Dean.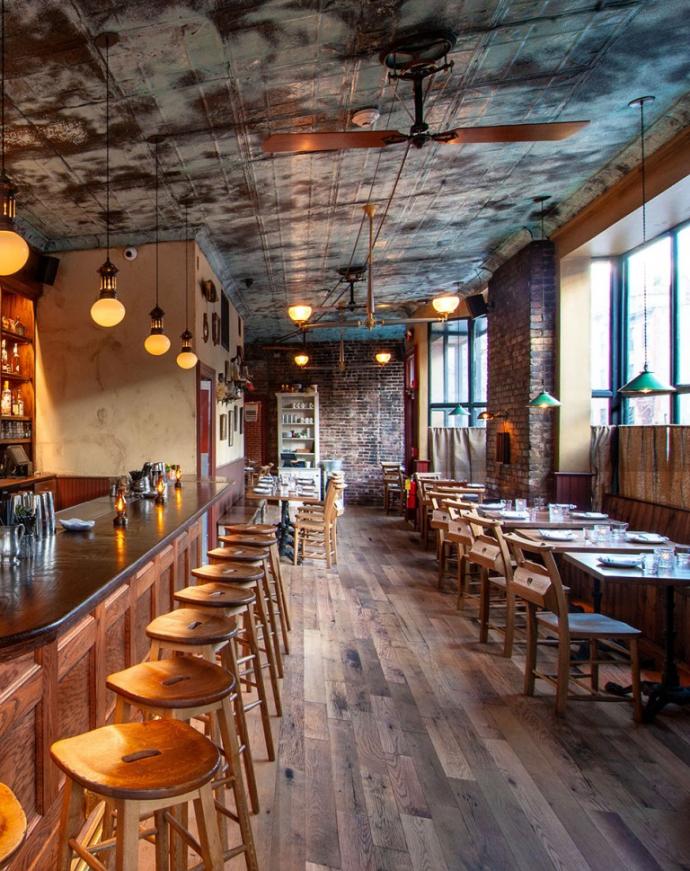 The reclaimed Black & Tan–Tan has a cleaner façade yet celebrates its history with hints of original non-toxic black paint (from its previous life as horse farm fencing) deep in the grain and fissures of the smooth planed surfaces. "I love character and history in everything. I like to think that we're storytelling in our restaurants and taverns; guests are living out their story and we're offering the stage for the story to play. Including authentic elements where history can be traced, proven, is a physical representation of effort, care, and respect for where we've been and where we're headed," said Dean.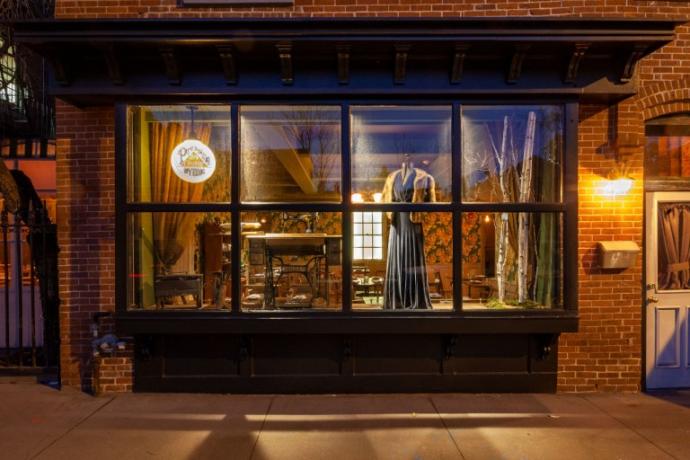 The original building held Victorian era apartments, then in the 1880's was a corner grocery, becoming a local tavern and bar of various styles from the 1950's forward. An adjacent carriage house was home to a tailor shop in the 30's. The front display window celebrates this heritage while inside it offers private dining space. "Paying tribute to history," Dean states. "Our guests can learn a bit about what was, while enjoying fresh, local, seasonal foods at hand."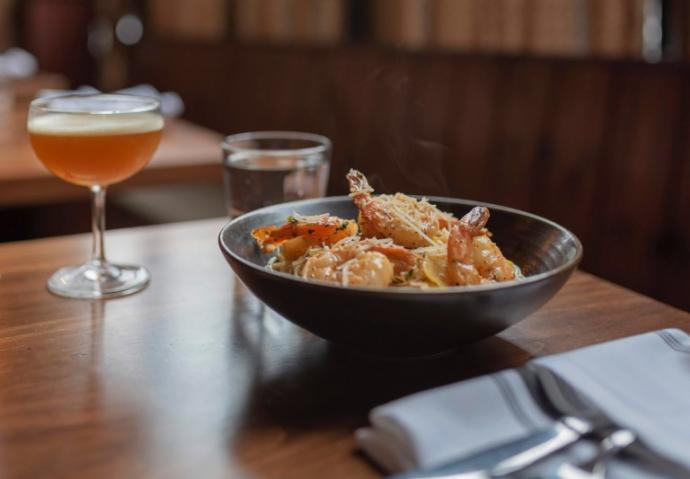 We asked Dean what Skopos Hospitality sees trending these days in the restaurant/bar world: "Cocktails continue to be a trend as are variations on comfort foods in our industry," shared Dean. "Natural and relatable décor, including wood and unique pieces blended to a nostalgic aesthetic is what we understand allows younger neighborhoods and folks taking a pause after work to immerse into the environment, to connect and enjoy each other as well as good food and drink."
In an effort to reduce the spread of COVID-19 the Skopos Hospitality restaurants are currently closed for inside dining, though curbside pickup is available at some locations. We're all excited for when things open up again, so if you're in the region later this year and you've already checked out Franklin Social, we'd also point you to The Vanguard in Harrison, NJ (try their brunch!) featuring reclaimed Foundry Maple flooring and The Barrow House in Clifton NJ for great bar and event gatherings in a timber frame 'barn' and collection of eclectic spaces.
Our thanks to Dean and Skopos Hospitality for bringing us great projects! We can't wait to see what they think up next…well, maybe we can wait while we savor an excellent "Cleanliness".