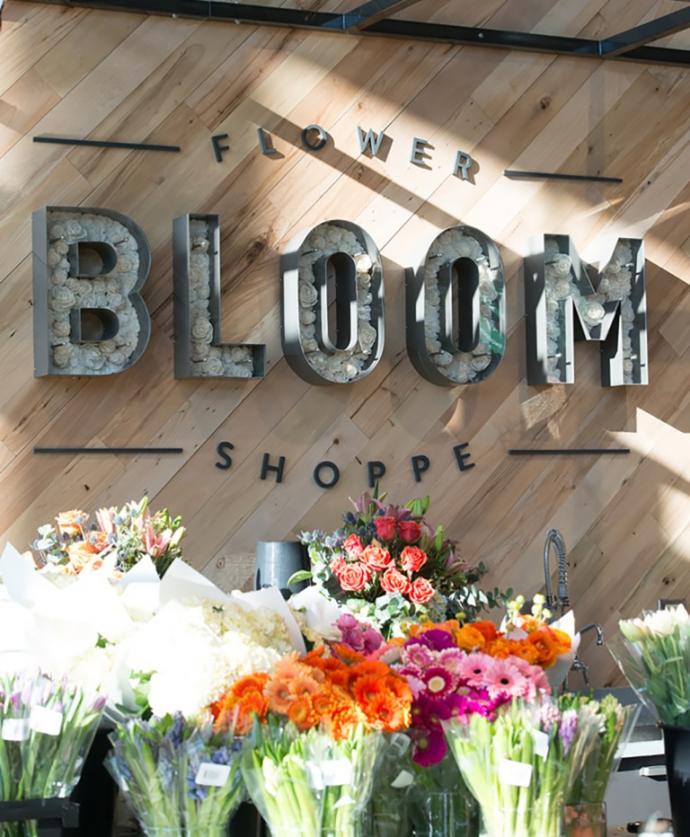 Recently we were alerted to new photos of a Whole Foods Market in Chicago, IL that features a variety of our wood products throughout, plus custom trusses in the bar area from our sister company, New Energy Works. It's funny how often "finished shots" of a project don't arrive until a year or two (or more!) after its completion. This project was no exception having opened in early 2017. I struck out to learn more about it, connecting with Mark Scherrer, Senior Associate at BRR Architecture and lead architect for this particular Whole Foods, known to us as "Lakeview". Mark recalled the store with ease and answered questions before I even asked:
Each Whole Foods Market is one-of-a-kind, fitted to the region and needs of customers. Departments within the stores are very purposefully designed and carefully integrated with each other to create a cohesive look and feel. Mark explained that for Lakeview: "The wood products from Pioneer Millworks were used as both defining and unifying elements. Cleaner and lighter wood planking installed at an angle welcomes customers and defines key areas such as the Cheese Shop and Juice Bar."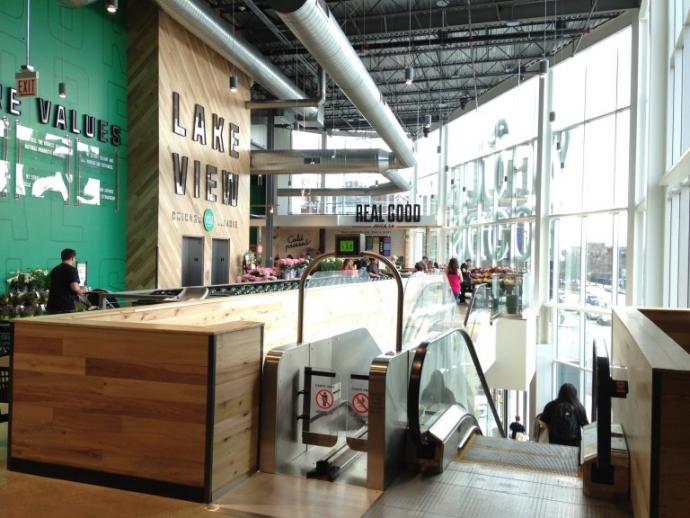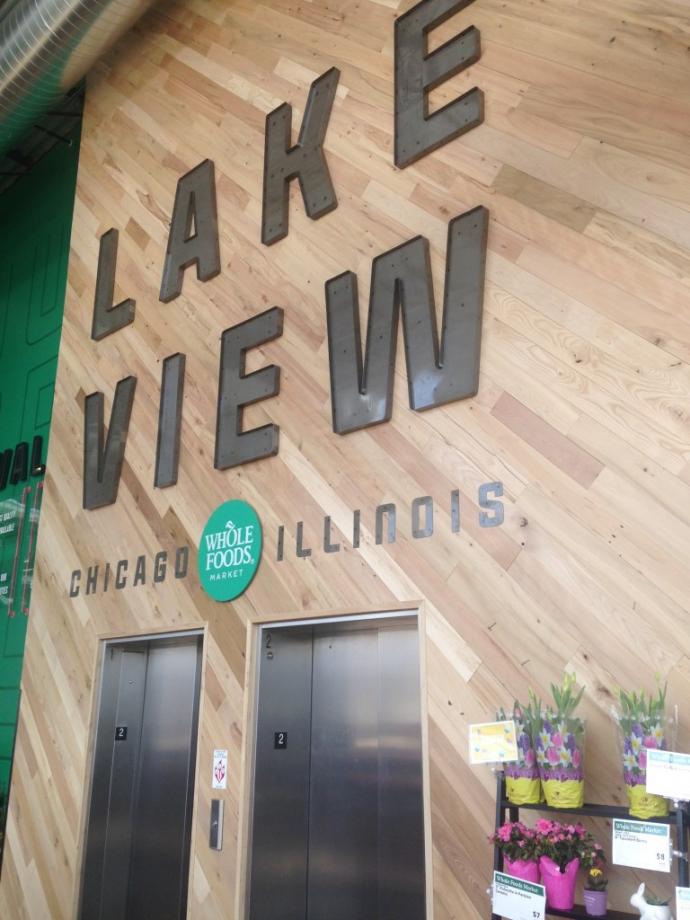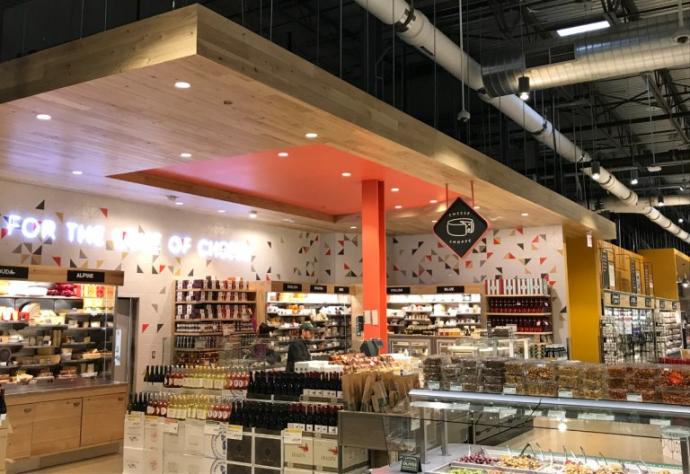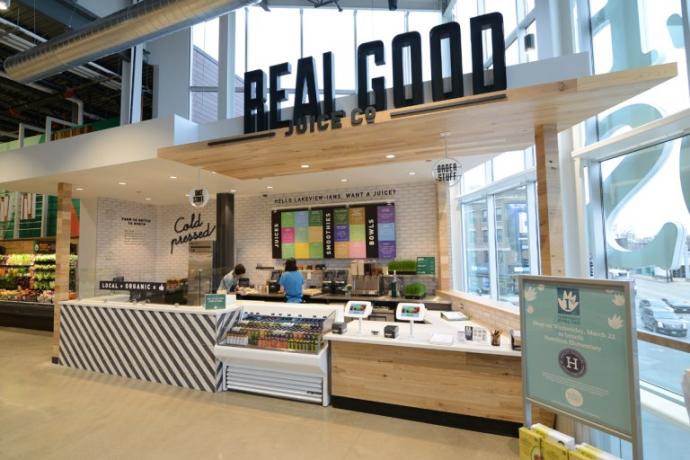 "The wood accents—used on walls, wraps, and ceilings—tie the departments together and are used throughout the store to provide a consistent material palette."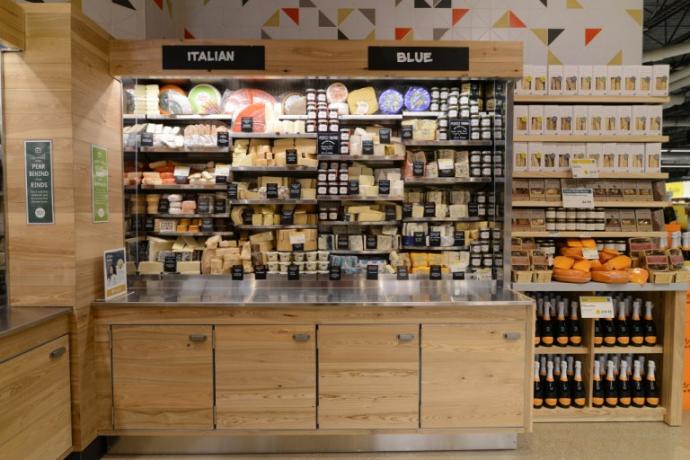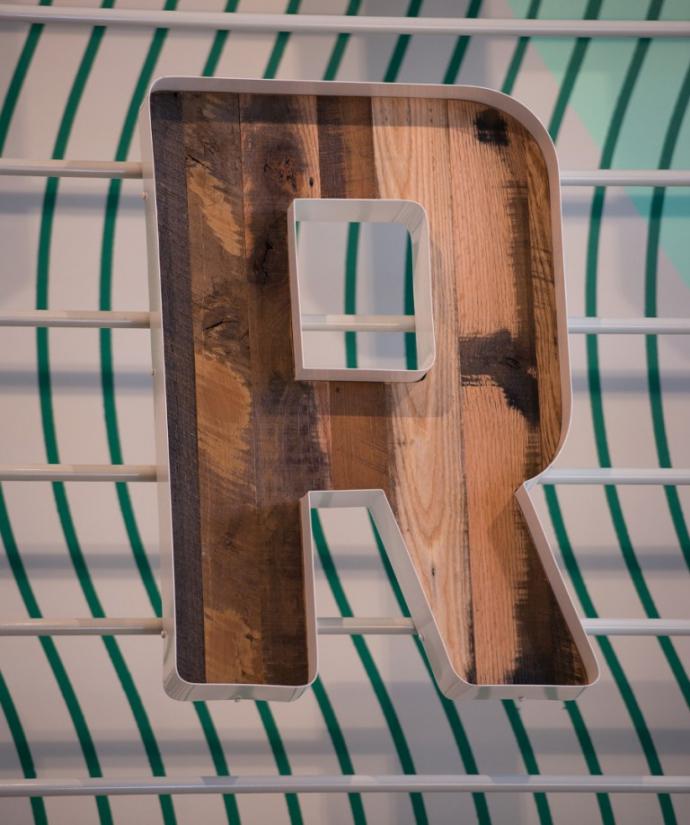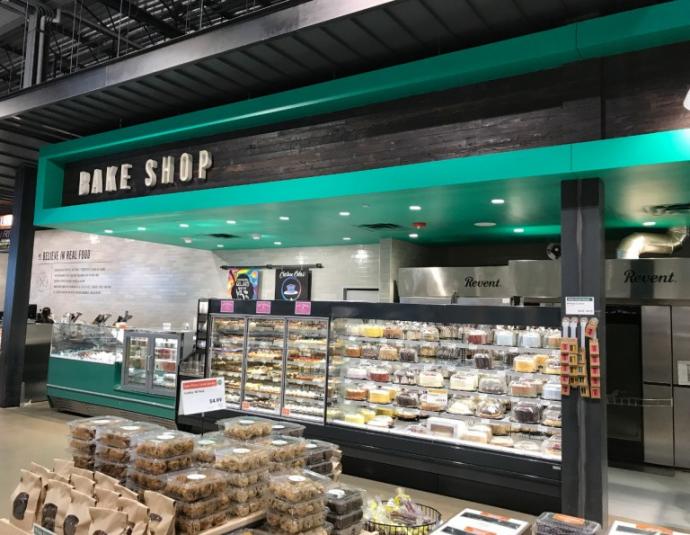 Mark explained that for Lakeview, "there are several wood features throughout the store, ending with the largest statement at the bar. Rugged timber trusses were paired with a naturally textured tongue & grooved reclaimed softwoods ceiling to provide an intimate space. There's a sense of 'arrival' to the Red Star Bar that you feel when looking out from the grand lobby, and customers are encouraged to make this part of their overall shopping experience."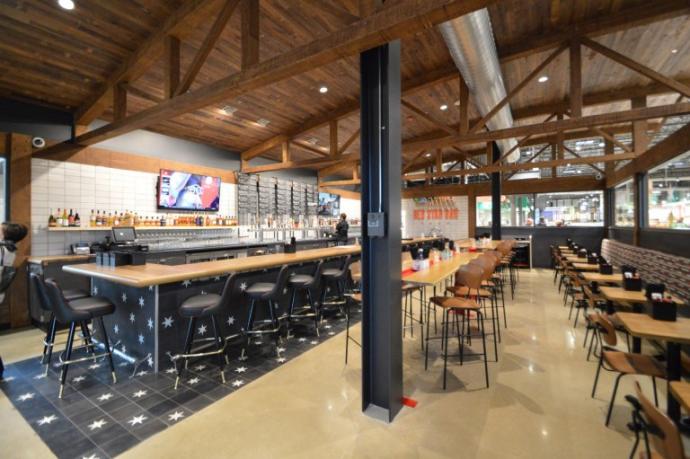 "Jered was vital in guiding us to just the right reclaimed woods to create the look and feel used throughout the store. He also connected us with New Energy Works who crafted the trusses for the bar." Mark continued, "It was great having Jered as our wood design guide for this project. His intimate knowledge of wood products and ability to understand our vision helped advance the project seamlessly."
Jered shared, "it's always fun to work on a whole store project. Understanding the design goal to create defined spaces that were still cohesive, I immediately thought of our cleaner American Gothic grades. Incorporating a combination of the mixed hardwoods provides a uniquely varied look which adds a layer of interest to the store without taking the focus away from the products on display. Plus, I'm a fan of the delicious variety of items in Whole Foods, so I was equally invested in helping ensure they were showcased."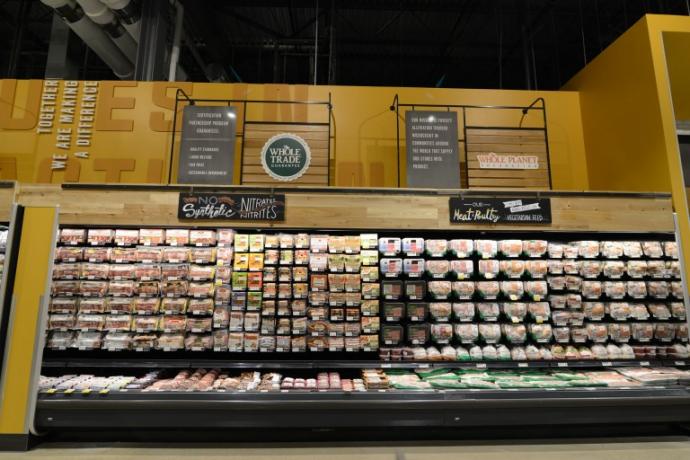 As I thanked Mark for his time he added, "coordination was a critical piece for this project and your teams were great. Many thanks."
Our thanks to you, Mark and everyone at BRR Architecture. We're looking forward to working other projects together. Perhaps more reclaimed wood is in the future for Whole Foods Market patrons.
If you're interested in seeing more commercial or retail spaces with reclaimed and sustainable wood, check out our Retail, Restaurant, and Office galleries. See something you have to have? Let us know!