We've been talking about Thoughtful Sophistication™ a lot in our studios; what it means to us and what we hope it means to others. Of course, there's our Thoughtful Sophistication collection—but it's more than just the products and finishes you see.  It's a way to move Beyond the Barn™  to see the other side of reclaimed wood, options that are sleek and modern with a soul. 
However, nothing good comes from just talking in your own bubble, so we reached out to some of our design/build friends to get their take on Thoughtful Sophistication. 
Deanna had the fantastic opportunity to speak with Jason Francis of Tiny Heirloom, builders of custom tiny homes that take a new spin by allowing homeowners to upgrade in quality while downgrading in square footage. The family-run business, based in Portland, Oregon, is made up of Jason & wife Brianna, his brother Zach & wife Hannah, and brother-in-law Tyson & wife Michelle. You might already be familiar with the team and their work from HGTV's, Tiny Luxury.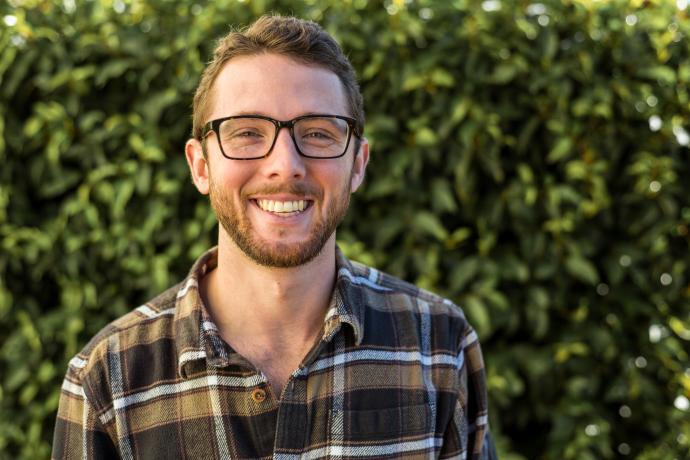 Deanna: Jason thanks for taking time to talk with me today. Tell me about Tiny Heirloom.
Jason: Absolutely, no worries. So we design and build custom tiny homes. We have a focus on high-quality and luxury aspects of design. We've focused on catering to 100% custom design. A lot of places out there in tiny homes and regular home building all you to customize a set of plans or add different ideas, but starting from a blank page was harder to find. So that's what we took and applied to the tiny home world. I work with my brother Zach, and my brother-in-law Tyson and our wives who pitch-in on design ideas and the aesthetic-side of things.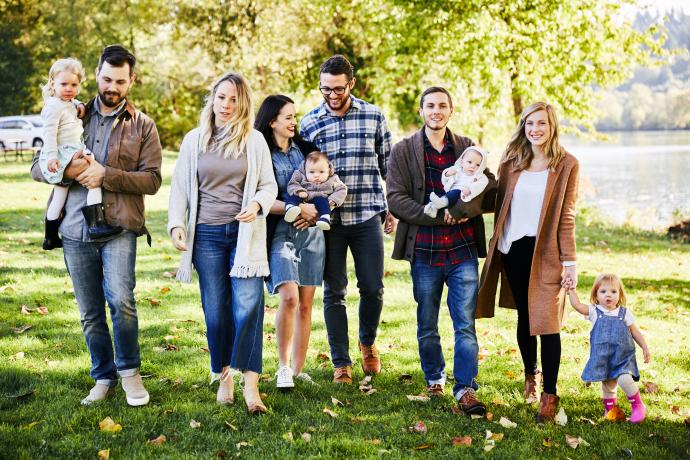 Yeah, I noticed that on your website you're a family-run business and really driven by your values. What are the values and how does being a family-run business impact the spaces your build.
Jason: Our values really start from our core beliefs­–integrity and honesty are the foundation. We strive to above all else to make sure all of our dealings with not only clients but vendors, suppliers, and contractors are based on honesty. Even if that means any sort of grief on our end, we want to be upfront and treat the people with respect and put them first. We try to treat our clients more like family, and how we would want to be treated.
What is the biggest challenge to designing a tiny house and how do you overcome it at Tiny Heirloom?
Jason: the biggest challenge is trying to get all the needs inside of a house that is only 200sqft. Trying to fit a kitchen, bathroom, 2 bedrooms, and a place to hang-out in a space about the size of a traditional bedroom poses a lot of challenges. And then you have to think about the systems, weight capacity restrictions, and DOT requirements for transportation.
Seeing the 200sqft as not just floor space, but recognizing the wall space and ceiling space and being able to design a home that has multi-functions built into–that's how we get past the limitations.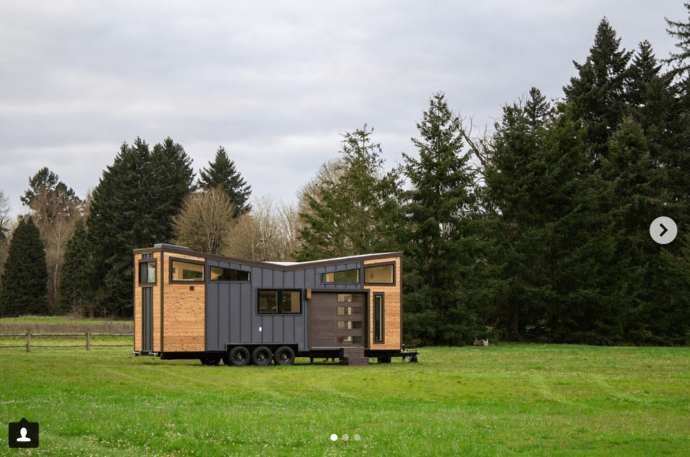 How do you choose the materials when you're working in such a small space?
Jason: We have our base materials that go into every house. We spent a lot of time figuring out what would work best for all of the requirements: quality, code, DOT/transport. That is heavily focused on weight vs. quality—that's a balance that we're always trying to find. Typically quality materials are heavier, so we're always trying to find quality materials that are the most light-weight out there.
What do you think is the next wave of design-trend in the tiny home industry?
Jason: Simplistic, intentional, economic designs.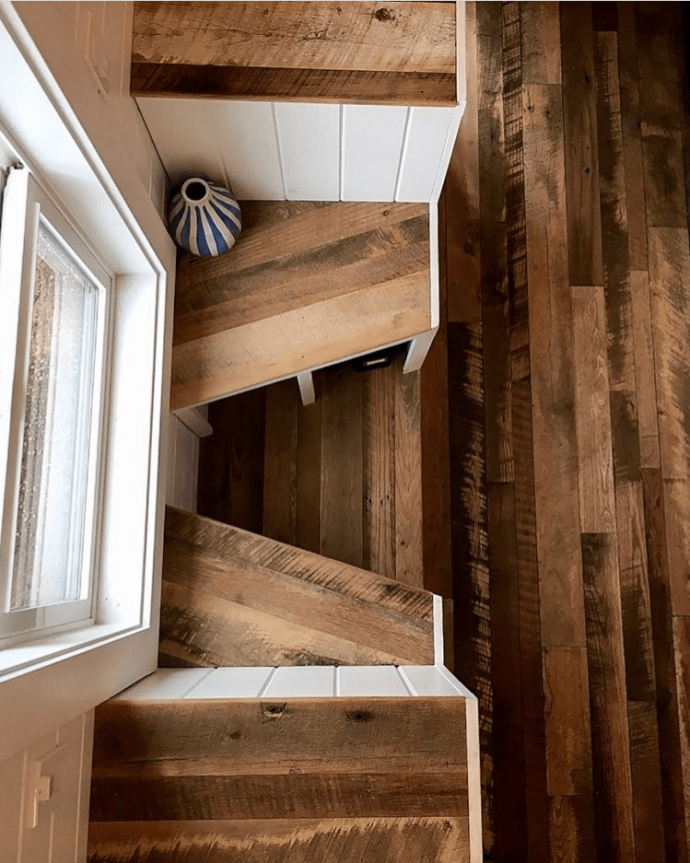 You've incorporated Pioneer Millworks material in a couple of your projects. Do you have a favorite you've used so far?
Jason: I think it's the Setters' Plank Mixed Hardwoods. I like the variation, not only in board widths but the colors and some of the rough-sawn look to it. We used it in a tiny home going up to the Rocky Mountains and we put that on the floor and it just turned out amazing. It really gave that sophisticated look to the space, but it also had this unique and rustic-old vibe to it (though not so much so that you're going to get a splinter). Just a really good mix of rustic and polished.
What are your thoughts on reclaimed wood?
Jason: Pioneer Millworks and another company we deal with really opened our eyes to there being so much more in reclaimed wood than just barn wood. So many more purposes than what I think a typical viewpoint would be when you say reclaimed wood. When I first thought about using it, it was always very rustic, very unrefined and was only good for a feature wall or making a barn door. The fact that you guys have quality reclaimed material for flooring is incredible to me. It's my favorite aspect; that you can literally reclaim something that was once rustic, maybe falling apart as a structure, and refine and refurbish it to make a beautiful floor that is polished but still has that unique character to it.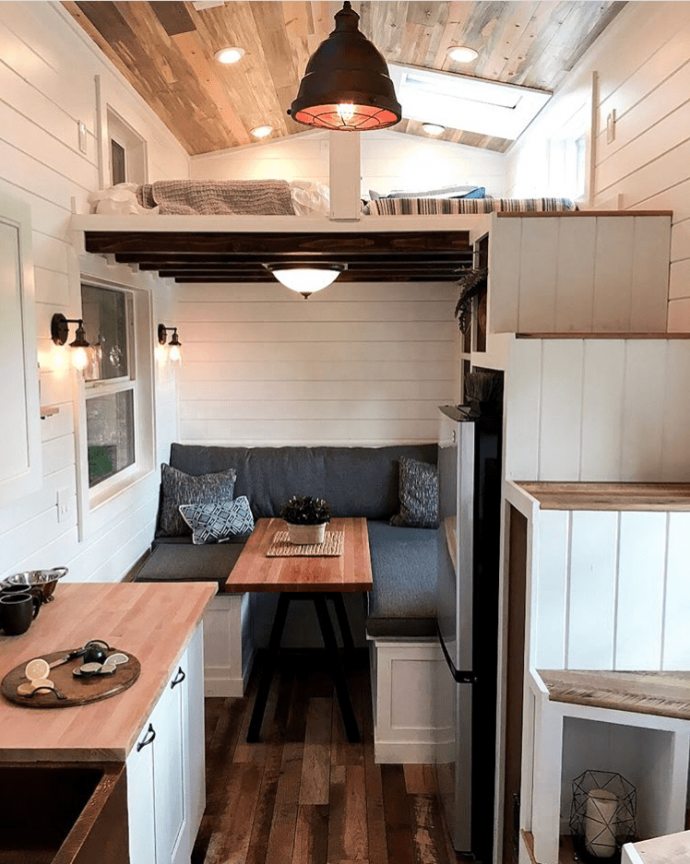 How do you see social and environmental responsibility continuing to evolve in the tiny house space?
Jason: Small homes, not only do they cost a fraction of a regular house but you can get so many on one piece of land. What we're seeing are cities requesting proposals from tiny home companies to see how many homes, at what cost, and what kind of infrastructure would they need, to fill vacant land. Their goal is to provide low-income housing for a lot of their citizens that are either getting pushed out of the city limits because they can't afford housing or rent inside the city anymore. Even using the tiny homes as solutions for the homeless.
Environmentally, to build small and efficiently is to build green. Many tiny home companies, us included, build with sustainable material in mind. There's also less waste in building a tiny home, and the amount of material we use is small. It's really interesting to see how little material we need to build a quality tiny home. Once they're occupied, the amount of power & water needed to comfortably live in them is just a fraction of what a typical household would be using.
How do you see the ADU (Accessory Dwelling Unit) fitting in to the tiny home conversation?
Jason: That's a good question, it's something we're heavily working in right now. We're going to be launching a new division of Tiny Heirloom that is focused on ADUs and small alternative dwellings that aren't on wheels. With tiny homes, it can be hard to work with the local jurisdictions on how to build and where to put them–many cities are still not open to it. But ADUs as cottages or in-law suites…there are often already avenues inside of code for these structures. It can be a great option for those that struggle with code, need more space, or are not looking for the mobility of a tiny home.
What does Thoughtful Sophistication mean to you?
Jason: Intentional designs. Not over-designing but thinking through it and designing what the needs are—nothing more, nothing less. We like to say you know good design not when there's nothing left to add, but when there's nothing left to take away. I think that fits thoughtful sophistication quite well, that good design isn't always about all that you can put into something—how many features and details there are. When it's just right, when there's nothing more than you need, that's thoughtful sophistication to me.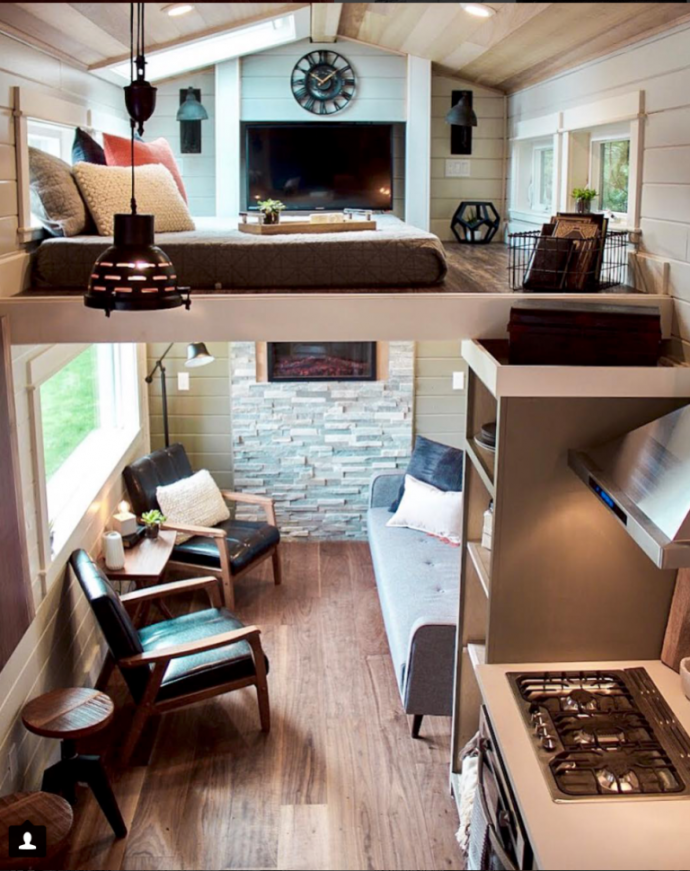 Any tips for folks designing for a small space?
Jason: It's all about the flow. It's really easy to over-design a small space. You get into the space and the flow is very stagnant, you can't go anywhere and there's a dead-end everyplace you look. Trying to design the space not only efficiently & functionally but still flows to feel open. Then making sure each feature/function has multi-purpose; sourcing a table that can fold down to be a coffee table and then expand out to be a dining room table. As few singular purpose items as absolutely necessary.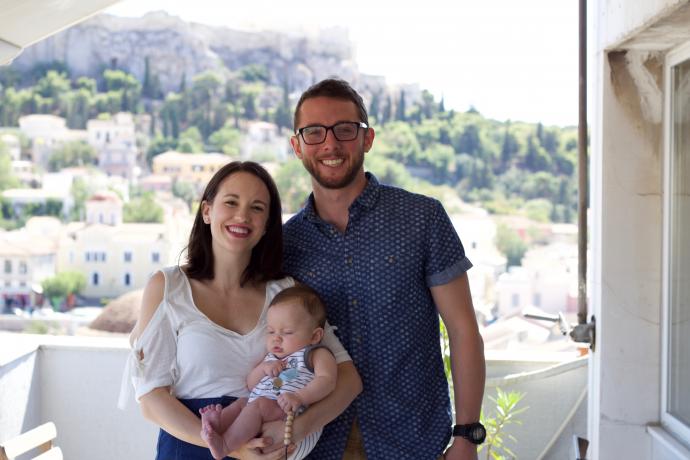 What's inspiring you right now?
Jason: Traveling and Industrial Modern Design. There is so much going on around the world in building right now, new engineering and new materials that allow you to go beyond, like huge expanses with glass, that are pushing me to think about how we can bring this to our own designs. I've always loved to travel, and one of my favorite things about it is seeing the architecture in different places. How each culture has evolved their design over time, the history of where it comes from, is really inspiring to me.
Anything new on your playlist that we should add to ours?
Jason: I just discovered Lauv (http://www.lauvsongs.com/) the other day. They make some chill but upbeat music that is cool to listen to while designing or trying to be creative.
My thanks to the Tiny Heirloom crew, and Jason, for giving their time and thoughts to us on Thoughtful Sophistication—it really was a pleasure.