We worked directly with our Sister company New Energy Works Timberframers to create the feeling of a contemporary lodge home for the customer's vision.  As each step of the process came together, the plan remained the same; to provide an inviting, and family-friendly location that would be the gathering point for three generations of friends and family.
The property sits on the shoreline of the Puget Sound, steeped in access to watersports and outdoor activities, while the Cascade Mountain Range peers from the distance and provides a picturesque view from the multitude of windows throughout the space.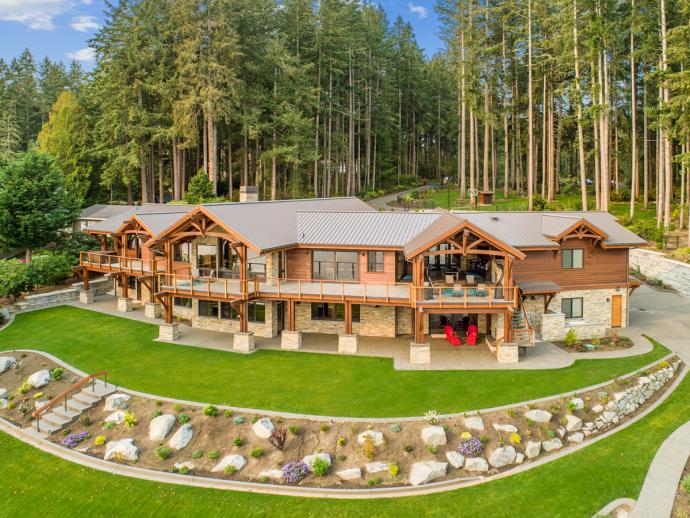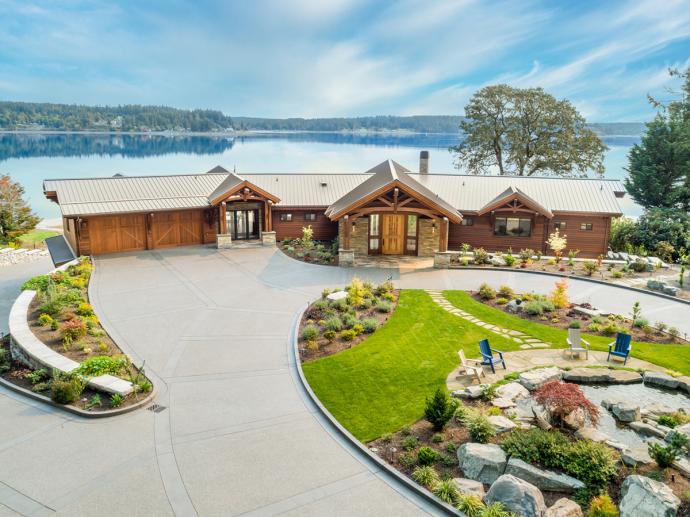 The homeowners expressed a desire for a multi-purpose lodge that could provide a space for calm and relaxation, while still giving access to an endless supply of character, activity, and youthful enjoyment.  In an effort to assuage the desire for serenity on the upper level, we used our Select Larch siding, a higher-grade wood, which is chosen for its lack of knots and tighter grains, as well as a more polished appearance.  On the lower level, our Larch Siding. was used to compliment the industrial ruggedness of the timbers and allow for more activity and visual motion as you look around the rooms.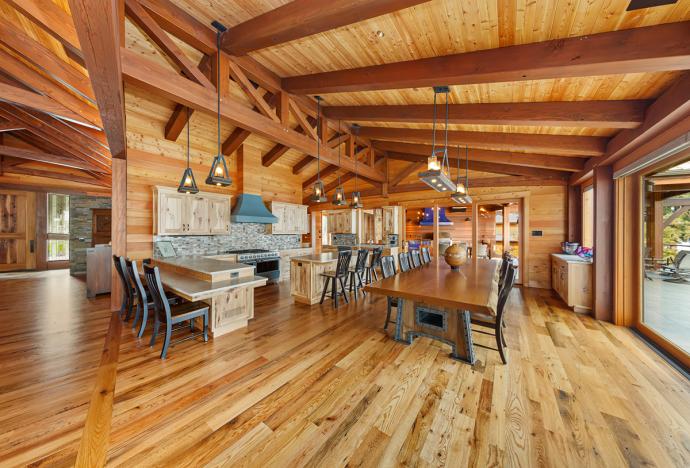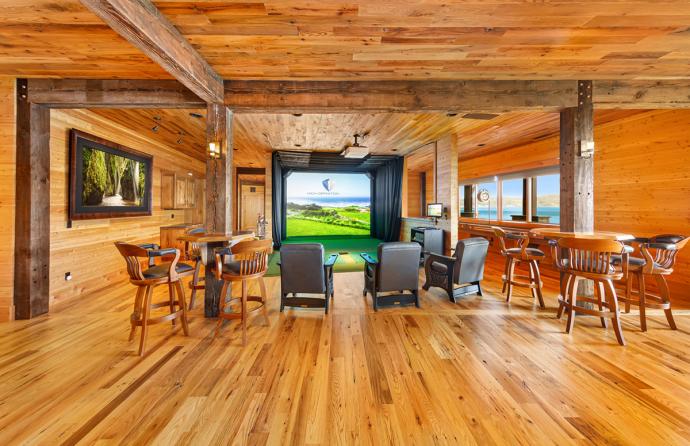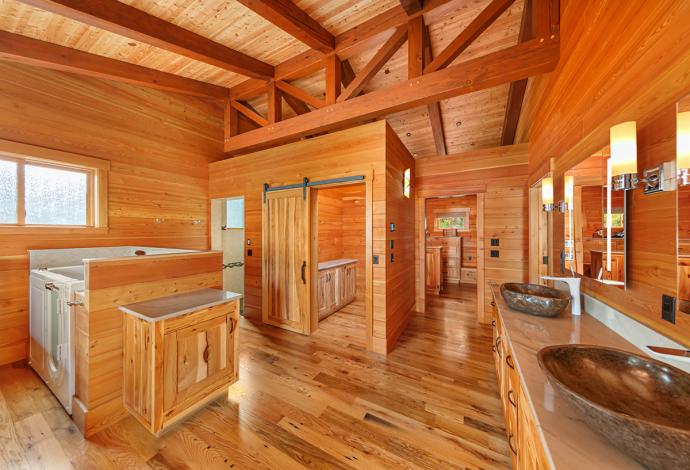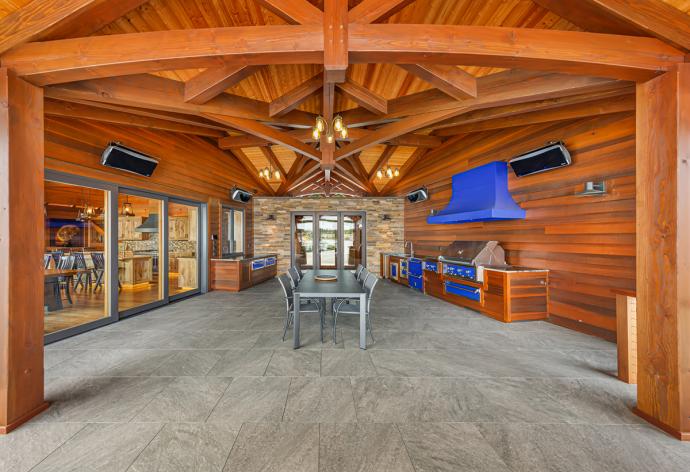 Western Larch, or Larix occidentalis, is found throughout Northern States and British Colombia. Harvested through small, family operated farms whose efforts focus on sustainability and responsible forestry. Commonly used in yacht building and known for being a tough, durable wood, the use in this home in particular was important, as it provided a connection back to the deciduous trees of the area and provided a great deal of flexibility and function when used in not only the walls, but the ceiling and trim.  Very little traditional drywall was added to the construction of this home in keeping with the lakefront lodge creative vision of the homeowner.  Each room in the house gives the feeling of being deep in the woods in a rugged cabin, while still providing all the amenities and upgrades a modern contemporary home could imagine.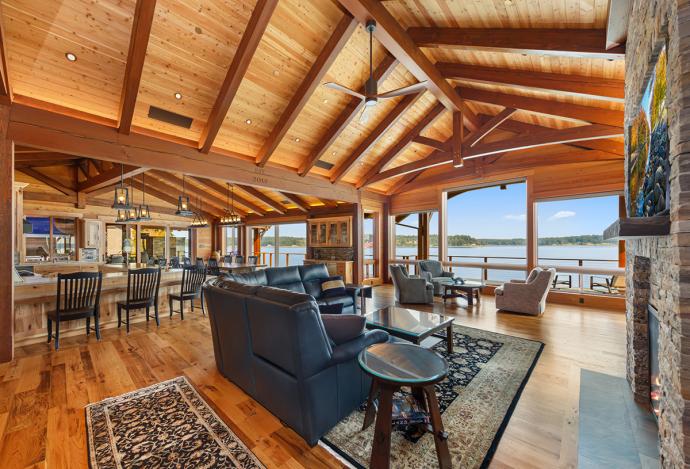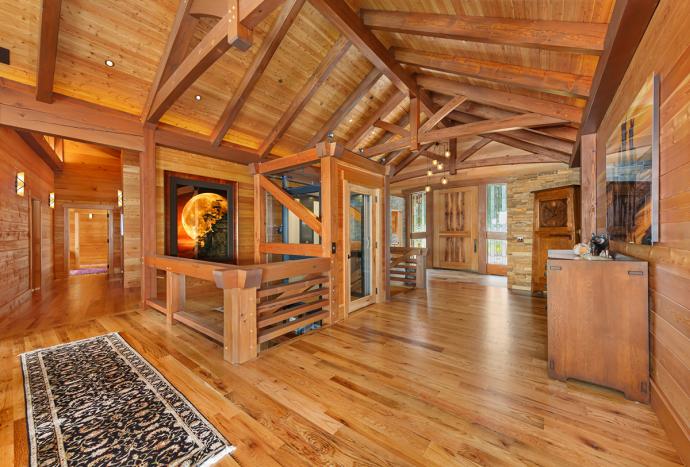 As you move through the open spaces of the house, our Black and Tan Oak flooring flows from room to room. Mimicking the cool browns and caramel tones of the Larch siding, the Oak flooring compliments the overall look and feel of each room and creates a sense of continuity from the moment you walk through the threshold.  Each design aspect of the house was created to maintain a relaxed, yet polished appeal, while feeding the visceral need for a large, but family friendly and engaging space to compliment the pageantry of Mother Nature's floor plan surrounding it.