It has been 124 years since the much sought-after tiles from American Encaustic Tiling Company (AETCO) were first produced in their Ohio plant. When the time came to demolish the factory in 2015 we were able to acquire a load of Red Pine timbers, totaling around 13,000 board feet.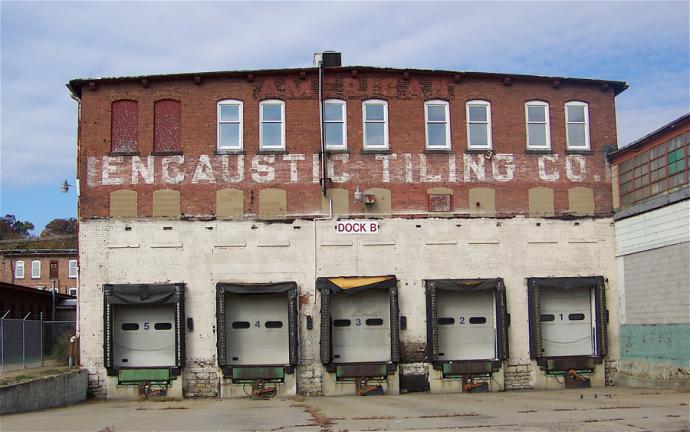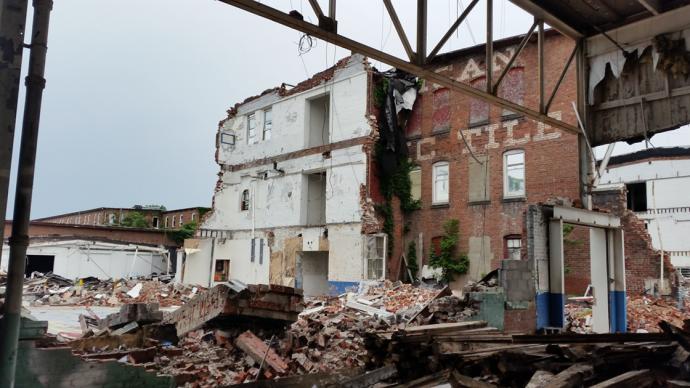 Founded in 1875, the American Encaustic Tiling Company (AETCO) eventually needed to expand operations from its original showroom in New York City. So in 1892 AETCO set up camp in Zanesville, Ohio, alongside the Muskingum River, in a multi-building plant constructed of Red Pine timbers. A producer of floor tiles, wall tiles, and accent tiles of all sizes, patterns, and colors, the Zanesville factory was touted as the largest of its kind in the nation at the time, employing at least 1,000 people.
The AETCO factory reportedly produced the majority of ceramic tile in the U.S. for the forty years following its launch and "helped to convince Americans of the merit of tiled bathrooms and kitchens" according to Old House Authority. AETCO was considered the largest and most distinguished tile manufactory at the turn of the 20th century. Eventually, due to global competition and the gravity of the Great Depression, manufacturing tiles came to a halt and the Zanesville manufactory closed its doors in 1935.
Interest in reclaimed, sustainable wood products has been on the rise. Our reclaimed Red Pine from the AETCO plant has flowing tones of red and yellow, with streaks of resin, numerous knots, with fastener holes and ferrous staining, as well as minor surface cracks in wider planks. Some of the material was milled into paneling and more is currently in production at our Farmington NY mill, slated for a major retailer's project. Crafted to order in our shop, our FSC®-Certified reclaimed wood panels make installation of wood walls, ceilings, and partitions quick and easy. The wood is valued for its grain pattern, durability, deep patina, and incredible character.
And if tiles are your thing, a digital archive of antique AETCO tiles has been populated at Virginia tileCommonwealth University. A 100-year-old AETCO tile, prized as a one of a kind piece of art, recently sold at an online auction for $2,200. With access to the online catalog, owners of historic buildings can now more easily identify the encaustic art tiles in their custody and may choose to buy or sell them online.
About Red Pine: During the later years of the industrial revolution, builders could not solely rely on the dwindling supply of Longleaf Yellow Pine from the Southern US. Other species of softwood timbers, such as White Pine, Red Pine, and coarse-grained species of Yellow Pine were also used based on geographic availability and lower cost. The Red Pine (Pinus Resinosa) is a native of the lake states and eastward throughout New England and southeastern Canada. It grows in a narrow zone around the Great Lakes and the St. Lawrence River and was widely used in heavy timber industrial structures within and around those regions.
Red Pine timber was nearly depleted during the logging heyday of the 1890's
Red Pine will normally reach a mature height of 75–100 feet
The average life expectancy of a Red Pine is 250 years
The tree gets its name from its reddish-brown, scaly bark and red heartwood
Red Pine has a distinct, resinous odor when being worked
Red Pine is very resistant to disease and insects
During the Depression in the 1930s, millions of Red Pine plantations were planted by the Civilian Conservation Corps (CCC)
Most of the wooden telephone poles in Michigan and surrounding states are Red Pine
Itasca State Park, Minnesota's oldest state park, is the best place to see some of the oldest Red Pines as the park features about 5,000 acres of them