Recently we salvaged vintage Douglas fir material from Maraschino vats in Salem, Oregon, also known as "Cherry City." Over 60,000 board feet were rescued during demolition and are available as paneling, flooring, board stock, and more.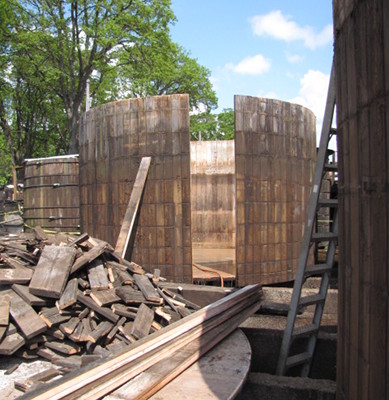 Until the 1930s, the United States was getting much of its Maraschino Cherries from Europe. As the fertile Willamette Valley and Columbia River Gorge in Oregon yielded too many sweet cherries for the fresh-fruit and canned-fruit markets, farmers turned to the Maraschino process. To this day, Oregon Cherry Growers brine 45 million pounds of cherries a year!

Originally constructed during the 1930s and 1940s, these wooden vats have provided us with some "fruitful" wood (no pun intended!). Each Douglas fir plank provides three distinct Vat 35 grades: A silvery interior patina, a rugged brown exterior from generations of being exposed to nature's elements, and a clean center cut which features shades of pink and gray staining from years of mingling with cherries.
As technology continues to expand in all industries, vats are being constructed more often with stainless steel as opposed to wood. We're happy to be able to give new life to these aged planks that tirelessly provided the country with thousands and thousands of "cherries on top."