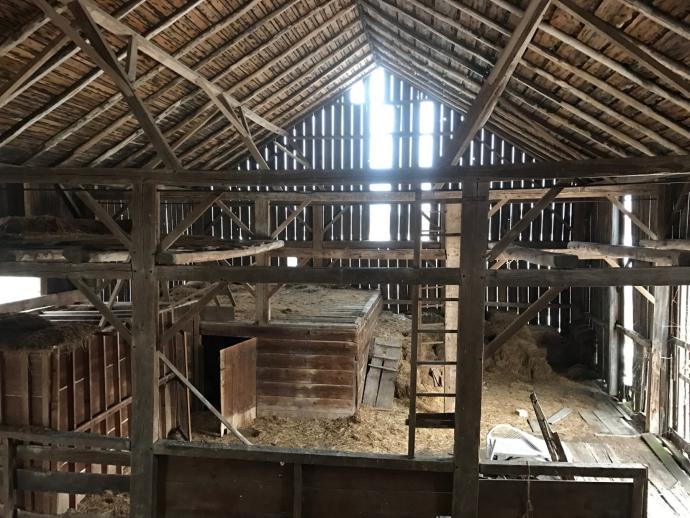 There tend to be four reasons why barns are torn down.
They are damaged or have not been properly maintained, leaving them structurally unsound.
The owner is no longer able or willing to pay the upkeep costs (repair, taxes, insurance, etc.).
To make way for future land development.
The owner is looking to "cash in" on an asset.
We do our best to discourage those who fall into the last category. Pioneer Millworks was born eons ago as an offshoot of our sister company New Energy Works Timberframers (a leader in the timber frame industry). Working in close proximity with these talented craftsmen, engineers, and architects for all these years has given us a unique appreciation for timber frame construction and its historical roots in the architecture of American barns.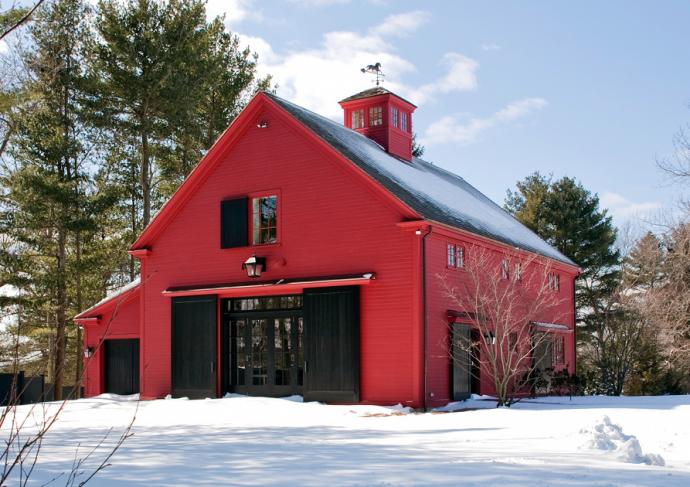 While salvaging barn wood is integral to our business, we consider it an ethical obligation to discourage unnecessary barn demolition and encourage the preserve these historic structures.
Situations that fall into the third category cause us a bit more ethical grief because perfectly good barns are often torn down to make way for land development. Unfortunately, the fate of these barns is usually sealed by the time we get involved and whether or not we purchase the wood is unlikely to motivate the developer to change their plans.
In the summer of 2015 I was asked to visit a barn in Voorheesville, NY which was going to be torn down to make room for a country club's expansion. The local community's efforts to secure public funding to preserve the structure had met a dead end. At the time I was heading home with my family from a vacation in New Hampshire so I made a quick detour to assess the structure.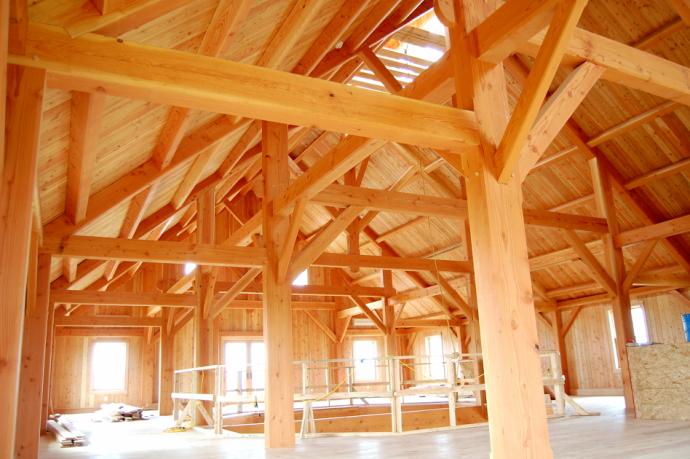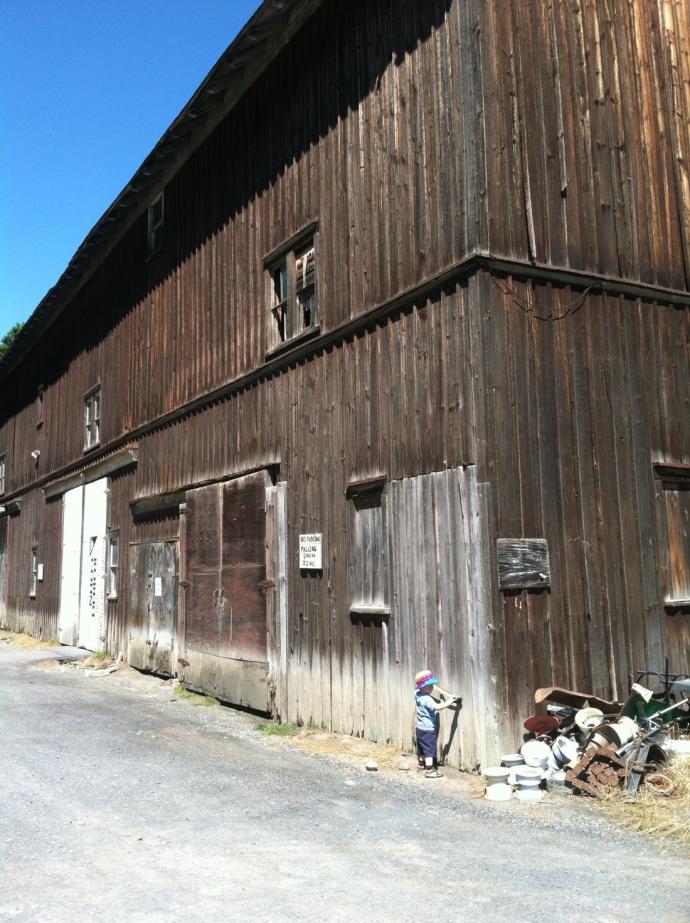 The barn far exceeded my expectations. It was huge; far larger than anything I had ever seen in New York. The structure was entirely built out of circle sawn Eastern White Pine timbers and joists. My two-year-old son and I spent an hour or so taking measurements and snapping photographs.
Our preference was to see the barn preserved, but since this was unlikely to happen we could at least honor the barn's legacy by giving the wood new life and sharing its story. This is what Pioneer Millworks does best.
We later sent the owner a proposal to purchase the material, which totaled nearly 40,000 board feet – an exceptional amount of material for a single barn, but we never heard back. Our assumption was that someone else had outbid us for the material. Then, recently, purely by chance, I stumbled upon this Facebook page.
Turns out the barn had been saved! A generous donation of land, coupled with an epic community fundraising effort and secured government grants allowed the barn to be relocated to a newly created park located across the street from the barn's original location.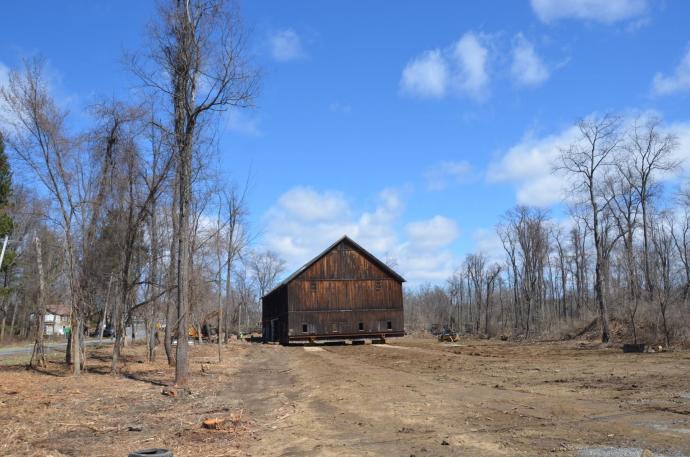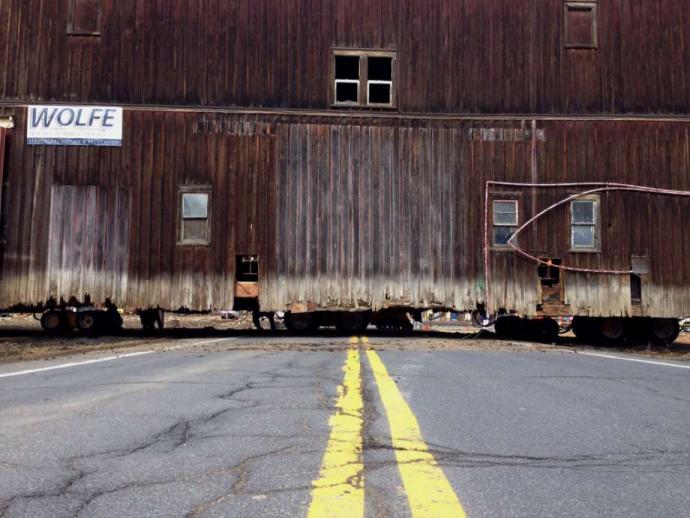 These stories of successful barn preservation efforts are a real inspiration to us as they are often initiated by just a handful of individuals, but end up involving the dedicated efforts of a whole community and more! We at Pioneer Millworks are thrilled that the Hilton barn, whose impressive size left a lasting impression on me, is still standing and now public property. Kudos to all involved!
If you'd like to get involved with barn preservation, here are a few groups we're fans of:
•RESTORE OREGON – HERITAGE BARNS
•NEW YORK STATE BARN COALITION
•NATIONAL BARN ALLIANCE