We've been talking about Thoughtful Sophistication™ a lot in our studios; what it means to us and what we hope it means to others. Of course, there's our Thoughtful Sophistication collection—but it's more than just the products and finishes you see. It's a way to move Beyond the Barn™  to see the other side of reclaimed wood, options that are sleek and modern with a soul. 
However, nothing good comes from just talking in your own bubble, so we reached out to some of our design friends to get their take on what Thoughtful Sophistication means to them, what they see as the next wave in interiors, and how they stay inspired as a creative.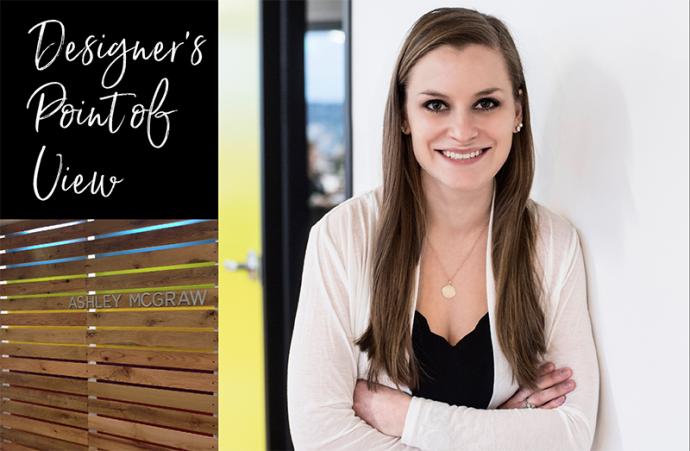 I had the fantastic opportunity to chat with Susanne Angarano, Principal + Interior Designer at Ashley McGraw in Syracuse, NY. The architectural design firm creates spaces where people are inspired to work, learn, collaborate, and play—or "design with purpose", as they say. Susanne's work is mostly in educational spaces.
D: Thanks for taking the time to talk with me today Susanne, I really appreciate it. Tell me more about your work in sustainable design.
S: Thanks, of course. I started my education in Interior Design and got my masters in Sustainable Design. I landed at Ashley McGraw because it's a very design AND sustainability focused firm full of people very passionate about both. Our firm is very deeply rooted in sustainable building science and holistic sustainability which is my passion. We have a great balance of the science and the ecological in our sustainable approach and I love how they synthesize together in our designs.
Is holistic sustainability the next step for design?
S: I think so. We take a lot of our direction from International Living Future Institute's Living Buildings Challenge—what I would call a holistic design approach. It looks at the science behind the energy, water, and site—but also materiality, beauty, social justice, and environmental justice—it's a great framework to use. I think that even if projects aren't going towards this certification it's a great guiding principle for projects so that sustainability can become more than just energy usage or recycling to end-users and clients.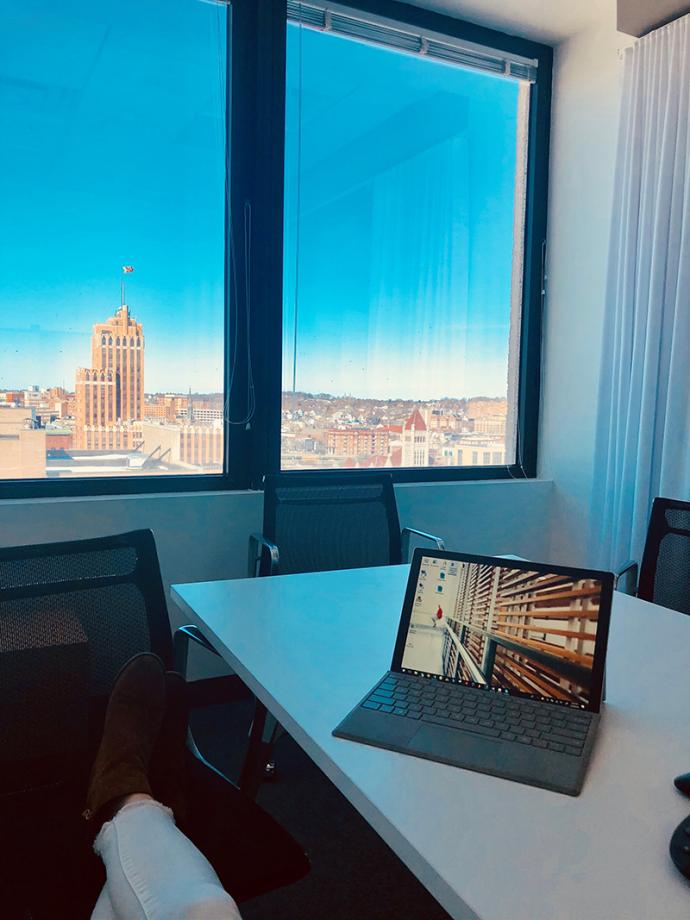 Is there a particular part of holistic sustainability that drives you?
S: I'm on two sides of my brain about it. One is biophilia, human connection, beauty, and the relationship to nature—looking at nature as something to be honored and respected in our designs. On the other side is material health—lead-less, VOCs, and sourcing to make sure the building is a healthy place to be.
What draws you to use reclaimed wood in your projects?
S: We've been specifying more reclaimed wood in our K-12 projects because there's a character to it that you don't get with virgin wood or with products that are made to look like wood. Each piece is unique, it tells a story—we're trying to weave a narrative for our projects and with our clients and that includes the details in the materials that we use.
We recently used Pioneer Millworks reclaimed Indonesian Teak in the Binghamton Incubator. The wood was a great way to get the character and warmth into the space that wasn't manufactured, wasn't measured to be perfectly imperfect—the naturalness of it gave a great creative vibe to the environment.
Reclaimed wood has a unique component that it ties directly to nature, there's a story of where that wood came from, how old it is, how was it treated, what it was built into—reusing it, repurposing it into something else is a story that people find fascinating. It becomes a timeless element in the design.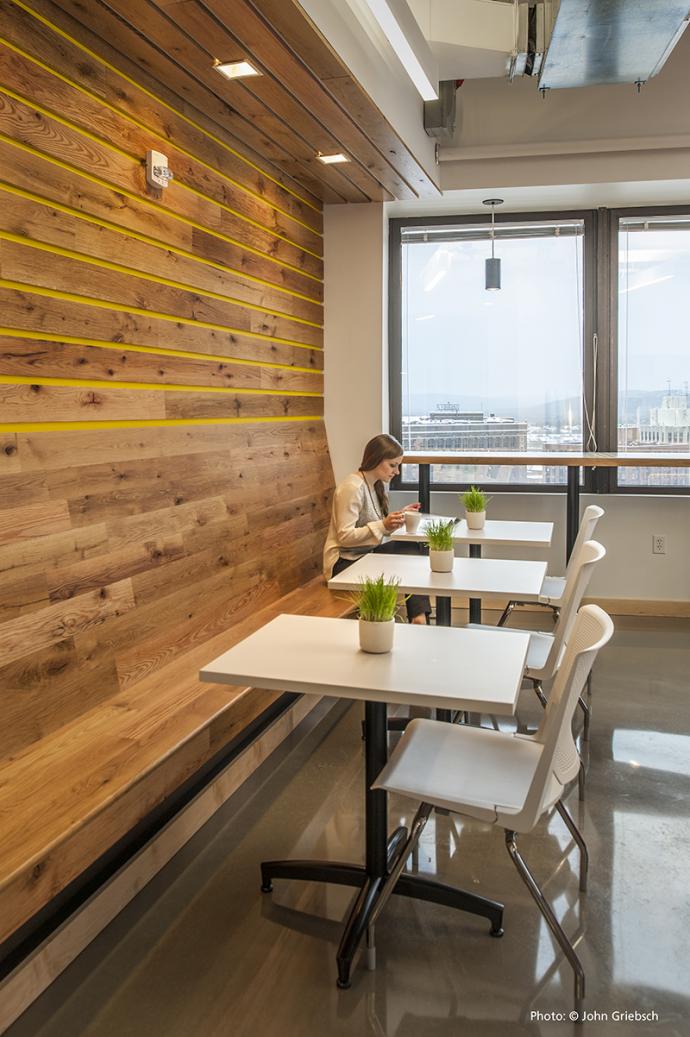 A lot of people think reclaimed wood and do think of only barnwood—what are your thoughts on that?
S: Our projects don't typically lend themselves to that barnwood look. We've used Pioneer Millworks Black & Tan in our office, which is clean and looks very polished. You see the grain is unique and it has some interesting colors in it, but it still has a very polished finish. So I don't think of reclaimed wood as being only barnwood, but we do commonly get "the barnwood aesthetic isn't what we're are going for" when we suggest it. When we show examples of the range of possibility within reclaimed wood they realize how wonderfully versatile it can be.
We've been talking a lot about this concept of "Thoughtful Sophistication" in the office. What does it mean to you?
S: In the context of reclaimed wood I think of it as a material that can take a lot of forms—it can be rustic, it can have that barnwood-look or it can have character. Our designs are always looking to be thoughtful, meaningful, and purposeful in the way that they use materials, in the way they come together to speak to the environment and user-groups—but also sophisticated with high-level design. It helps when you use a product like reclaimed wood. You can refine it, polish it, and make it look sophisticated, valid, and relevant to the design needs.
Take the Original Gym Flooring in our office. It's not rustic, it's not barnwood at all, but it still has this unique history to it—you can even see remnants of gum and tape in some places. The gym lines are installed completely random, so it has this confetti-look—that was very intentional/thoughtful in that we wanted a material throughout our entire office that spoke to the work we do. Not only is the fact that it is reclaimed speaking to our sustainability aspects, but the majority of the work that we do is for educational clients. Knowing the story of the wood, that it came out of a middle school in Geneva, it represents our clients in an untraditional way.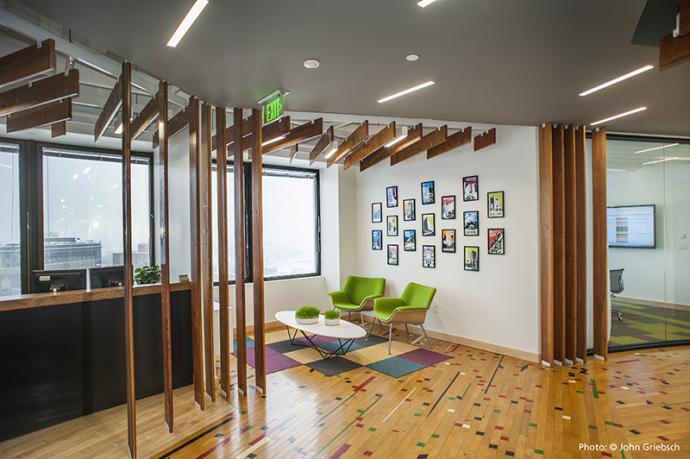 How do you see reclaimed wood fitting in to the next trend of design?
S: Wood is here to stay in design, but I think the way it is used is different. I was chatting with a coworker about how you can walk into a room and if there's wood paneling that was done in the 60s, you know it was done in the 60s. You can tell that it's old—there's nothing timeless about it, it pinpoints that time. How we use wood now is more timeless, by using reclaimed wood that already has this timeless aspect to it—the tone/color of the wood isn't specific to an era or design period, it's specific to a where it came from.
How do you fill your metaphorical creative bucket so you can stay inspired for your clients?
S: That's an interesting question because I've been doing a little soul searching on this lately. It's about opening up and letting the clients, the projects, and the users of that project inspire me. Each client and each stakeholder group is unique and so when I can involve them in co-creation the excitement and energy sparks creativity. My bucket of creativity is whatever that project is at the moment—the deep understanding of people and place inspires me.
Thanks so much to Susanne for taking the time to chat with us. If you'd like to share your ideas of Thoughtful Sophistication, we'd love to hear from you in the comments, or you can email us at info@pioneermillworks.com.