We've been talking about Thoughtful Sophistication™ a lot in our studios; what it means to us and what we hope it means to others. Of course, there's our Thoughtful Sophistication collection—but it's more than just the products and finishes you see. It's a way to move Beyond the Barn™ to see the other side of reclaimed wood, options that are sleek and modern with a soul. 
However, nothing good comes from just talking in your own bubble, so we reached out to some of our design friends to get their take on Thoughtful Sophistication.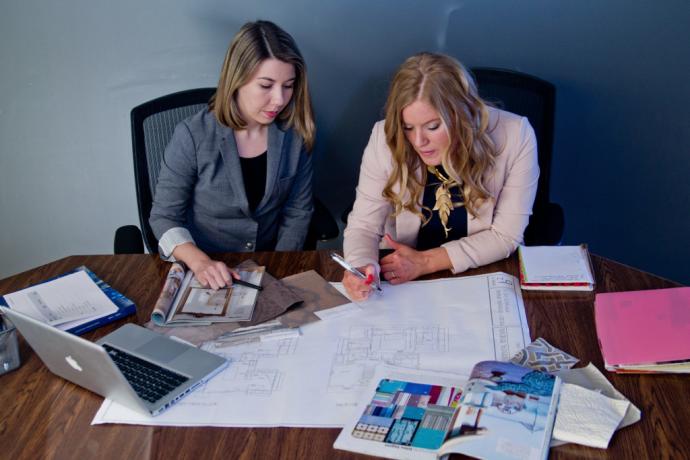 I had the fantastic opportunity to chat with Tiffany Hanken of Tiffany Hanken Design.Tiffany grew up in Wisconsin where she found her passion for interior design after getting to redesign an old hunting lodge at age 13. Since then she's brought her visions to national restaurants, clothing boutiques, and residences across the United States and France with the team at Tiffany Hanken Design inspiring others to "design the life they love."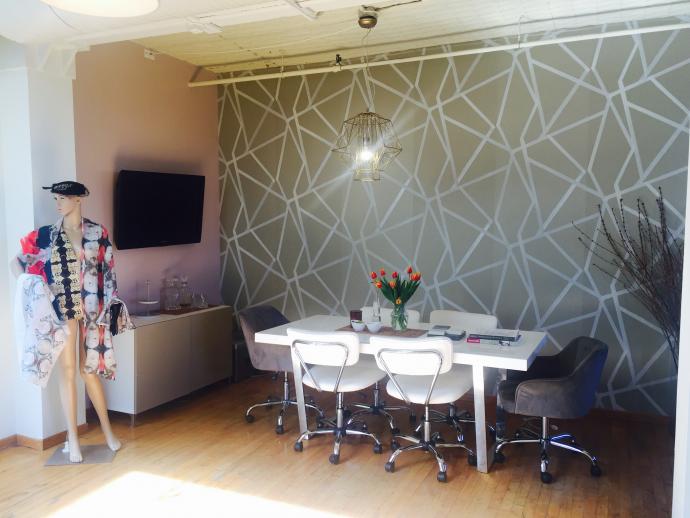 D: Thanks for taking the time to talk with me today Tiffany. I notice your tagline Design the Life You Love…tell me more about that.
T: I truly believe that our surroundings help us create the type of life we lead. We create our own experiences every day, and anything in life that you really want can come true. So our belief is that if you take the time to design your surroundings to the type of life you want to have, they will have an impact on helping you get there. It's how we approach all of our projects: what type of life does our client want to live and what can we do within the space to help inspire them to make that a reality day-to-day.
D: What do you think the next wave of design trend is in residential design?
T: Technology and the lack of technology. Though the addition of the "assistant" (Alexa, etc) are adding comfort and convenience to our spaces, having homes that are essentially running via computer, we're also seeing intentional spaces that are designed without technology. Lounges and other rooms that are technology-free where the goal is for the family to come together and interact with no technology involved.
D: How do you see social and environmental responsibility continuing to evolve in design?
T: There's a large focus on local elements, not mass produced pieces that come from a big-box store. Clients are very into knowing where materials come from and what they are made out of. For us, we interpret and use as many local artists and materials as we can in our projects. When we can work alongside an artist and have them create something specific for the space it brings meaning, but it also helps to invest and strengthen our community. Homeowners get a piece that they can talk about, share the story of, and we get to support our neighbors. We do the same with materials; any time we can source something locally, we do.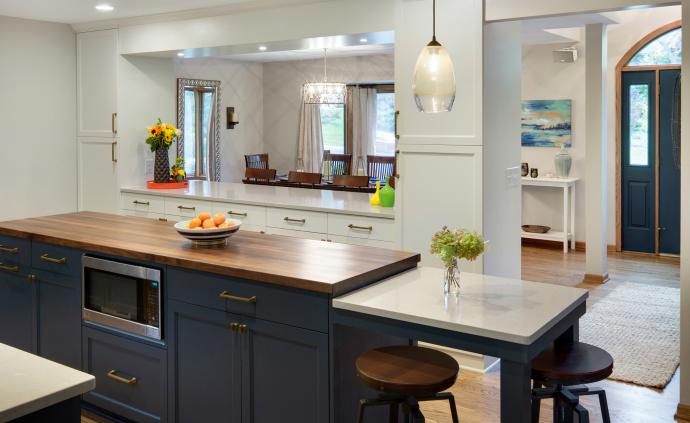 D: How do you bring color into your projects?
T: We always bring accent colors to a space. Our current favorite is through the kitchen islands. With the trend for white and grey kitchens, this allows us to bring in a pop of color in an unexpected place. Doing that through cabinetry in an island allows the color without having a homeowner married to the color for life. Cabinets can be repainted fairly inexpensively so this allows them the freedom to change it up in the future.
We also work with furniture, soft goods like pillows, and we still love the accent wall for color in more neutral designs. Speaking of neutral, I consider blues and greens to fall in that palette. I'm inspired by nature where you see the blue of the sky and the soft greens acting as neutrals to color. I think of interiors in much of the same way.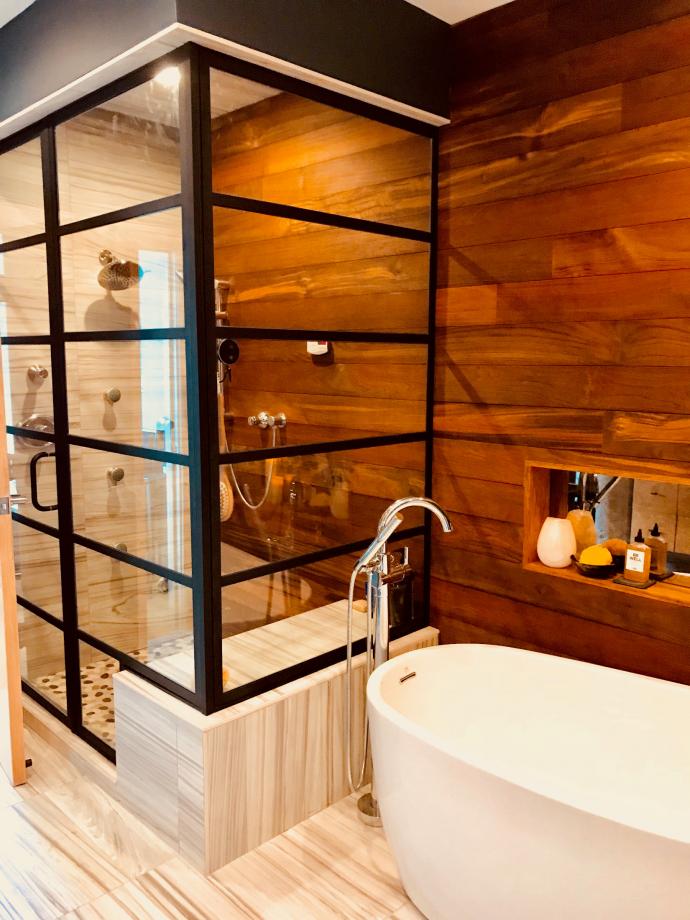 D: What is the best way to keep wood modern & fresh in today's interiors?
T: Classic patterns are a great way to take wood out of its comfort zone, herringbone is popular because it does this. When you can take it to a new element, say as the top to an island, it can elevate. Also mixing species of wood or varying textures together.
But really it's all about the application. Wood will never go out of style and it can certainly be used in a modern way. We recently used Pioneer Millworks teak in a shower, which seemed a bit of a risk and unconventional––but the wood brought a warm element to a room that is typically very cold with tile and porcelain and glass. In this case, the bathroom's modern lines really dominate––all grains are oriented in the same direction as the metal work, the glass, the tile. But the organic nature of the wood breaks this, softening it and bringing balance.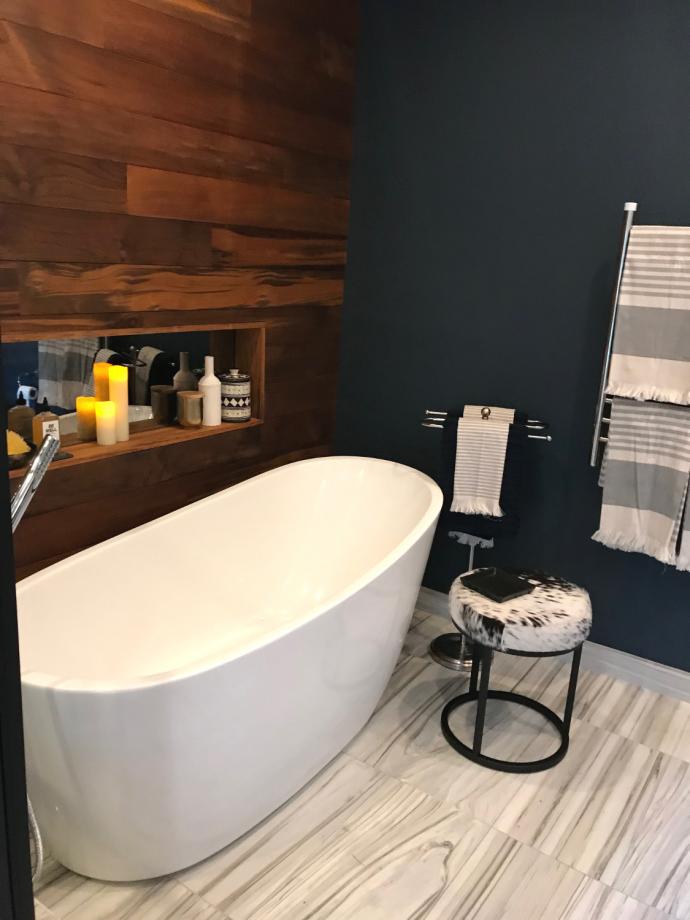 D: What is the most overlooked area for residential interiors and do you have suggestions to bring it to life?
T: Hallways. Since a design typically isn't centered around a hallway and they act as transitions within space and help to continue the story, you can use them to have a little fun. Bringing wood to the wall, or using a different material on the floor than is in the rest of the space—hallways allow you to transition to another idea without competing with the focus found in other rooms.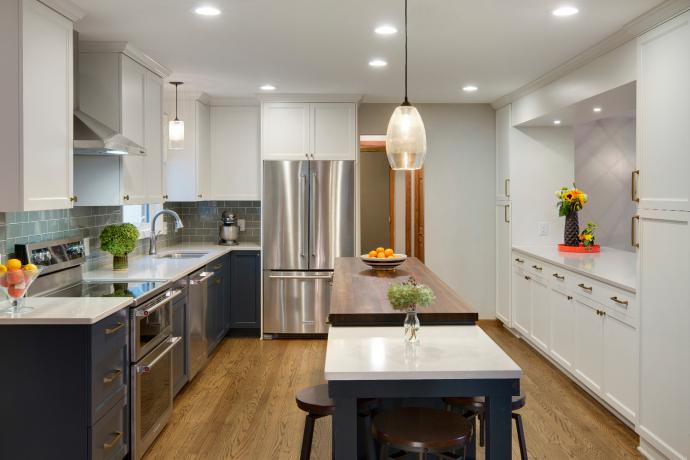 D: What does "Thoughtful Sophistication" mean to you? 
T: A level of social interaction and responsibility with materials. Knowing where your materials come from, how they're made, sharing the story with the client, and then using that material in a respectful way—allowing it to have its own space.
D: A lot of people think reclaimed wood and think of only barn wood—what are your thoughts on that? 
T: We love look of reclaimed barn wood, but reclaimed wood, in general, brings that natural element into designs that is really beautiful. Using reclaimed wood outside of the traditional floor/wall on beams, wraps, islands, vanities, or in unusual situations like the teak in the shower project opens it up.
D: Why have you chosen to use reclaimed wood in your projects? 
T: The story, the ability to talk to homeowners about the source. We get to know where the wood came from, what it's past life was, the age—and the overall aesthetic that the age brings. We love it and our clients love it. Homeowners enjoy sharing the story, it turns their room into a conversation piece which in turn makes their home more meaningful.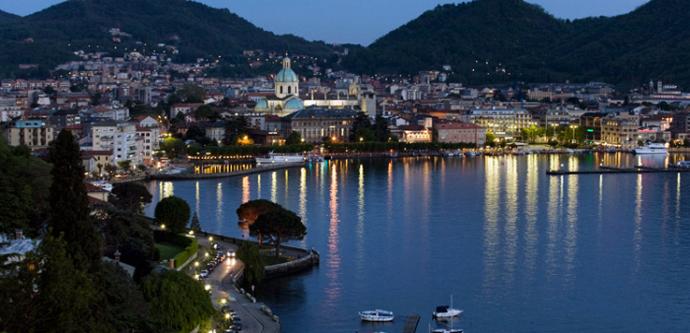 D: Where do you gather your inspiration?
T: Travel. My husband is French, so we spend a time in Europe and I am always gathering ideas—their respect for architecture is inspirational. New York City has an energy to it that you can't help but be rejuvenated by, and recently I've been spending time in San Fransisco which I find has a very European vibe to it that I appreciate.
I also spend a lot of time in nature, which has a direct influence on my interior design work. All of our designs work to bring as many natural elements into interior space as possible from materials to color choices. In particular, I'm drawn to water, Lake Como in Italy is one of the most stunning places I have ever been—it's impossible to not be inspired when you're there. If you ever have the chance to go—GO!
As a team, we're inspired by new projects. Clients who want to think outside of the box, or who really understand our ethos about designing a space that inspires how they live, truly get us going.
Thanks so much to Tiffany for taking the time to chat with us. If you'd like to share your ideas of Thoughtful Sophistication, we'd love to hear from you in the comments, or you can email us at info@pioneermillworks.com.