The roar of the crowds, the squeak of sneakers, and the bounce of the ball—gym flooring is iconic, carrying stories singular to the floor and to anyone who grew up cheering for the home team. It's often this history and familiar recognition that makes Original Gym Flooring appealing to project designers, retailers, builders, and homeowners alike. Of course, the 'confetti' effect of mixed up planks that occurs with reclaimed gym flooring also carries its own appeal.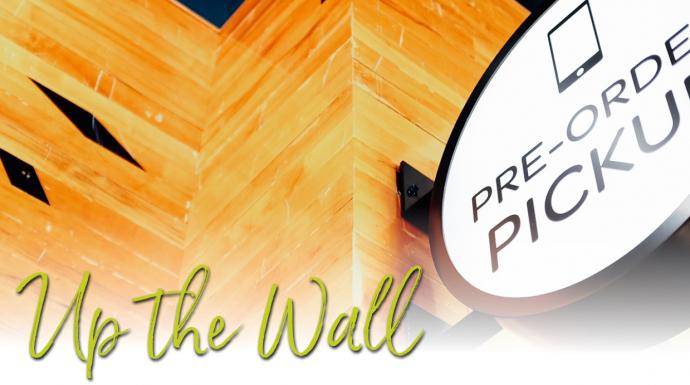 Recently spotted running up the walls in a few locations, we connected with Rachel on a sports store project and Sarah on a growing eatery:
"Giving the gym flooring an accent spot allowed it to shine, allowed the story and history to come through," explained Rachel Milaschewski of Gate 3 Design in MA. "We really like the sustainable aspects and re-use of wood. There was lots of concrete in the Phoenix Suns store, so we wanted to soften the area a bit, to build out the concrete columns. Gym flooring was logical for the Suns store."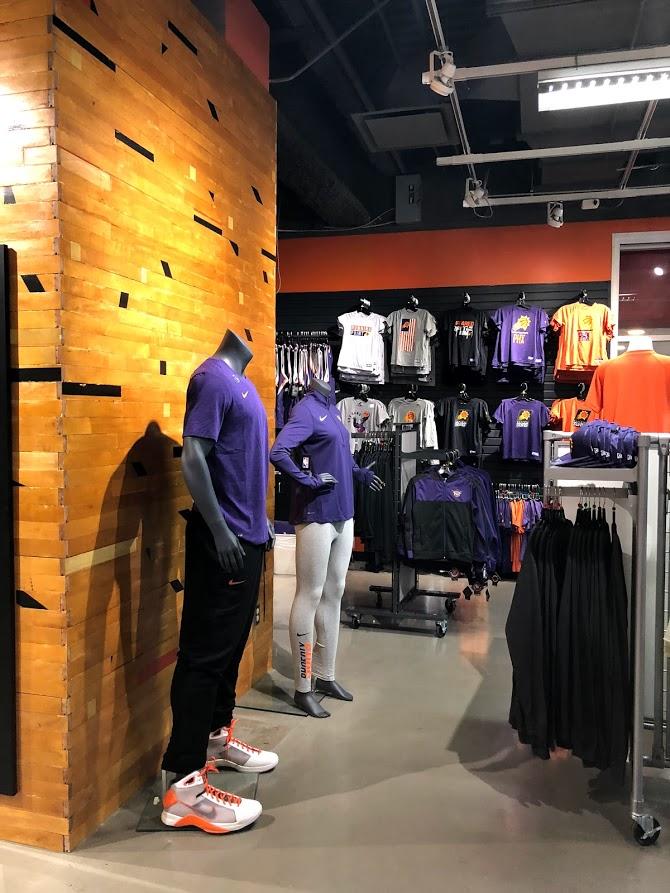 "Going vertical? We thought it would be interesting, different from on the floor. It is the perfect amount of wood that makes a statement without being overwhelming or getting lost in the overall layout."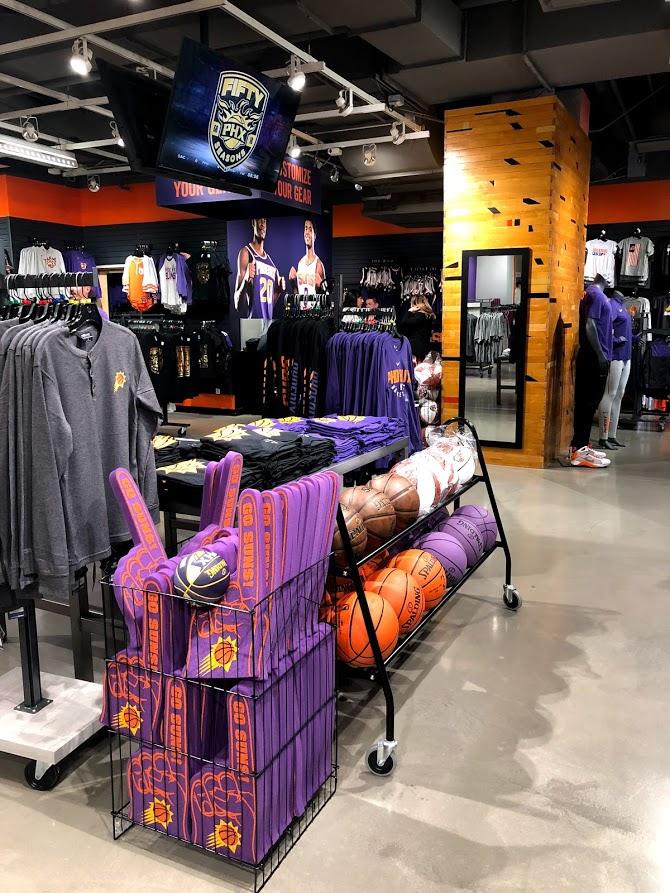 "After the concrete columns were built out, our team unpackaged the flooring and individually chose each piece to place next for the desired pattern. It was tedious work, but had a great payoff!"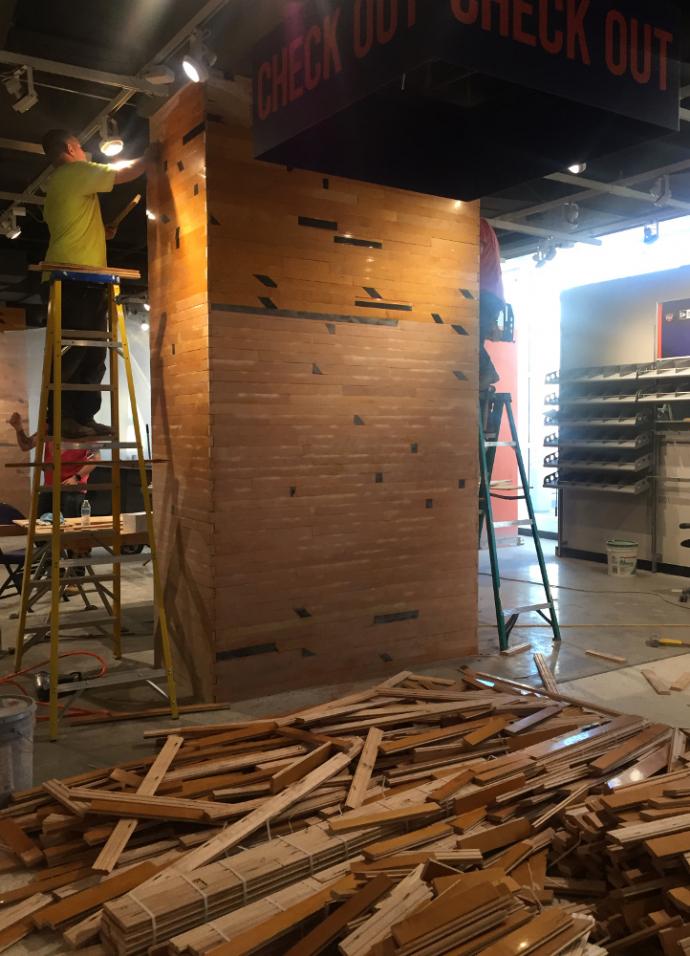 "The team store now uses the columns as a backdrop to mannequins showcasing new and/or popular merchandise or other novelty pieces such as official basketballs. The column in the far back corner can be seen from the street and it really catches your eye, especially with the right lighting."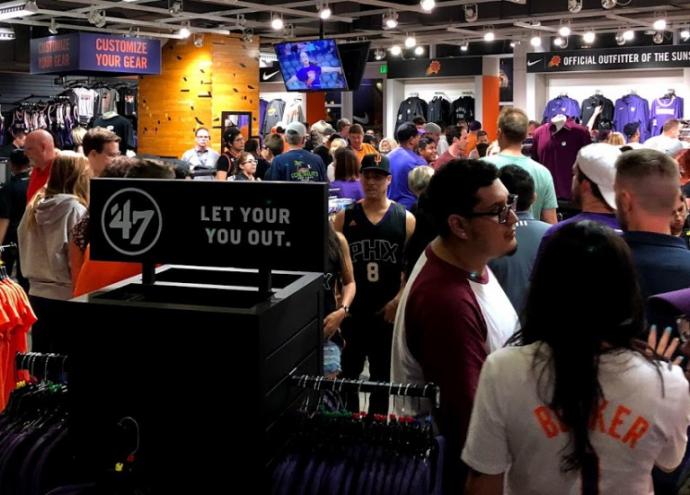 "I feel like wood can be paired with any material or aesthetic – industrial, residential, soft, hard – it can give off any attitude you want it to and work really well. The richness and character can be applied in so many ways."
Our thanks to Rachel for the insights!
We also had a chance to connect with Sarah Savage of minigrow, an eatery with wholesome foods aiming to provide a different experience through evolved form, simplicity and design–a creative solution that remains focused on the basics: serving up some "damn good noodles and greens". They have 3 NYC locations and another coming together in Chicago.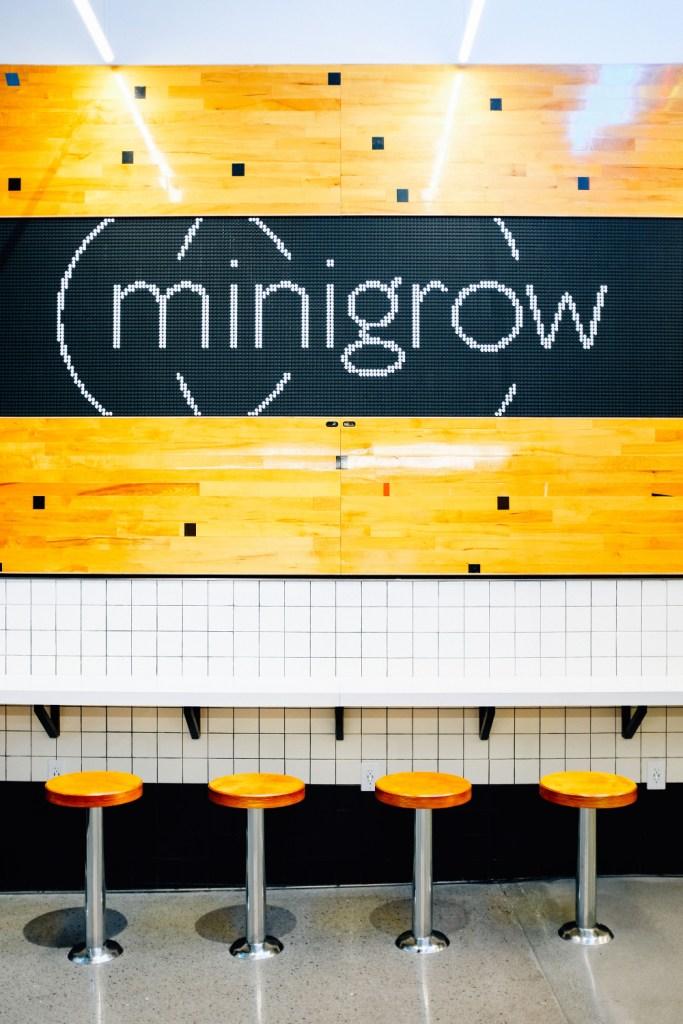 "minigrow is a streamlined concept, the brainchild of our original honeygrow restaurants," Sarah explained. "Both have a strong focus on sustainability in aspects of food service, procurement, as well as design elements of the stores. Locally sourced, recyclable, or made from recycled materials are key. The Gym Flooring from Pioneer Millworks allowed us to incorporate a recycled material as a prominent design feature in our stores."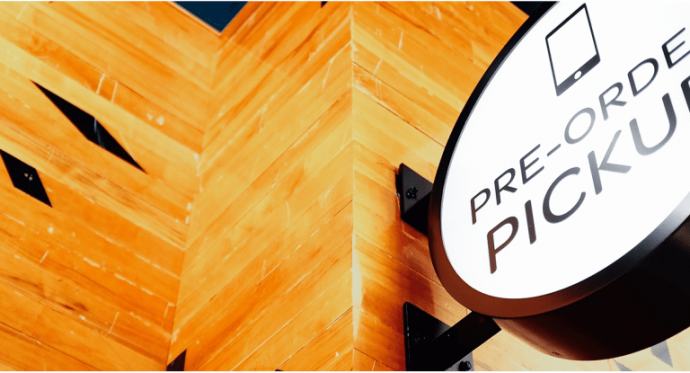 "minigrow maintains a crisp palette of black and white overall. We liked the warm tone and bright pops of color the gym flooring offered. It creates an inviting dining space for our guests. The non-traditional approach of using the flooring vertically was logical for us. We're always pushing inventive approaches to food and interior design."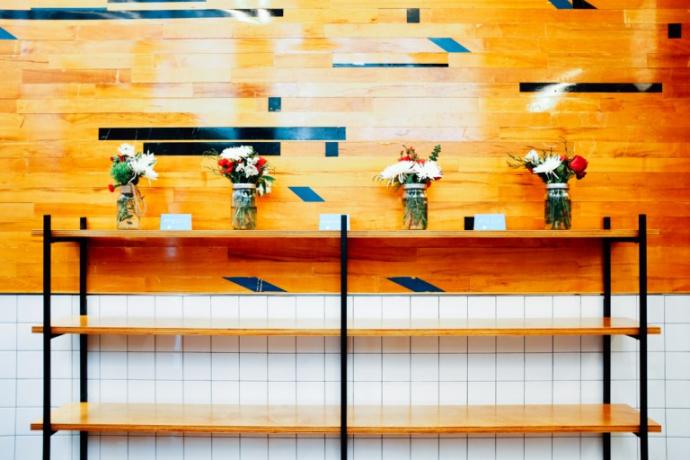 "Also, the paint colors in the gym flooring tie in with the custom mural we have created by an artist local to each restaurant. Pioneer Millworks has been instrumental in sourcing the wood and assisting with colors selections to work with our preferred palette."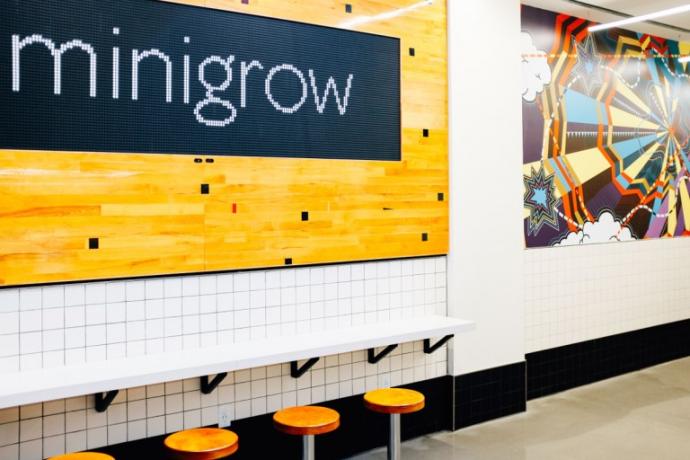 "The store at Madison Avenue in New York City uses the Gym Flooring to frame a custom interactive flip-disk display created by Breakfast NY. It's a really fun piece that displays messaging, graphics, or live-captured images from a camera concealed in the wood."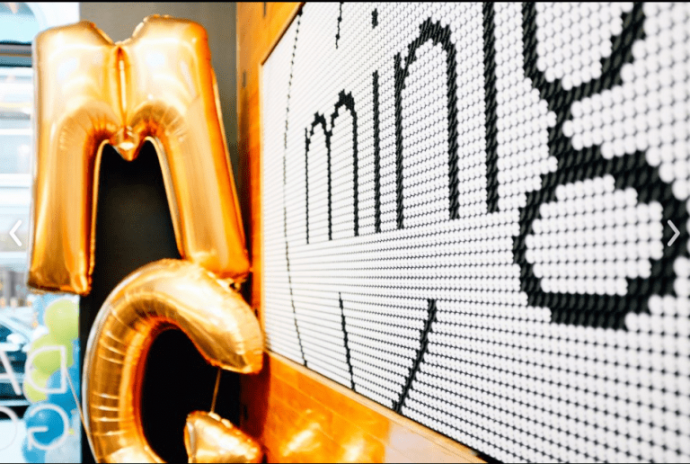 "We are excited to feature the Reclaimed Gym Flooring as a signature look for minigrow; we feel the material tells a story that reflects the mission and philosophy of our brand."
We're looking forward to being able to whet our appetites in minigrow during our travels!
While Gym Flooring graced walls in minigrow and the Suns store, it has found life as flooring in other sports, educational, and hospitality projects. One of the more colorful examples is in Ashley McGraw, an architecture firm that specializes in educational design/build. They 'design with purpose to create spaces where people are inspired to work, learn, collaborate, and play'. Their office remodel utilized locally sourced Bleacher Boards and reclaimed Gym Flooring with original surfaces which created a mixture of court lines of the varying school colors. "It looks like confetti!" said Susan Angarano, Interior Designer with the firm.
Tonal differences from the various schools helped create a border from the circulation spaces into the office areas at the company. Bleacher Boards were incorporated as screen walls and ceiling accents.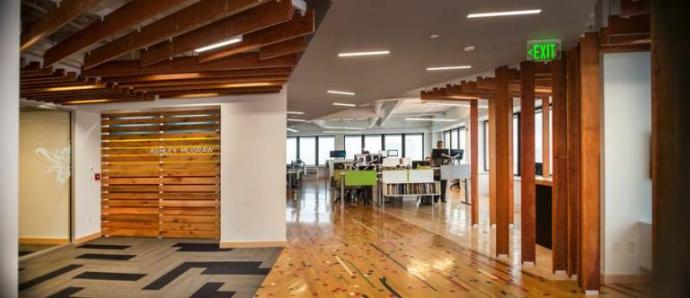 Would the personality of reclaimed Gym Flooring benefit your project? Or maybe a cleaner version of wood with a story to tell? Check out our wood selector tool or reach out to our wood experts for more.