Sit back, relax, and pour yourself a pint, as we journey into the story of our Black and Tan reclaimed oak.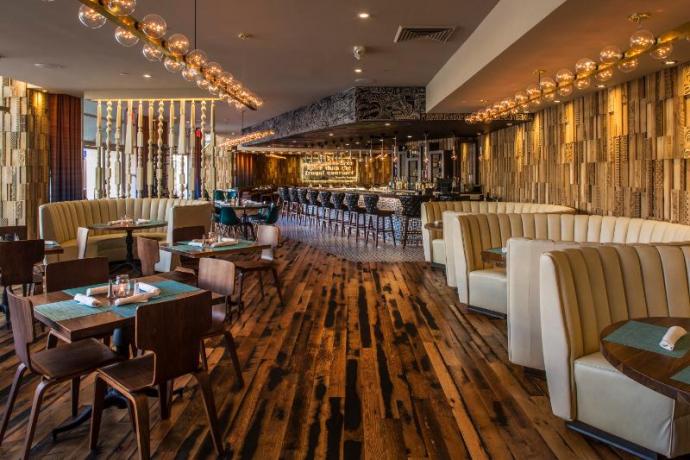 I've stared at my browser for much longer than I anticipated writing this blog. I had visions of crafting words about cream underlayers and the dark painted tones.  In the process I have walked through a rabbit hole of random information, like the definition of the color cream and how the term black and tan isn't a thing in Ireland.  How any of that relates to our Black and Tan which is reclaimed wood flooring and paneling from horse farm fencing, you and I may never know.
The Black and Tan story is really much simpler and thus less of a wordsmithing adventure. A staple in the equestrian society, black rail fencing spans miles and miles of Kentucky Bluegrass. Drive anywhere in the state and you are bound to come across beautiful, rolling pastures, lined with post and board fencing from surrounding horse farms.
Considered the traditional way to erect a horse fence. These black fences (or Kentucky style fences) were typically wooden posts with three or four rails of black painted planks, nailed to the posts. The wooden fences were a more affordable and durable option for equestrians or ranchers who needed miles of paddock fencing to corral their expensive equine investments or working farms.
But why is it black? Well, historians and equestrian scholars say that the black color of the fencing originated in the early settler days, as the Northern and Southern Colonial tendencies merged in the Kentucky hills and created a melded approach to farming and ranching.  Having so much land to cover with fencing yet needing something that could withstand the rigors of the harsh climates, horse farmers came up with the solution to use wood tar.
For fencing, the layering of wood-tar was widely used as a preservative on the wood and in some cases, it was a repellent for those wood curious Thoroughbreds, looking to break up the monotony of their day with some chewing. New technologies have given farms many acrylic based paint options which are environmentally (and animal) friendly, non-toxic, and still protect the wood against UV exposure, rot, mold, and other elements. The remarkable spans of dark fencing all across the state are like a prominently displayed message that you are entering "horse country".
So, let's talk about the wood.
Oak; Quercus Alba for your Latin word fans, or perhaps the next time Jeopardy is on and you want to impress your friends, is a striking hardwood found regularly in North Eastern America. This long-lived, slow-growing tree often touched the clouds with its 60-100-foot reach and spread outwards of 50-90 feet when untouched by industrial expansion. Having massive 6-foot diameter trunks, you can imagine how popular this tree became for crafting just about every facet of life in early days.
Though the oaks of today are not so massive, it still remains the wood of choice for those looking to corral the next Breeder's Cup champion.
Our reclaimed Black and Tan line come primarily in white oak, with a sprinkle of red oak here and there. We've reclaimed miles of agrarian fencing from horse farms, paddock fences, post-and-board fences, all in an effort to sustain the planks, then recycle and reclaim the oak that lies beneath the black outer shell.
Underneath all those dark, gritty layers of American history lies a stunning array of honey-gold tones, elegant mixtures of creamy whites, and classic farmhouse hues. If our Black and Tan was a movie it would be the Outsiders. Dark, edgy, rock-and-roll hardcore, with a great story to tell, once you peel back the layers. Stay gold Ponyboy, stay gold.
| | |
| --- | --- |
| | |
| Black & Tan 50/50 in Pure Finish | Black & Tan 50/50 in Ebony Finish |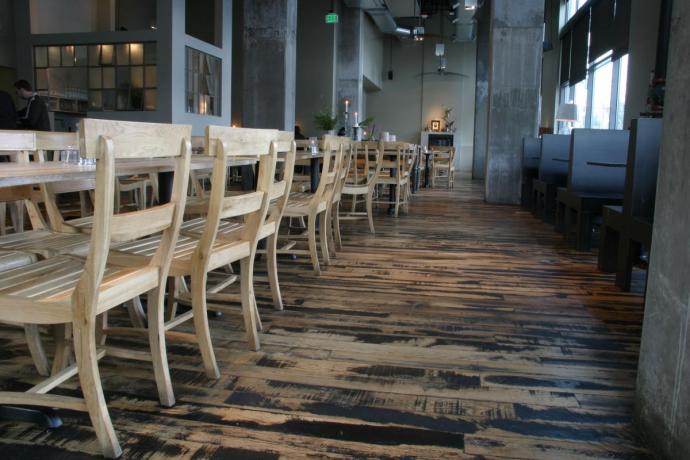 50-50, a toss-up, coin toss, half-and-half. That is our Black & Tan 50/50. A random mixture of cool and edgy, mixed with an array of clean, warm, and traditional golds. As if Jackson Pollock himself were running our saws, creating an abstract wooden masterpiece with each glancing graze of the blade as it skips across the surface of the dark planks. As swaths of irregularity emerge, revealing the innocence of the wood beneath, seeing the light for the first time in years.
Making a statement when applied to floors, walls, and ceilings. Eccentric, erratic, even non-conforming patterns of light and dark flood the room, giving a look and feel of comfort and warmth, like a worn-in pair of Doc Martens (who by the way, have our Black and Tan in their retail stores).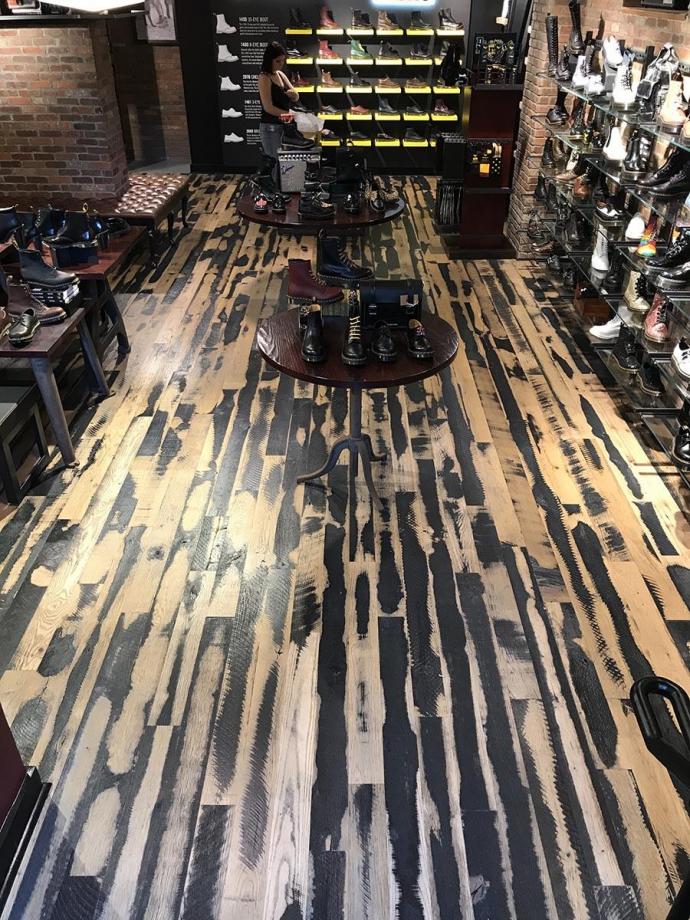 For that more refined look, perhaps the Black & Tan—Tan is more your style. The smooth planed surface still shows subtle hints of its previous life, deeply ingrained in the weathered grooves and fissures of the wood. Providing a wide spectrum of exotic golds and blended tans to compliment just about any room in the house. Depending on the finish you choose, the wood can be kept as a brighter tone or warmed to a more honey and caramel feel. Perfect for flooring throughout the house, office spaces, stairs, and even as paneling for walls or ceilings. The Black & Tan—Tan gives you the clean look you desire, while still allowing a little attitude to peek out every now and then.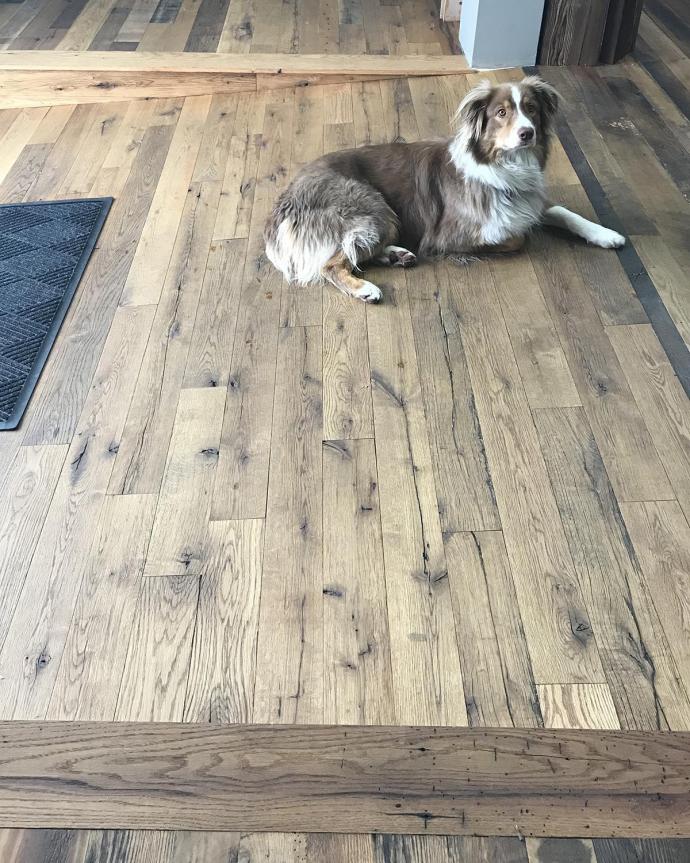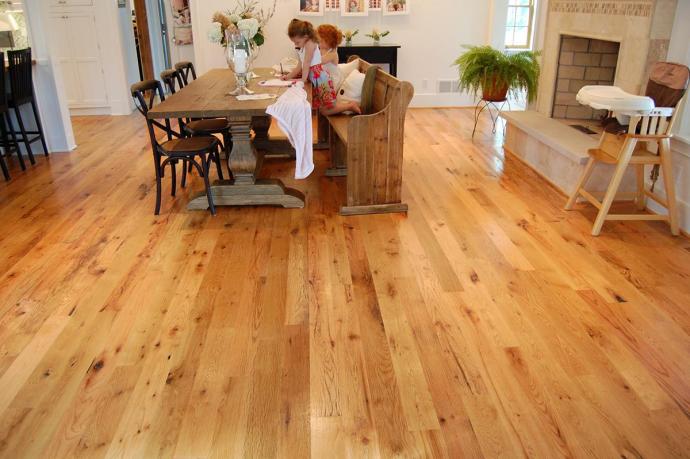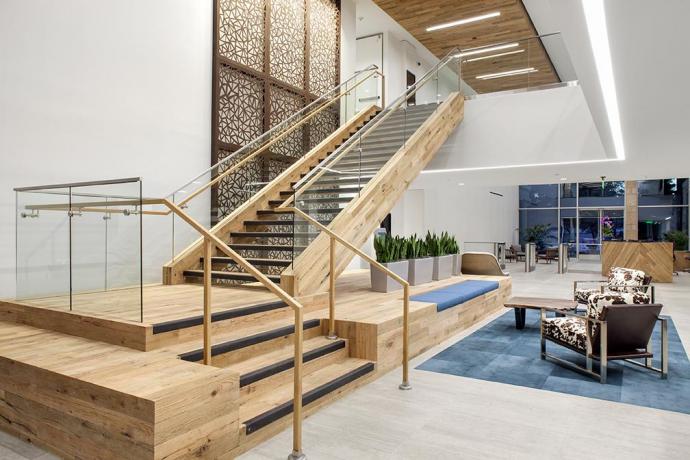 Finish you say? We're not quite finished.  Black and Tan is all about customization and finish options. We don't like regular or standard and neither should you. If pure tones or traditional oak just won't fit your design, there are plenty of other options. Romanticizing about our dark espresso or the allure of our smoke toned finish? Maybe you need to upgrade your loft with the modern feel of a custom grey or white-wash finish? Why settle for someone else's idea of what your project should look like? We have the option to make it uniquely yours without breaking the bank.
In all, the name Black and Tan really just means, it's black and it's tan. It's edgy and sophisticated, can give your room an aggressive yet vibrant urban feel, or just calmly ease your tensions from a long day with its warm embrace. Whether you want it to blend into the room or stand out like the bad-boy from an 80's John Hughes movie. Black and Tan can take your design from boring to extravagant. Urban chic, sleek, and elegant but still dark and rebellious.