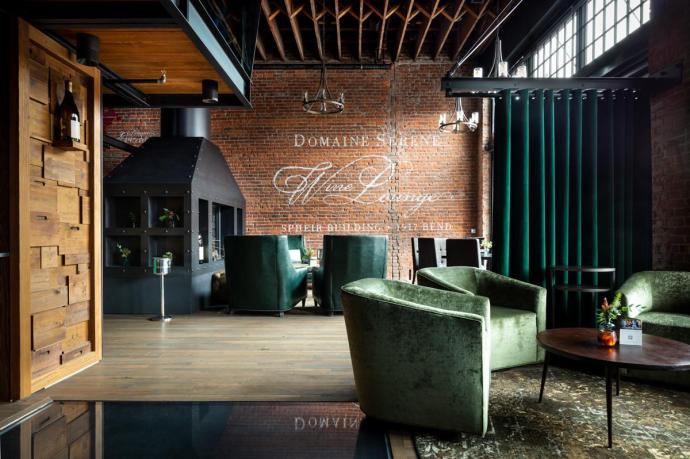 Domaine Serene Wine Lounge in Bend Oregon is the type of space that dreams are made of. The expansive wine bar has been meticulously designed, where every sophisticated detail draws you in, surrounds you, and makes you feel like you are in a truly special place. The Wine Lounge features Pioneer Millworks American Gothic White Oak throughout its multi-level design, tying all the curated elements together to create a singular urban atmosphere.
We caught up with Matthew Sellens, owner of Perpetua Wood, the team who installed the oak flooring, paneling, and stair treads to discuss the story behind the unique project, the ideas behind the material choices that were used, and why working with reclaimed materials is important.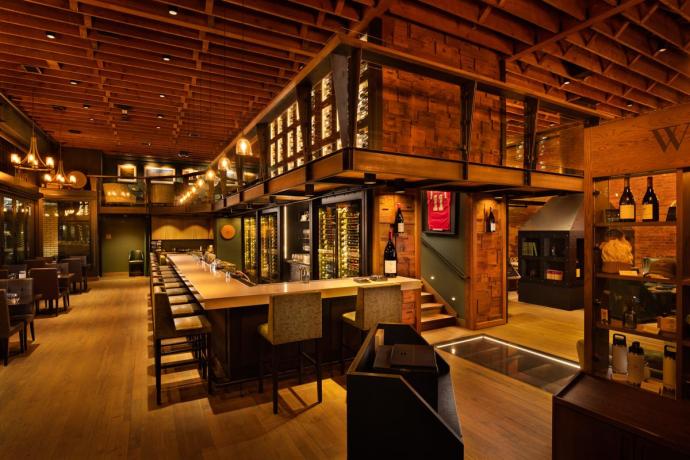 Q: What is your background and how did Perpetua Wood get started?
A: My business was established in 1999 and was a bit of a career shift for me at the time. I had always been involved in woodworking but had a photography business prior to starting Perpetua Wood, and further back I have a background in engineering and industrial design. When I first returned to construction-based woodwork, I was asked to build a wood floor and somewhere in my heart I liked the repetitive nature of putting floorboards down and the business started from there.

I got into wood flooring with the idea of using reclaimed, repurposed, or recycled materials as a first choice, so you might say I was a little bit idealistic back then. It was however an idea that caught on! At that time in Portland OR there was a place called Environmental Building Supplies, and I started using FSC® Certified materials from them, which was an introduction to a different way of looking at materials and how they could be used.  

It comes down to respect for the material, understanding its lifecycle, what its true environmental cost is, and trying to make sure it's used appropriately. But, if we have the right opportunity to use wood as flooring, staircases, cladding, or built-ins on a project, it's important to always be thinking about how and where we can incorporate it correctly into a project.

As time went on and we put a website up, we started to get a lot of calls focused on the tone and color of flooring and woodwork though species and finish type. I started to realize as a business that a lot of the process of creating a cohesive space is to focus on what the end goal was of the project beyond just putting floorboards down. This insight allowed us to help feed back into the process with designers and architects that we worked with to help them achieve their final vision, things have kind of progressed from there to what we do now.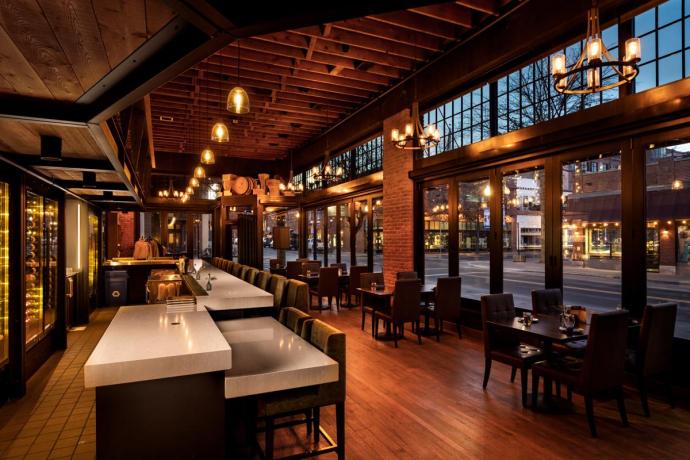 Q: How did you become involved in the Domaine Serene Wine Lounge project?
A: This wine bar was an interesting one because we had previously worked with the architectural firm, they had recommended us for the project. We got a call from the contractor who was responsible for building the interior of the space and by that time in the process the architects had already specked certain materials and finishes, and part of that was the American Gothic White Oak from Pioneer Millworks.

Once we reviewed what the requirements for the project where, we reached out to the Pioneer Millworks sales rep in the area, Allison Hall, and realized she had already done a lot of the back and forth with the design team to determine a color and all the other details that take up huge amounts of time to talk thought but are absolutely essential to a project. That kind of legwork I call "front loading a project" so when you get to the job itself there is no uncertainty. The level of organization on this project was great with all credit to the design team, project manager, and contractors/vendors working together and communicating really well.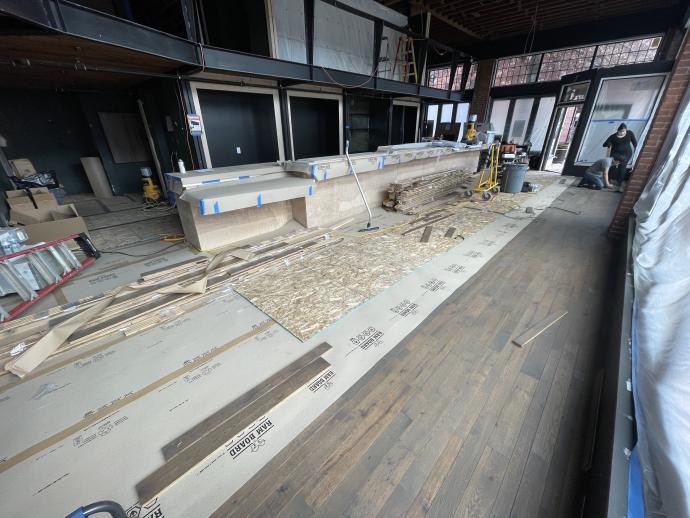 Q: What was it like working with our reclaimed products for the first time as an installer?
A: Having worked with reclaimed wood in the past, it can be a little bit temperamental and challenging to install at times. Many factors go into that like age, prior use, handling, and milling quality. Suffice to say, there are many different quality levels to the reclaimed wood industry. But what I was very pleased to discover with Pioneer Millworks materials was that it was consistent in thickness and milling quality, and it all went together very smoothly during the installation process, I think that reflects in the finished space.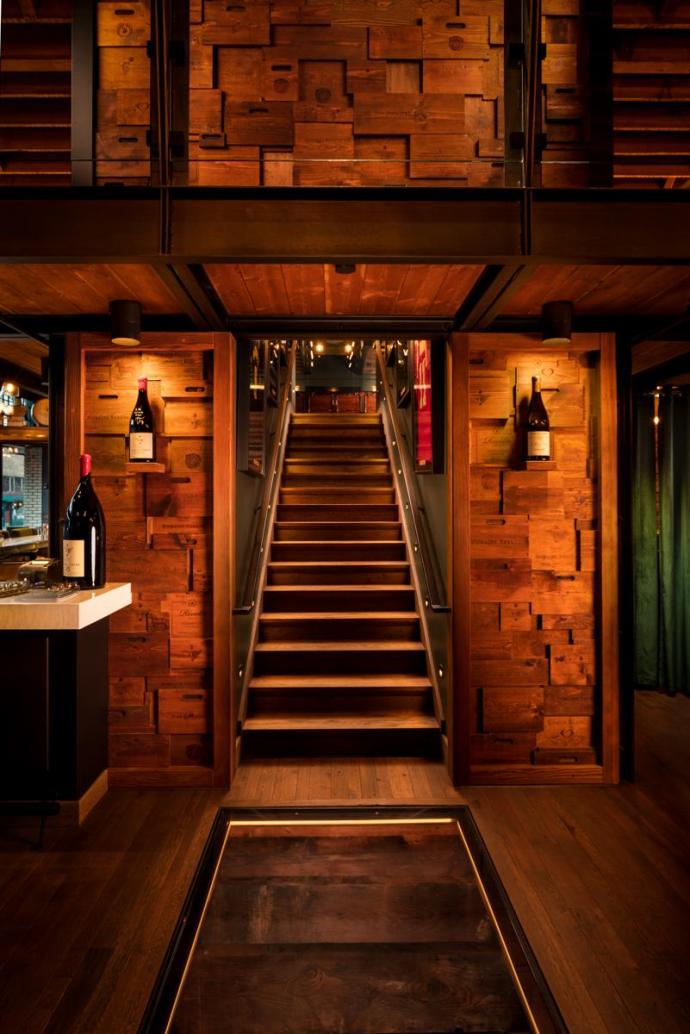 Q: Why do you feel it is important for designers, architects, and folks in general to consider reclaimed wood for their projects?
A: There is so much written on embedded energy costs out there, but still I think people are often shocked when they learn that when you mill a tree it will yield less than 40% usable material, the rest is sawdust and cut waste. The sheer amount of energy that is required to produce a single board is immense, and people think "well it's just a board" but it's not just a board, there is some hidden cost there. There is also all the different levels of skill, craft, and generational knowledge that goes into making something as simple as a board, which is often overlooked.

For me, it is all part of a bigger conversation about intent and what the true cost of something is. You might look at reclaimed wood and say that it is a lot more expensive than store bought fresh sawn wood, but compared to what?

I think the importance of using reclaimed wood should be carefully considered on any project. The surfaces that we live with, that we touch, they can promote a sense of well-being or generate a pleasing aesthetic, the importance of that is sometimes discounted. I think with reclaimed wood you get a lot of lived elements that people so strongly identify with and look for, it has a higher intrinsic value for that reason and because it is reclaimed you get it at a lower true cost to the environment as a building material.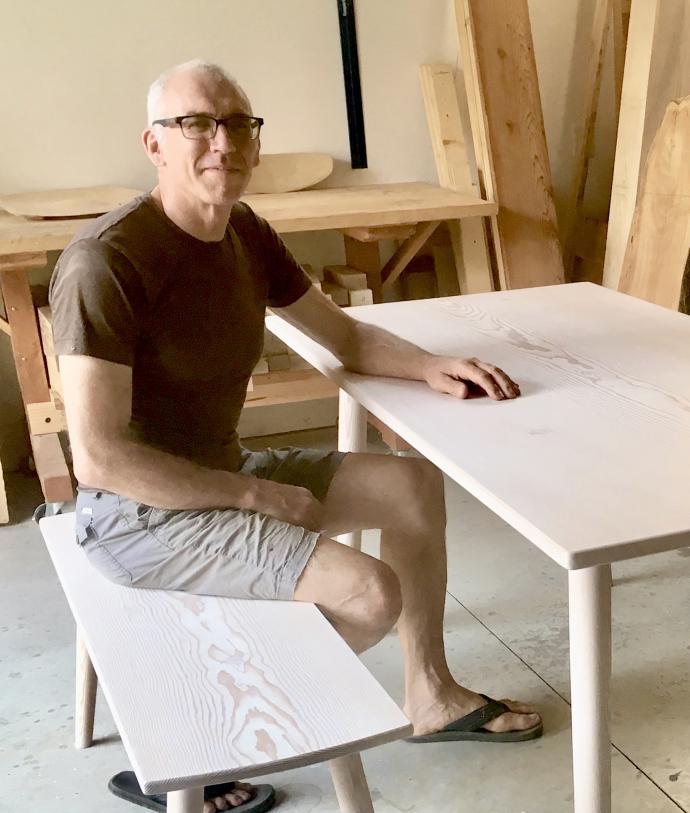 About:

Matthew Sellens is the owner of Perpetua Wood and has been lavishing attention on floors since 1996. He has worked with wood his whole life building everything from houses to small boats. His workshop is based in Bend, Oregon and he works frequently in Portland. Matthew also loves to collaborate on far-flung projects and in addition to fabricating custom architectural features, he also designs furniture in his workshop for SylvanRay Furniture.
For more please visit:
And