Sandra is more than a purchasing agent in family-owned Bay Meadow Architectural Millwork in Longwood, FL; she's sister to the two founders and possesses a profound appreciation for all things wood. We've worked with Sandra and Bay Meadow for a number of restaurant projects including a few national rollouts. We had the opportunity to chat with her earlier this week about what's new in the industry and what's good about wood.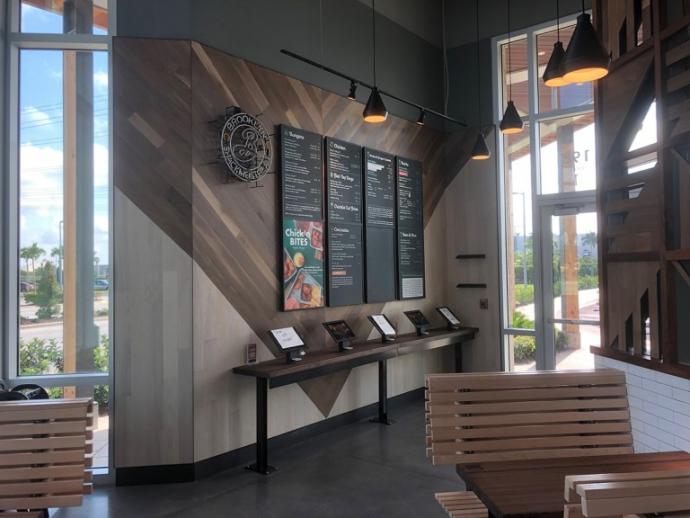 Thanks for chatting today, Sandra. Can you share a bit about yourself and Bay Meadow?
Sure! My brothers started the company back in 1999 and I moved from NYC to join them about 7 years ago. I'm a purchasing agent, so I go with what the architect, designer, or contractor requires. We handle all of the millwork for commercial clients – so our folks are installing on-site around the nation.
Right! They've installed our reclaimed and fresh-sawn wood products?
Yes. They're great products. Everything goes together smoothly for the teams on-site.
We all share an appreciation for wood and we've posted a few images of projects featuring your products in our office lobby. People that pass through often comment on them.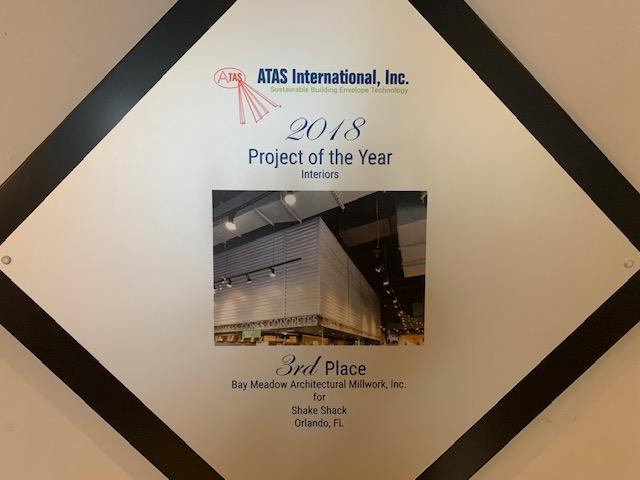 We know it can be a challenge to get folks to think beyond barn siding when they're considering reclaimed wood. Do you believe that on the commercial restaurant side designers/builders understand reclaimed offers a variety of surfaces and tones?
People don't quite understand or know the differences of reclaimed wood, but your website is great – you can see so much there, see the differences. It helps us guide our clients and even our installers will reference the images. Restaurant designers, I think, are aiming for certain aesthetics and warmth of wood. I'm not sure how clear they are on the idea that reclaimed wood has a variety of tones and surfaces. I do know Jered is amazing at helping us find solutions; he's so knowledgeable.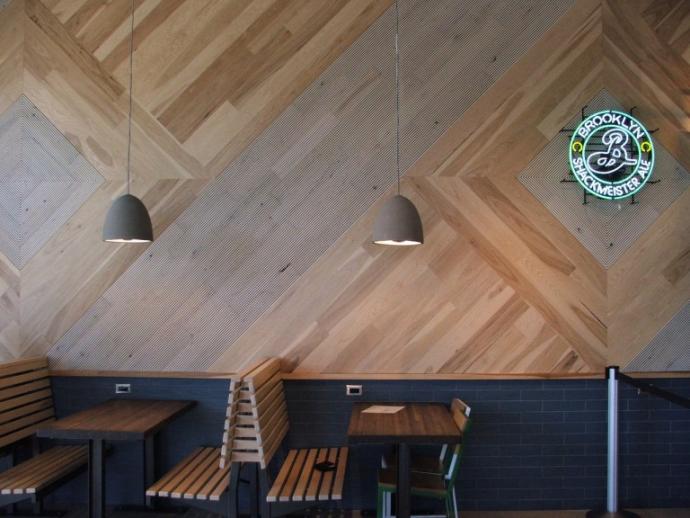 What trends are you seeing with commercial interiors? 
Wood paneling is big right now. The types of wood have changed over several years…it used to be Maple was big, now it seems like there is a shift to Walnut and distressed. There are more layouts with wood divider walls, slat walls…exterior patios, entryways.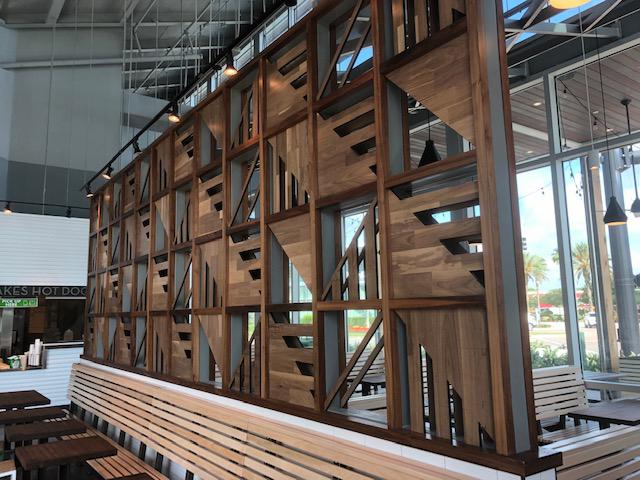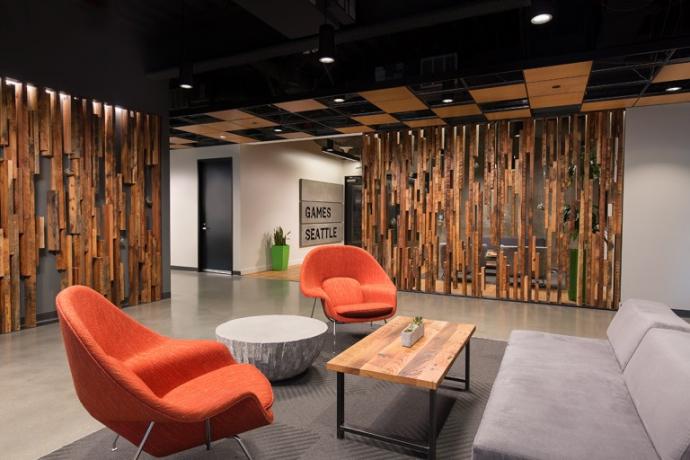 Wood is popular. One of the other nice things about wood is the ability to change the colors up between project locations for the same restaurant. We're seeing an uptick in requests for variations within single locations as well.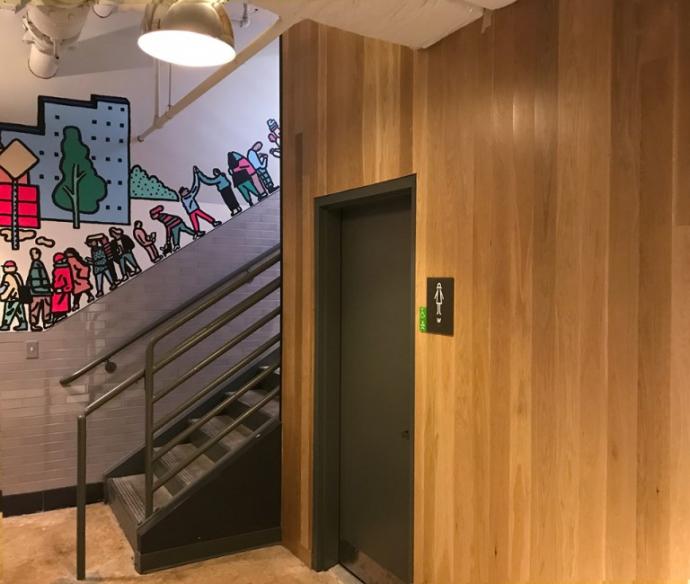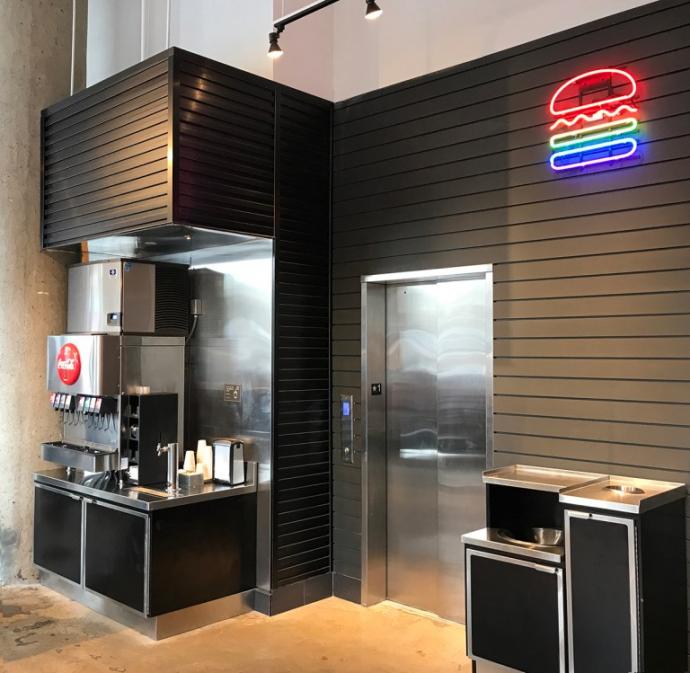 Are you aware of social and environmental responsibility playing a role in designs? 
I'm not sure how designers work, but we're seeing the importance of environmental impact, including an influx of new products that are doing better for the environment from various suppliers. People are more aware of our impact on the planet and it seems a good basis for restaurants to make a change to healthier products.
Wood is good; it feels attractive. I'm always a fan of it, of the warmth and connection it offers. [Our sister company, New Energy Works, talks about biophilia and natural play on their blog.]
Most recently we've collaborated on several Shake Shack locations in Florida. These have used a variety of wood paneling-can you speak to those projects?
We don't have any complaints; you have great products that are easy to install. We've combined Modern Farmhouse Clean Walnut and Modern Farmhouse Clean Ash with various finishes for a handful of Shake Shack locations. They incorporate some unique wall patterns that showcase the contrast of dark wood against light.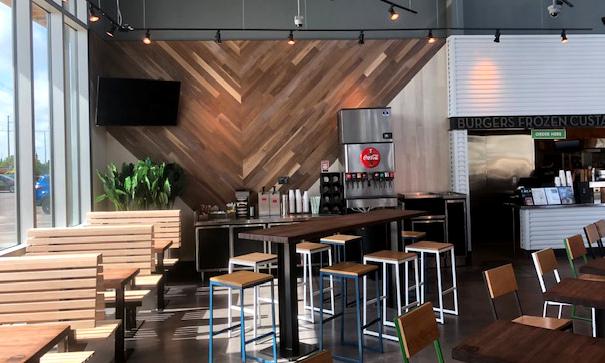 What is your favorite Pioneer Millworks wood? 
That's tough…but there is one. It was a light oak, your Modern Farmhouse Clean White Oak with a custom 'wedding white' finish that's in the Ft. Lauderdale location in Shake Shack.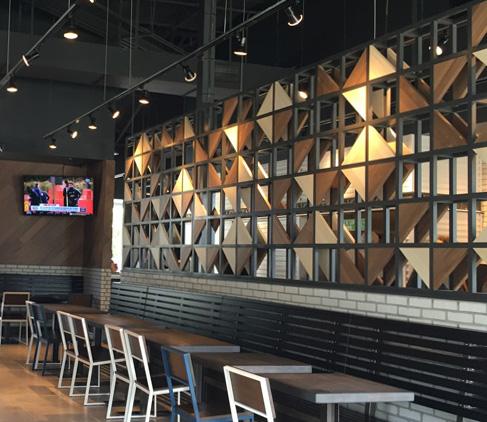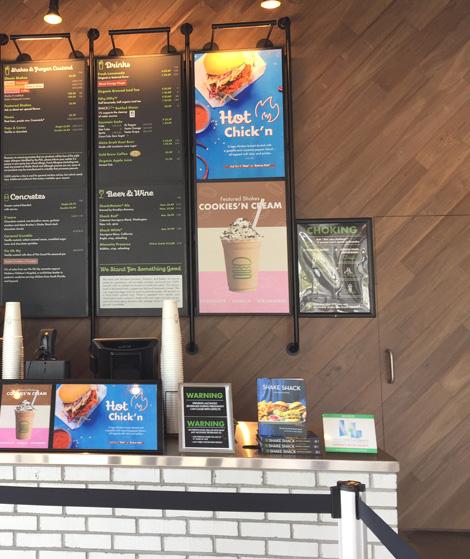 Is there anything more you'd like to share?
Your customer service is wonderful; I feel like I'm always getting answers and I don't have to wait. You're always on the ball when we call. In our industry, that's big. I can't say enough about it.
Thanks again, Sandra! It was great speaking with you and we're looking forward to more projects in 2020. 
Modern Farmhouse has been the line of choice for many projects Sandra and Bay Meadow have crafted. There's more on this line on our website, including two new grades: Modern Farmhouse Casual White Oak and Modern Farmhouse Rift & Quartered Clean White Oak.