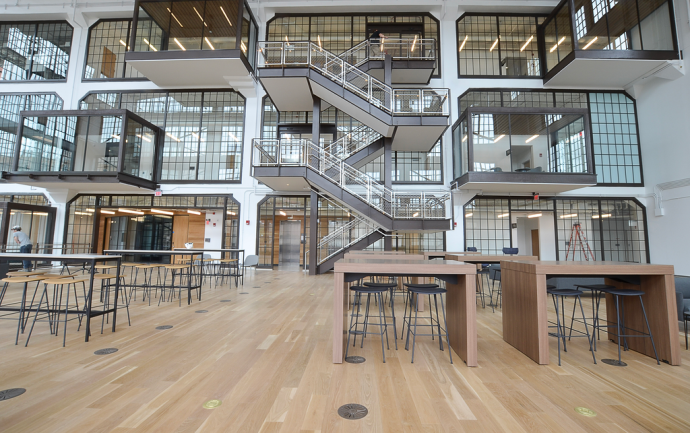 Choosing the right type of finish for a flooring project can be daunting. There are many different factors to consider beyond just the aesthetic look you are trying to achieve. We caught up with A.J. Henion from our sales team to talk about a recently completed commercial project in Pittsburgh Pennsylvania that illustrates just how important choosing the right type of finish can be for a space, the different options we offer, and how to make an informed choice when selecting the finish that is most appropriate for your project.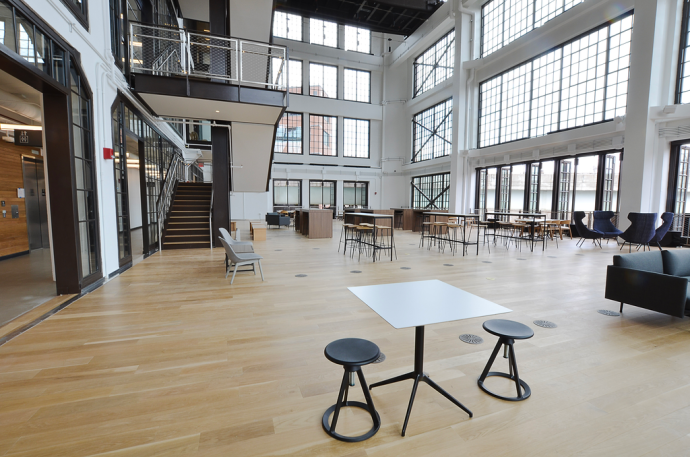 Q: What is your role at Pioneer Millworks and how did we get involved with this project in Pittsburgh?
A: I am the Pioneer Millworks sales rep for the Mid Atlantic, Southeast, and Upper Great Plains regions. We provided our Pioneer Millworks Modern Farmhouse Engineered Clean White Oak flooring for The Assembly in Pittsburgh PA, working with our friends at Wexford Science & Technology. The project overview is basically that the group were reimagining an old Ford Model-T factory and converting it into a technology center for the University of Pittsburgh. It is an interesting repurposing of a disused industrial space, one of my favorite parts of the project is this very large open room that they are calling the "crane room" that was originally used to transport car engines on the original Ford Model-T assembly line, which is where the name comes from, that is now offices, labs, and workspaces.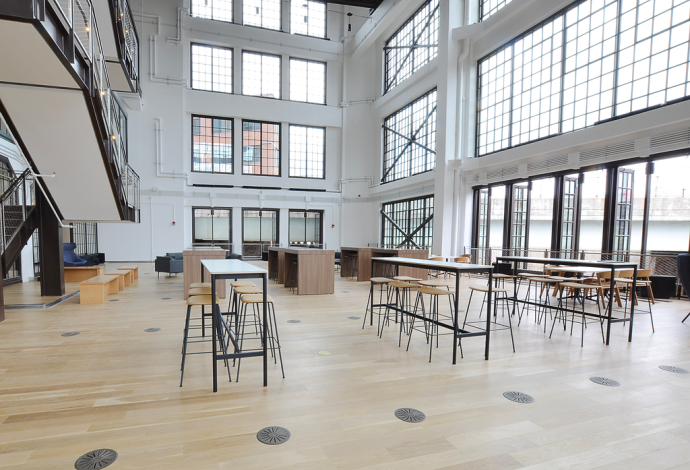 Q: What kind of finish did the project utilize for the engineered Clean White Oak flooring?
A: The project used a water-based polyurethane finish, which was chosen because the project team wanted the look of the flooring to be very clean and modern with a nod to nature that could also stand up to very high levels of foot traffic long-term. That water-based polyurethane finish type highlights the bright wood tones and gives the flooring a really nice light look.

Our water-based polyurethane finish is commercial grade, supplied by our friends at Vermont Natural Coatings. It is made with PolyWhey®, a patented formula that uses a byproduct of cheese making. The natural proteins used in PolyWhey replace the toxic ingredients traditionally found in chemical-based polyurethane wood finishes, making it a healthier option that offers the same level of protection and durability, which is why we like it.

One of the main motivations the client had in choosing this finish was for the level protection our water-based polyurethane offers. The space had to accommodate not only heavy foot traffic but also different types of events on a regular basis, so the durability under those circumstances was important. Overall, the choice of Clean White Oak was very design and aesthetic driven, but the choice to go with engineered flooring with a water-based polyurethane finish really speaks to the practical application and function of the space.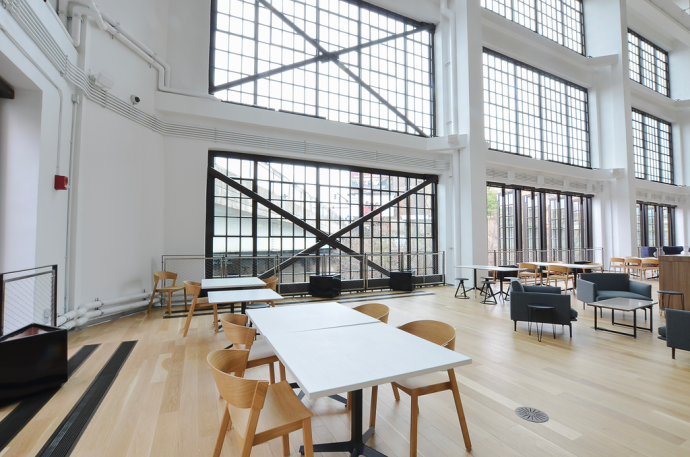 Q: Why is it important to consider the type of finish used on flooring?
 

A: The choice of finish on a floor is really dependent on how the space is going to be used. Every finish type has its advantages and disadvantages, so it really is important to try to maximize the performance of wood flooring by taking the usage into consideration and selecting the finish accordingly.

For example, both the water-based polyurethane and UV-cured hardwax oil finishes that Pioneer Millworks offers are as natural and sustainable as possible, but they are both very different finish types. The water-based polyurethane finish is very robust and creates a long-lasting protective layer on top of the flooring that holds up to heavy traffic in a commercial setting such as The Assembly.

On the other hand, our UV-cured hardwax oil finish penetrates deep into the wood and really accentuates the stunning grain patterns of the flooring. This type of finish can be spot-repaired more easily, and the floor can usually be re-coated without having to actually sand and re-finish the floor.  Also, because of the authentic, rich look of the finish, it has become a favorite for residential projects. As an added bonus, our UV-cured hardwax oil is UL Green Guard Gold® certified, providing our clients with a truly healthy finishing option for any type of project.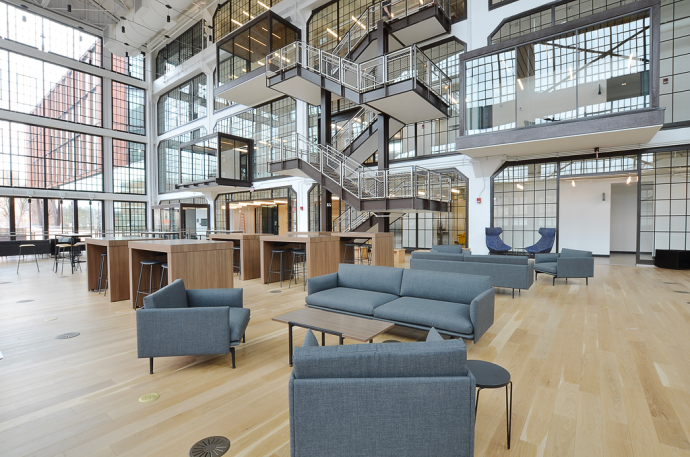 Q: What factors should a designer or homeowner take into consideration when choosing a floor finish?
A: When you are choosing a flooring and finish option, you want to think in the long-term. The look and color have to be right from a design perspective in the short-term, but you don't want to choose a finish that won't help the flooring function and age in the long-term. If you put UV-cured hardwax oil finish on a floor in a hotel lobby for example, over time it will likely show more abrasions and noticeable traffic patterns than it would if you had used a water-based polyurethane finish.

The feel of the finish is also a factor when making these choices. When you touch a piece of wood that has a UV-cured hardwax oil finish, it feels natural and alive, it is very tactile. When you do the same with something that has a water-based polyurethane finish, you can really tell there is a finish that is on top of the wood surface instead of being part of the wood itself.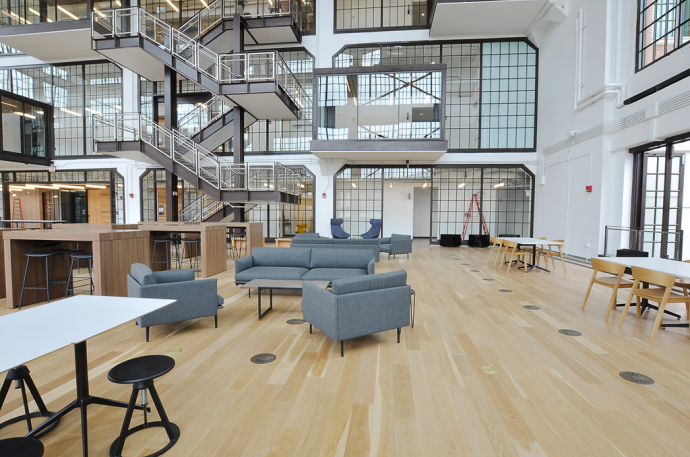 Q: What advice would you give to a designer or homeowner to help make choosing a finish easier?
A: The biggest piece of advice I can give to anyone trying to decide on a finish option is to give us a call or chat with us online and talk to us about your project. Our team is more than happy to talk about the different options we have available and how you can expect them to perform in the space they will be used. Most importantly, we can send you samples. Getting a sample of our products is really the best way to get a feel for things like the texture, grain, color, and feel of not only the finish but the wood itself.

Reclaimed and sustainable wood flooring really has its own vibe and unique personality, and unless you are seeing it in person or holding a sample in your hand, you really can't experience all that it has to offer, so getting a sample really is your best bet.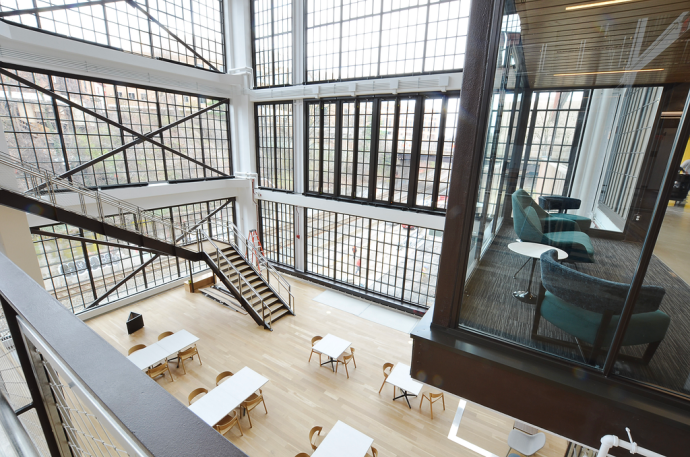 About: AJ is no stranger to wood, as he grew up in a timber frame home in New York. Currently his favorite Pioneer Millworks product is Shou Sugi Ban Larch in Charcoal, but ask him again tomorrow and he will have another one for you, lots to love. When not talking with clients in our Farmington NY show room you can find him playing hockey in the winter, spending time with his wife, daughter, and adorable German Shepherd, or exploring the Finger Lakes—specifically the trails, wineries, and cideries.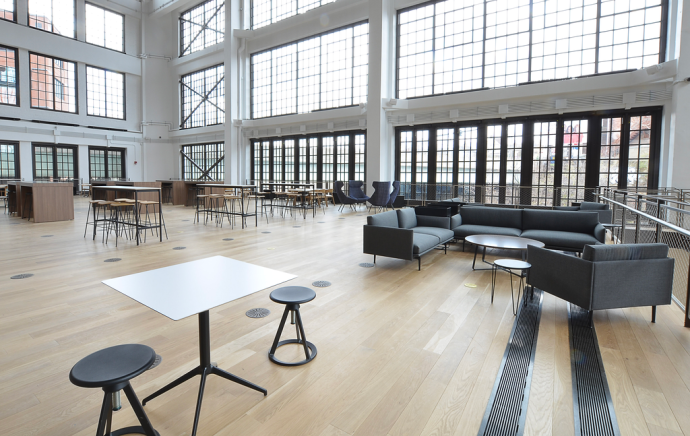 *Note on finish terms used in this blog:
Water-based

polyurethane

refers

to water-based polyurethane finishes which are finishes that use water rather than solvents as the base for carrying the polyurethane solids onto the wood surface.
UV-cured hardwax oil

refers to hardwax oil finishes which are an oil-based finish that soaks into the wood and then forms a protective film on the surface of the wood that is hardened/cured by exposure to ultra-violet light.
AJ is our Sales rep for the Mid Atlantic, Southeast, and Upper Great Plains regions.
Chat him up: aj@pioneermillworks.com or 585-924-9970
Related topics:
Project Gallery - The Assembly — Pittsburgh, PA | Pioneermillworks
Top 5 reasons to consider a UV Hardwax Oil finish for your floor | Pioneermillworks