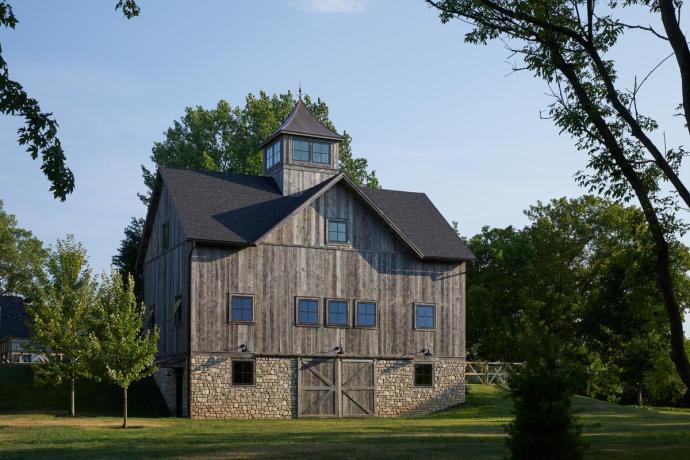 We caught up with Jered Slusser our longtime Northeast, Mid-West, and Eastern Canada Sale Manager to learn more about Pioneer Millworks Farmed Board – a new siding and paneling product that is crafted in the U.S.A. from domestic softwood lumber that has been carefully exposed to natural elements, weathering gracefully over time to give them a classic barn-board appearance.
These boards develop a distinct aged patina as they naturally weather with surface colors that vary from graphite to silver grey. Best of all they are available in long lengths and wide widths, making them a consistent option for siding applications and larger projects.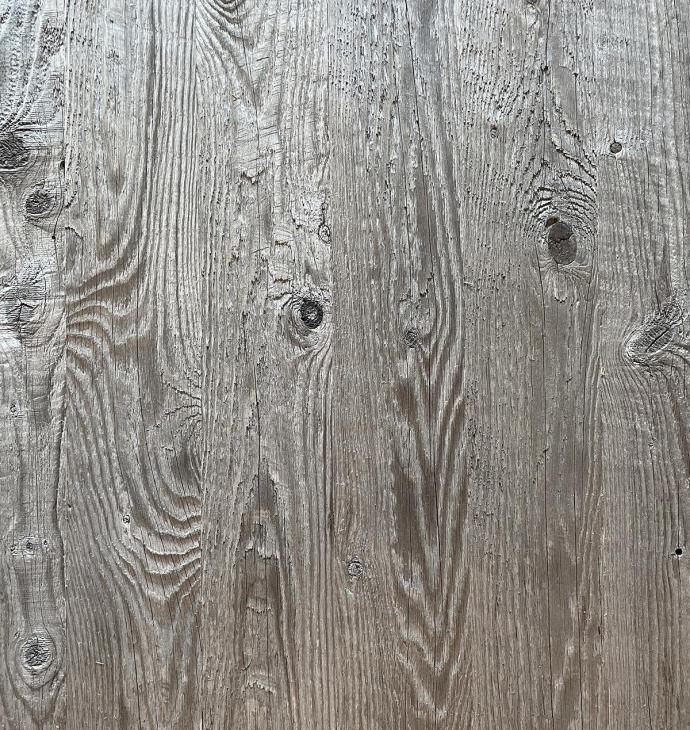 Q: What is your background with Pioneer Millworks what is Farmed Board?
A: I am the Northeast, Mid-West, and Eastern Canada Sales manager for Pioneer Millworks and I have been with the company since 1997, so 26 years and counting. In that time, I have seen the launch of many new products, but Farmed Board is something that is really unique and exciting for our team.

Farmed Board is fresh-sawn domestic softwood boards (Hemlock, White Pine, Douglas fir etc.) that are placed on outdoor racks and left out to weather naturally over time. Once the boards have achieved the desired level of aged appearance they are brought back to our mills where we can process them into specific sizes, add a milled profile such as shiplap or tongue & groove, and then the boards are ready to ship to the jobsite.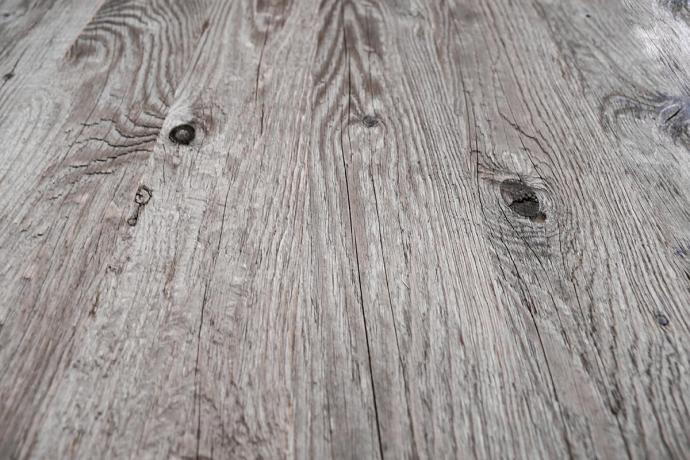 Q: Why did Pioneer Millwork develop Farmed Board as a new product and what type of applications does it have?
Farmed Board was developed as a fresh-sawn alternative to our reclaimed American Prairie Collection as a product that could offer the same weathered and rugged good looks as that collection but in consistent longer lengths and wider widths for larger exterior siding projects, which is difficult to achieve with reclaimed wood.

Exterior siding is the primary application for this product, but it can also be used for interior paneling applications where you might want a weathered appearance that has a little less variation in texture than reclaimed materials typically offer.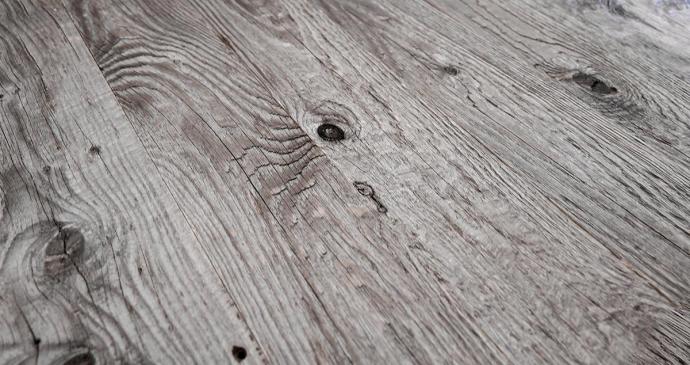 Q: If Farmed Board is fresh-sawn and not reclaimed, is it still sustainable?
A: Though Farmed Board is a fresh-sawn option; we are using sustainably harvested materials in its productions. These boards are coming from sustainably managed forests and harvested responsibly, just like all the fresh-sawn products offered by Pioneer Millworks.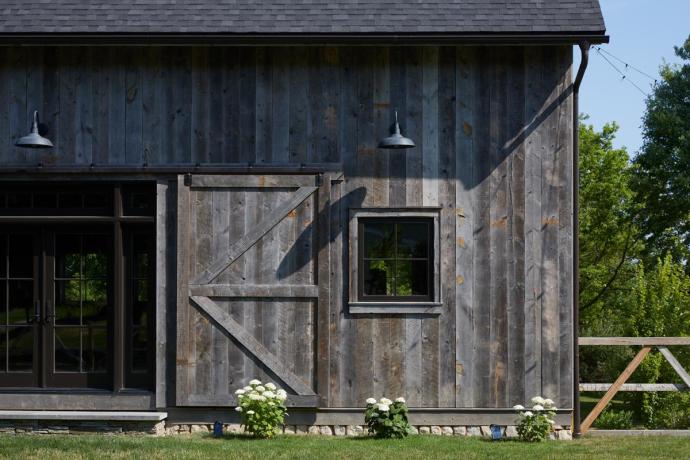 Q: Why should people consider Farmed Board for a project?
A: Farmed Board is a great option to have available for projects that want to achieve an aged and weathered look, but the length and width of the boards are really important to the success of the aesthetic. As a product offering, Farmed Board is an option that is readily available in consistent sizing and easy to install. We also have Farmed Board in stock in both our east and west coast mills, meaning that we can ship directly from both coasts, cutting down on lead times, shipping costs, and fuel usage which reduces the carbon footprint of the product.
Q: Overall, what advice would you give to a homeowner or designer who is considering Pioneer Millworks products for a project?
A: When making product selections for your project, it is always best to talk with our sales team as early on in the process as possible. Weather in person or by phone, email, or chat on our website, we can work with you to find the option that best fits with your needs. It is also important to get a sample in-hand before placing an order, which we highly recommend. The look and feel of a natural wood product can only truly be represented in-person and having a sample can help really inform you of the look, feel, and finish a product has and how those elements will look in comparison with other materials such as windows or paint choices.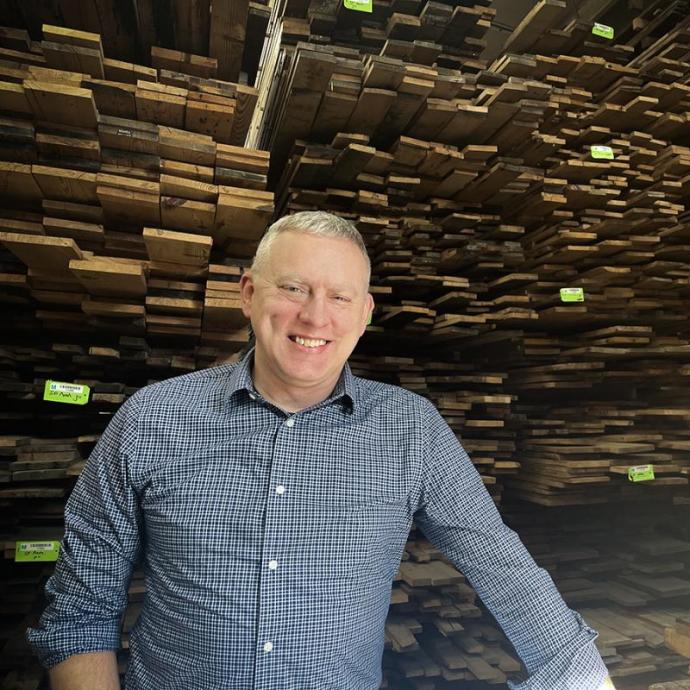 About:
Jered started with us back in 1997, bringing a BFA in Interior Design and a passion for all things wood. He works with builders, architects, and designers, helping them navigate our extensive product line to find the perfect fit for every project. He is an avid rail-fan & model railroader, creating custom-painted model trains during the winter months. Throughout the summer weekends, he and his wife, Jamie, can be found RV'ing their way around the northeast. 
Learn more about Farmed Board, chat with our sales team, and order samples: Farmed Board | Pioneermillworks