Many years ago we had a barn dismantling crew, a group of quirky and hardworking folks who carefully deconstructed old, dilapidated agricultural structures in the northeastern US. While we don't take down barns these days, instead sourcing weathered wood from a variety of uses, on occasion we have a story of wood that is close to home and heart. Nate, one of our coworkers, has been restoring an old family barn and his efforts have added to our American Prairie reclaimed weathered wood siding. Below he shares a story of the heart and care that's so often behind reclaimed wood:
Author: Nate B.
The beauty of reclaimed wood is not just the array of colors or unique texture that only decades of time can create, but it is also the story behind that lumber. Each board, timber, or plank has seen decades of time and in many instances has been through many generations of owners. If the boards could talk, those stories would be priceless. I'm sure this is the case with barn siding that my wife, Cierra, and I are working to take down in our old family barn.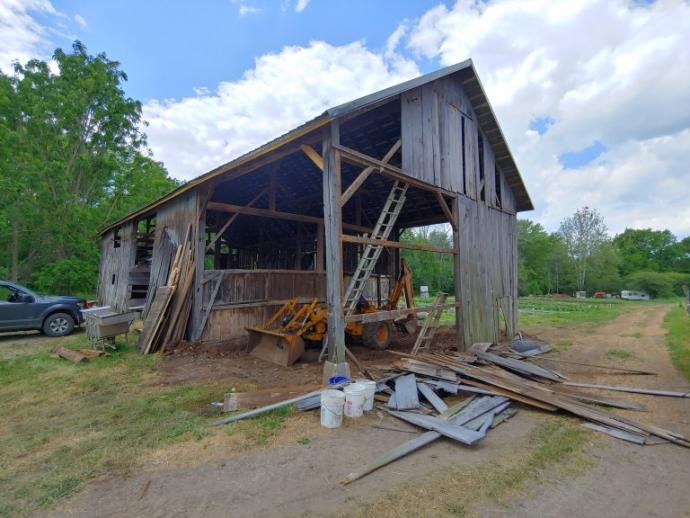 Our story begins around 1880 when my family settled onto some land in Shortsville, NY. One of the first buildings erected was a timber frame barn that measured about 50'x30'. At some point in time that barn was added on to, bringing the size up to 80'x30'. If you look close enough, you can still see the rail system that was installed along the peak and was used to move hay from the wagon to the mound (this was well before hay was baled). Buried deep under many feet of old hay, we found the old grapple hooks that were used to pick up the hay!
As the years went on and the farm was passed down through the generations, that barn was used less and less, eventually becoming vacant and beginning to deteriorate. There came a time when my great aunt and uncle, who owned the farm, decided they were ready to retire, and the land sat unused altogether. Last year, three years after the death of my great uncle, my great aunt decided it was time to sell off the last remaining land. Knowing that my wife and I were interested in owning some land, she approached us and asked if we wanted to buy the plot just down the road with the old barn. We jumped at the opportunity.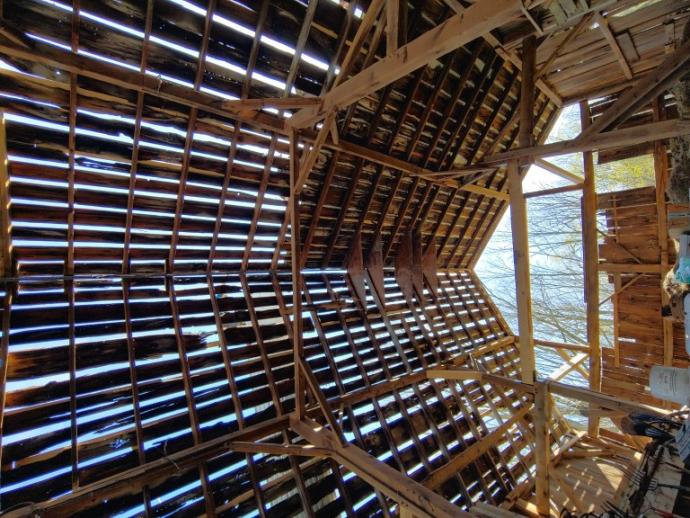 Saying this barn was in rough shape is an understatement. The roof was only 75% there and the what was still there flapped in the wind. The barn leaned out on both sides and many timbers had rotted away. Some of the siding was broken and some had fallen off. Still, we could not sit by and watch the barn fall to the ground. We knew the significance the barn had for my family, we knew there was history and beauty in the old planks, timbers, and lofts so we decided to restore it.
We began with cleaning out decades of old hay. We uncovered a wall in an old horse stall that had some writing on it. The gentlemen who built the stall signed their names on the wall in pencil and dated it 1897. As we continued to clean, fix and reassemble the barn, I couldn't help but feel a closer connection to my family who worked this land before me. Each time we uncovered an old soda bottle, pitchfork, or even my uncle's old hat that fell in the hay mound years ago, it was like looking back in time.
After cleaning out, next on the list of repairs was to fix the timber frame. Each corner was jacked up and a new concrete footer was poured. Old beams came out and new went in. Slowly, the barn began to straighten out and started to look solid again. The contrast of new beams next to old beams really is quite dramatic. The roof came off after that. The old tin that once covered the barn was replaced with new black metal roofing. Now the barn was really starting to shape up. Our equipment was under a solid roof and we started to feel good about our project.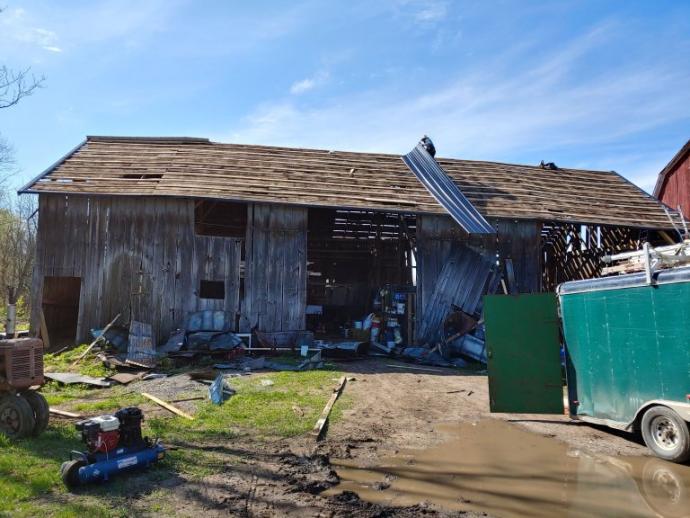 As I sit here and type this story, we are in the beginning stages of removing the siding that will be replaced with rough-cut board and baton. Out of everything that has been replaced on the barn so far, the siding is the only salvageable material. The grey, weathered hemlock boards are still in good shape. Some boards are an impressive 24 inches wide by 16 feet long! Having worked for a time at Pioneer Millworks, I knew these boards could be used for something, so I called to see if there was interest in reclaiming them. I'm happy to share there was interest and we're excited to know these boards are going to be given a second life!
I still wish these boards could talk. Even though they may not be able to share their stories, they along with the whole barn have brought me closer to my family and given me a sense of connection to the land. As we rebuild the barn, I can't help but think about the future and hope that my kids, and their kids, will be able to enjoy this barn as well. Each of them knowing that this barn has been handed down through countless generations. Each generation will add to the stories, and perhaps the barn itself.
I know the old siding is going to be appreciated for the life it has already lived. I hope it brings joy to someone as they bring this piece of history into their home.
Many thanks to Nate for sharing this story. If you'd like to see how American Prairie has found new life in a variety of projects, see this gallery.