I had never been to Denver, except for a prolonged visit to the airport several years ago.  So last month, I flew out to meet some people and see some of Pioneer Millworks' finished work. Even though many commercial and retail projects are consistent from one location to the next, it is always gratifying to see how our reclaimed wood is integrated with other aspects of design.
My first stop was a small womens clothing store that opened a couple of years back – No doubt, the floor has gotten better with age.  Even the staff at the store knows it!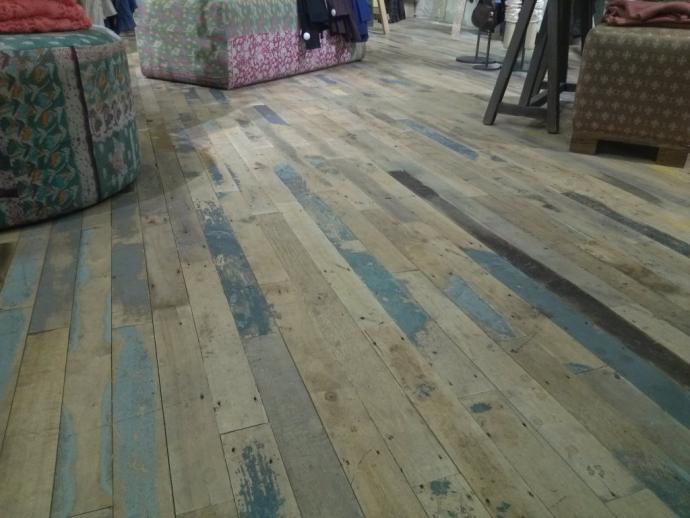 Salvaged from a factory in Michigan, the occasional stripes of paint help to make the floor come to life, along with the scratches and dents imparted by decades of use. Sometimes the floors aren't the only things with stories to tell. A woman that works at the store explained that just days before my visit, a newlywed couple had come in twice – first on their own, and second with their interior designer – to look at the flooring and use it in their new home. We love it when a design makes that kind of an impression.
Just down the corridor is another gem, where the floor was crafted from Yellow Pine planks recycled from a grain mill in Arkansas. A trend in both residential and commercial design is to celebrate the beauty of imperfection, which this floor does exceptionally.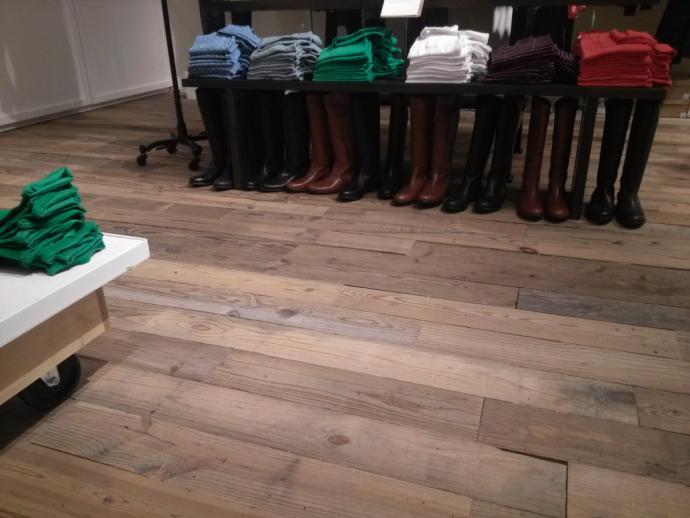 The undulating surface, tonal differences from one plank to the next, and even some subtle texture caused by years of grain rushing past, makes for a perfect backdrop for the clothing. Some of the fixtures in the store make use of our reclaimed Douglas Fir as well.
Though I didn't need any makeup, I dropped by this cosmetics store, which uses our barn siding on the exterior of many of their new locations. The dark and rich tones in the barnwood are selected such that when installed, the brightly lit interior of the store stands out. At the same time, the siding creates a highly textured facade that keeps the continuity of natural materials and products.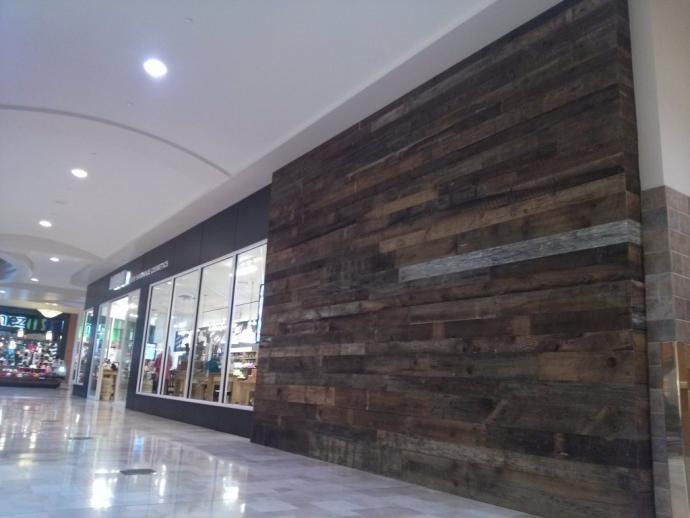 Lastly, I noticed some familiar looking shutters made with our Attic Collection reclaimed softwoods. These are a great example of our capabilities beyond floors and walls, having been fabricated in our own shop. Even though these are heavily whitewashed, the randomized texture from the original and planed surfaces is a crucial part of the overall design. This variation breaks up the color of the shutters to help them stand out from the background wall color.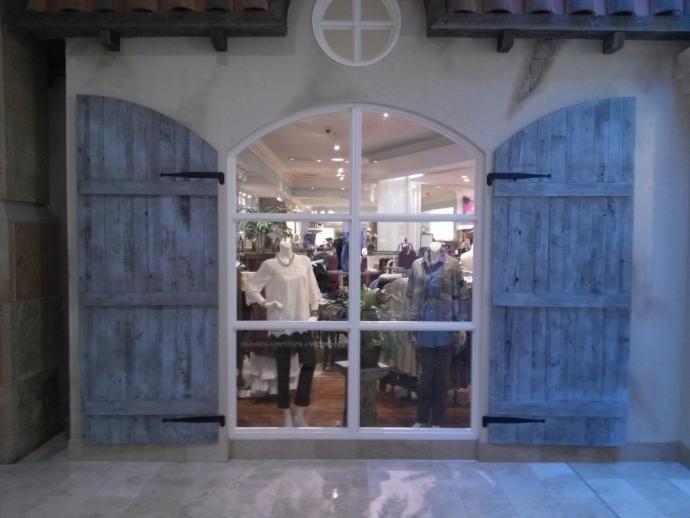 Denver, and the entire Rocky Mountain region, is well served by either of our two locations. This helps to keep shipping costs down, with a faster lead time on a broader selection of products. If you have a chance to stop by the local shopping malls in the Mile High City, feel free to check out these stores for yourself. I'm hopeful that not long from now, we'll have more projects to share.