With Covid19 front and center in the news again as we enter 2022, we have a heartfelt throwback blog to the early days of the pandemic where Jonathan took a little time off to install some reclaimed Teak flooring with his family.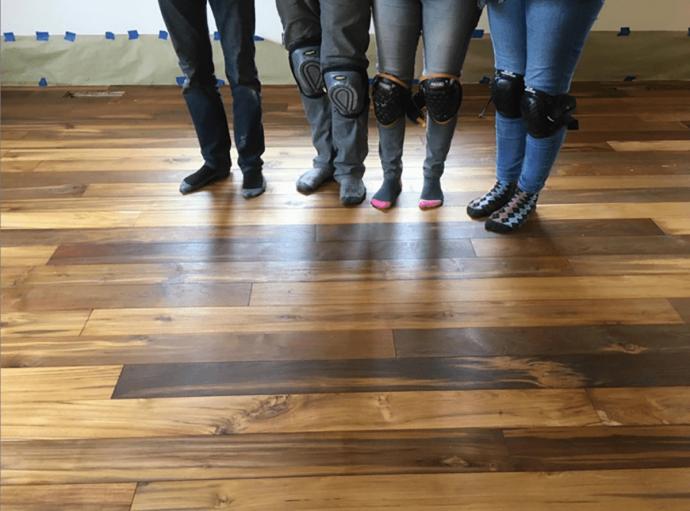 Yes, we're largely quarantined at home these days. And you bet, we can do quite a bit of remote work from our home offices, or limited and careful work on sites and in the shop.
But I couldn't help a few weeks back to take some time off, pack up the big pickup and a trailer with flooring, cabinets and tools, and head over to the daughter and son-in-law's for some good old fashioned family fun: blitz-remodeling. We are, after all, family. Maxine, the wife and designer and Sierra, the coworker and daughter, had been planning. Fredd, the son-in-law, had been prepping. Son Jake had been mostly protesting. (Hey he's a teenager… what do you expect? He is typically game in the end.)
We had the flooring chosen and bundled: smooth reclaimed teak from Pioneer Millworks Indonesian collection, finished with Rubio Monocoat. We had picked up the cabinet boxes the night before, as the store was literally closing up shop indefinitely. "Uh…" the lady said with more than a bit of concern, "you've got 45 minutes to wrap this up and get over to the warehouse for pickup, because tomorrow we're closed. And we don't now for how long." Can you say "done in 44 minutes"? I can say "a bit too close."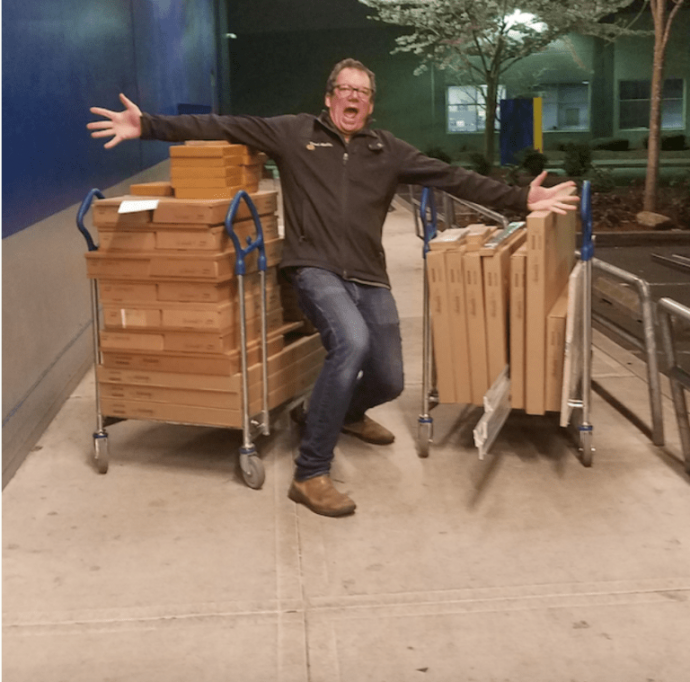 The thing about this family is that we get stuff done. So for the next seven days we tore out and replaced the sub floor, installed the teak, buffed in the hard wax oil, tore out the kitchen, put together and installed the lower cabinet boxes, stripped and refinished the as-found upper cabinet from the used building material store, re-wired and re-plumbed various parts and appliances including the new oven and induction range, tore out the main stair treads and installed reclaimed oak treads, and even managed to trim some windows and doors.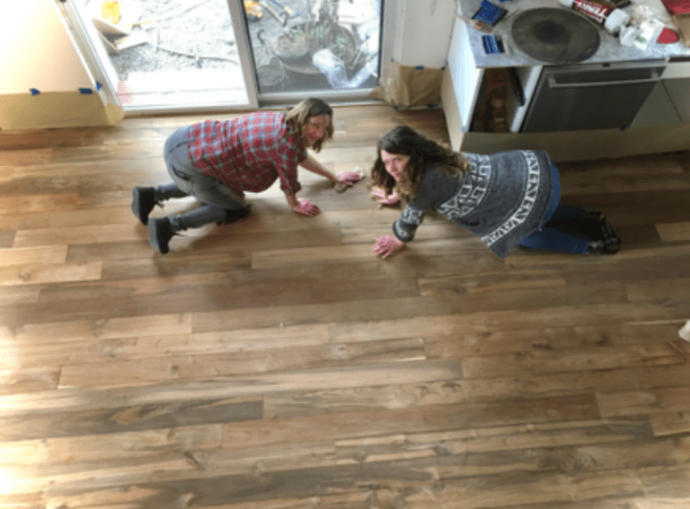 In spite of founding a millwork company, I'm no professional flooring installer.  Jake and I have done a few, and I'm a builder and designer from way back. I'm guessing we've run 1 million square feet of flooring through our moulders. I'm also a heavy-duty wood geek and building science nerd, so in some ways I know stuff.  But here's what I really know, now even more since the floor is in:  installing flooring doesn't have to be overly scary, and while a real pro has the tricks and experience, we had a blast and it was so satisfying. In the end, a super happy "client," a warm feeling of success, and a healthy bit of exhaustion that felt really earned. I'm good with all that.
Here's a link to a video that Jake and I did of us using the Rubio to pre-finish some wood at our shop in McMinnville, Oregon. Rubio is a European hard wax oil that only takes one coat, is pretty user friendly, and though crazy expensive covers a bunch of square footage. At Sierra's, the smooth teak used just under one liter for 600 square feet. I had been told this would be the case, but I couldn't believe it.  That's crazy. Since it's critical to not leave a thick coat so the magic sauce can both bond with the wood and fully cure, the oil just gets spread and spread. In the video (12 minutes), I discuss the two different abrasive pads that you use with the floor buffer. My coworker Jonathan Taylor likes to warn that the first 10 minutes of running the buffer is somewhat like learning to ride the mechanical bull at the cowboy bar. What? You haven't tried that? I recommend it. But it's true, the darn thing is big, heavy, and powerful. Once you get it, though, it's a thing of beauty.  Impress your significant other and installed kitchen stuff, Fredd ran mechanicals, and we all did the many in-between details. By Saturday, we had a working kitchen with a temporary counter and no cabinet fronts but a curing floor and working oven. And tired folk ready for a break. Here's the last photo we took, and I'm going to get in a bit of trouble for publishing it as we all look pretty ragged. Ragged and happy. Not a bad place to end the week, hopping back in the truck for the 4-hour drive home.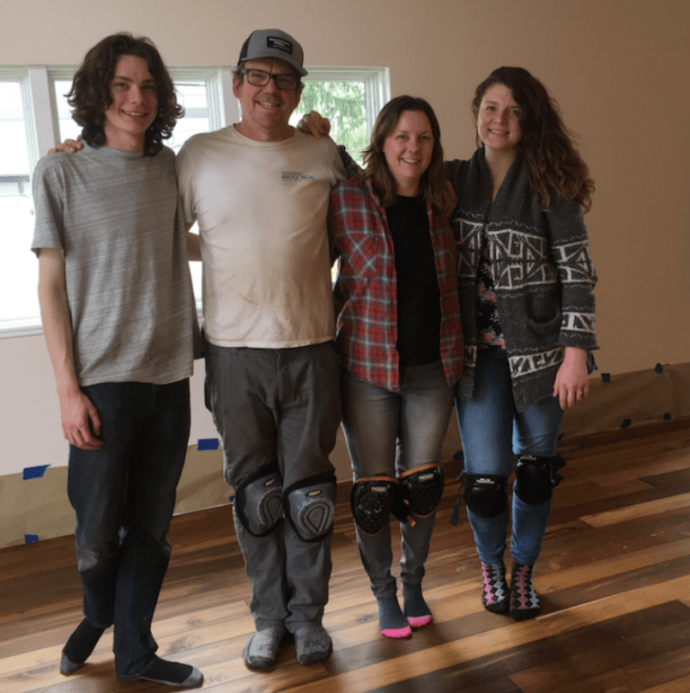 In a couple of weeks we return, as a team (family?) to install the cabinet fronts that Jake and I are painting, stair nosings, the island, and the counter. Some finish shots then, I promise.

Updated 2021. As promised, some finished* shots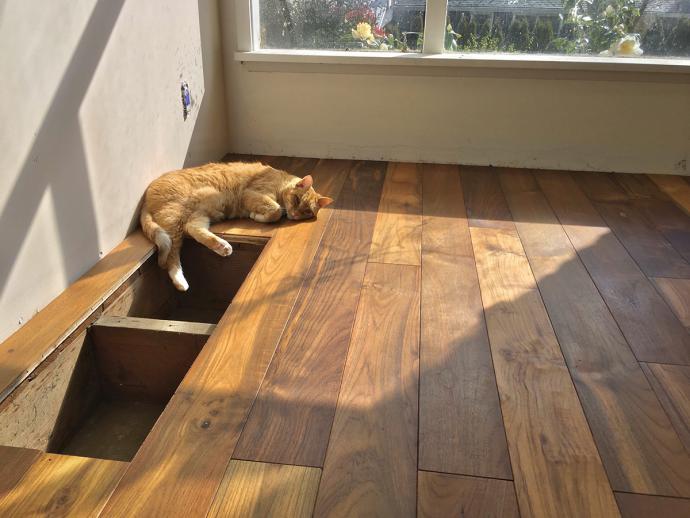 *Is a house project ever really finished?