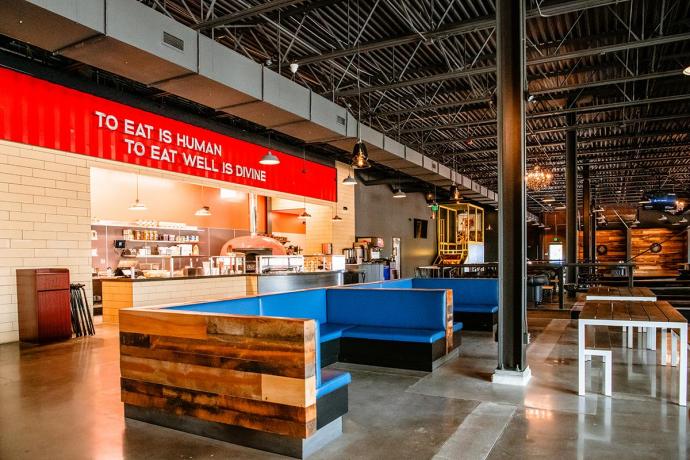 Pindustry is a fun filled entertainment venue offering bowling, live music, great food, a full bar, and extensive old school gaming options like darts, billiards, and shuffleboard (just to name a few) in a repurposed 1980's masonry building in the suburbs of Denver Colorado. Energy radiates throughout every aspect of its design which features Pioneer Millworks Settlers' Plank Oak as paneling on its walls, behind its dartboards, and around its booths. 
We caught up with Interior Designer on the project, Kelly Gladu, from the team at studioLEMONADE to discuss the story behind the unique venue, the ideas behind the material choices they used, and how the space fits into the local neighborhood adding a much needed community hub to the area.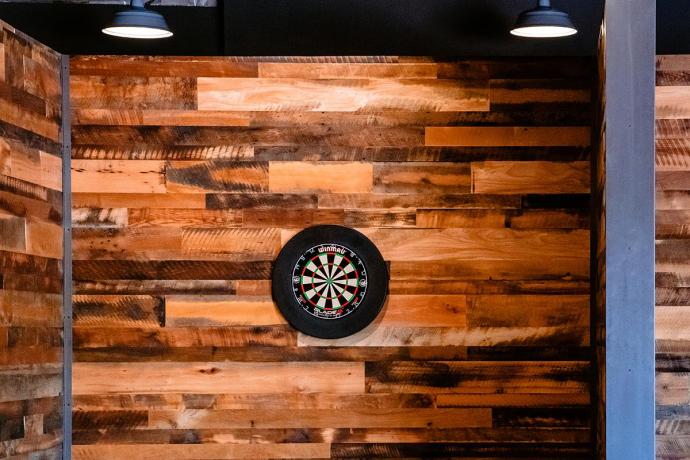 Q. How did you get started as a designer at studioLEMONADE and what is the firm all about?
A. I came to studioLEMONADE right out of college. I like to joke that I was a "fan girl" of theirs since I was pretty young and had admired the firms' unique projects for years before I started working with them. I sought them out all through college and met with the firm's founder Grady Huff a few times throughout my years at school. Having built a relationship with the team over those years, I started working for the firm full time in 2018. 

The company itself started back in the 2008-2009 timeframe during the recession, which is where the name came from, when our founder realized that if life was going to give him lemons, he might as well make studioLEMONADE out of them! 

As a firm we offer a healthy balance between Architecture and Interior Design services with a wide array of projects.  Right now, we have more of an Interior Design focus, but because we also have one foot in the architectural world, our design work tends to be very grounded in that sensibility.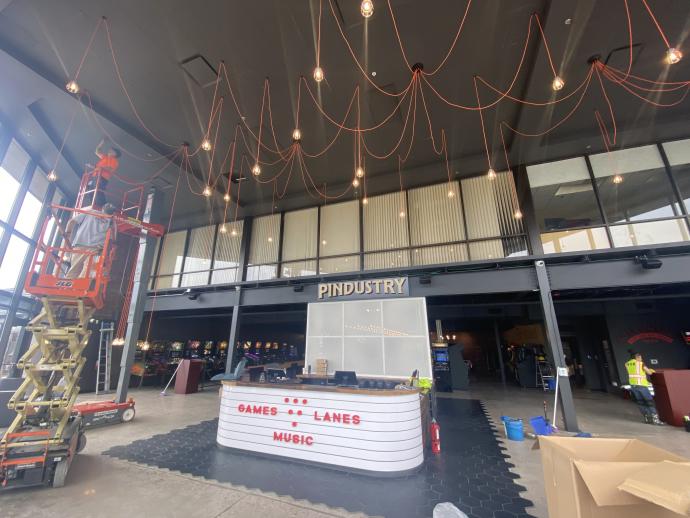 Q. How did this project get started? 
A. On this project, we were the Architect of record as well as the Interior Designer and completely reimagined the 1980's exterior of the mixed use building as well as combined several tenant spaces to create Pindustry. In addition to Pindustry, the building hosts a variety of commercial, retail, restaurant, and office spaces. The overall project went through a number of different iterations during the design process, but we ended up focusing on a design that included the addition of a giant rooftop deck that takes advantage of one of the best mountain views in the greater Denver area.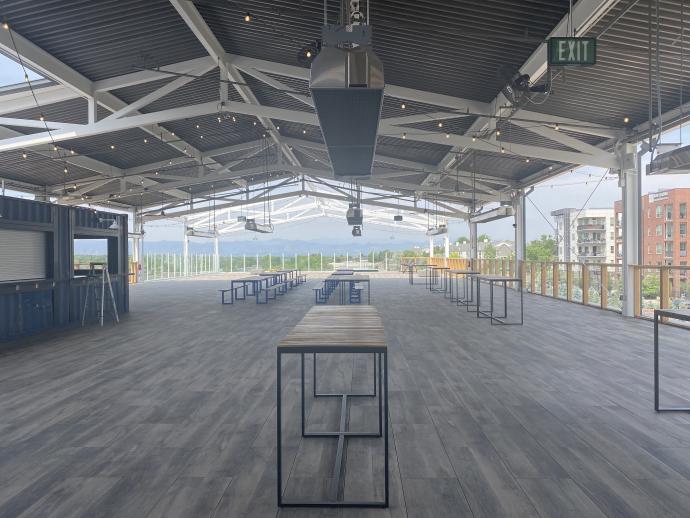 Q. What was the concept behind the design of the Pindustry space itself? 
A. We love to create memorable spaces that tell a story, and we often look into the history of the building and the surrounding areas to help write that story. The Pindustry space itself was formerly an auto tech shop, so we stripped the interior architecture down to the bones, similar to how you would a race car for weight savings. The space is designed around the idea of having a fun industrial space that offers a unique experience for the building and surrounding community. The owner has another bowling alley in the area, so for Pindustry he wanted to offer something extra special by including "Duckpin Bowling" in addition to more traditional "Ten-Pin" lanes in the space, which is unique in Colorado. We also incorporated as many other kinds of games as possible including cornhole, billiards, pig pong, darts, and vintage arcade games, just to name a few. Basically, we were trying to create a unique fun center in the community where adults could come to let loose and play.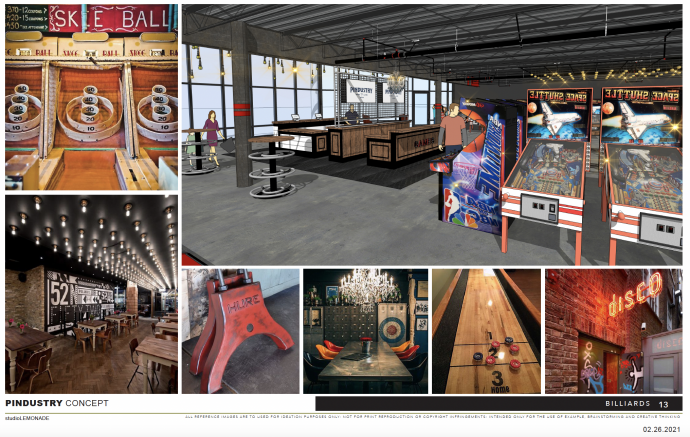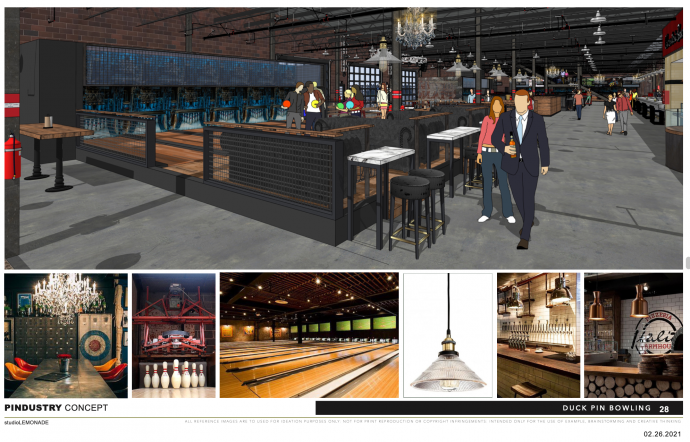 Q. What is Duckpin bowling for those unfamiliar with the sport?
A. So, Pindustry has several traditional Ten-Pin bowling lanes on one end of the building, which is the style familiar to most people when you think of a bowling alley, but more centralized near the bar area are Duckpin lanes, which are shorter lanes on a raised platform with smaller bowling balls and the pins themselves are short and squat. The rules are also slightly different in that a bowler gets three throws because the pins are harder to knock down. The owner lovingly calls it "sexy bowling" because you don't need to rent ugly bowling shoes to play and if you're wearing high heels, it's not a problem.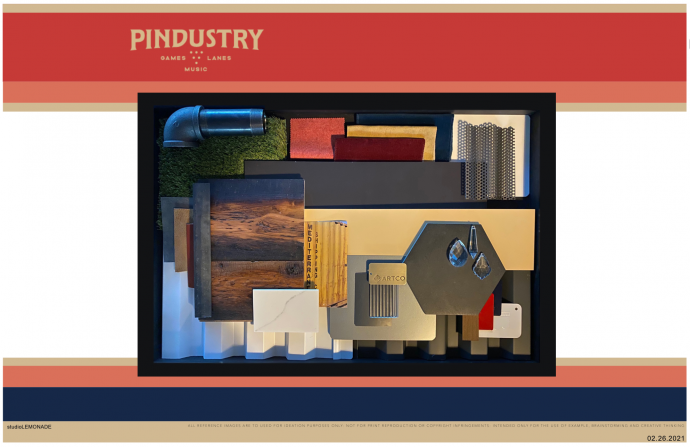 Q. How did you decide to incorporate reclaimed wood into the space? 
A. With the nature of the building being an older 1980's masonry block structure that was repurposed, it had a lot of really cool industrial design elements already in its bones. For the final design concept, we built the space around the core concept of "Industrial, Chic, and Found" where we wanted to juxtapose a mix of old and new that would come together in a fun and chic way. Pioneer Millworks reclaimed Settlers' Plank Oak wood was a natural choice to go along with the industrial feel of the existing space and added some warm blond tones that complemented our brass accents and golden tile throughout the bar area. 

The owner also really wanted a rich cherry wood on the ten-pin bowling lanes, so the Pioneer Millworks Settlers' Plank Oak really complemented that well because it has great variation with some darker-warmer tones that visually pick up on the red wood tones of the cherry lanes. All around, the Pioneer Millworks Settlers' Plank Oak really fit our aesthetic and helped tie everything together.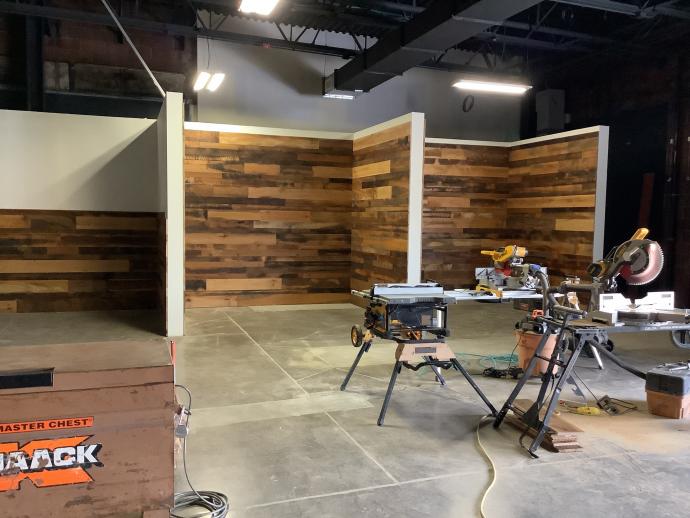 Q. As a designer, why do you think it's important to include reused or reclaimed materials in your work?
A. I love using reclaimed materials in a new design. When we reimagine an existing building like this, we are always looking at the building's history and trying to find ways to tie the past into this new chapter of its story through our design work. More than just making something look cool, we are really focused on being visual storytellers, so including things that have character and come with a story of their own because they are reclaimed, it adds different layers and makes the space more meaningful.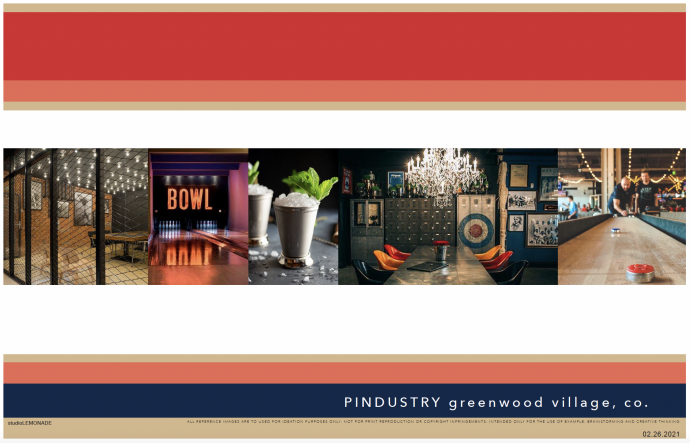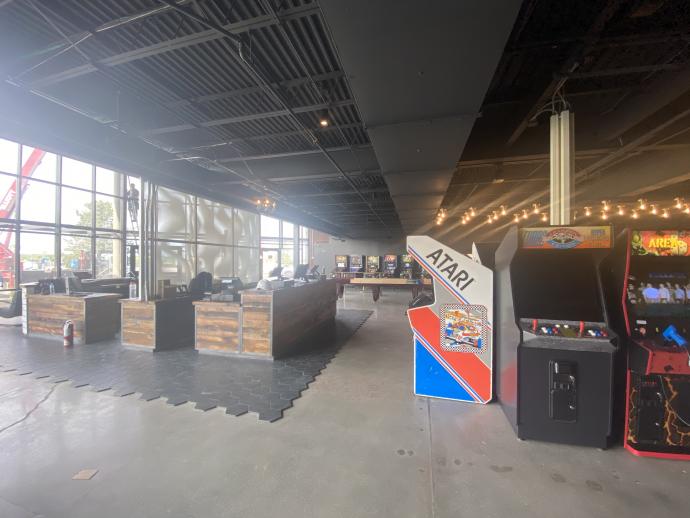 Q. Now that Pindustry is an open and thriving business, how do you feel about the project looking back from your unique perspective? 
A. With this project in particular I am so proud of the way it brings people together. I grew up not too far from Greenwood Village where Pindustry is located, so I have a lot of fun seeing photos on social media from people I know from elementary school, or high school, and beyond that even, going to Pindustry and enjoying the space and loving it. It's super rewarding to see that, it's an awesome feeling. 

This is a project where the design goes through and through to the whole concept. Pindustry is a really fun place to go, and I am so happy with the final results. It is designed with an adult-oriented focus, but it is also a place that is kid friendly and has become an entertainment hub for the surrounding area. Greenwood Village is a fairly suburban area, and the community really needed a unique place like this in it. It really has become a neighborhood gem that resonates with everyone in the area.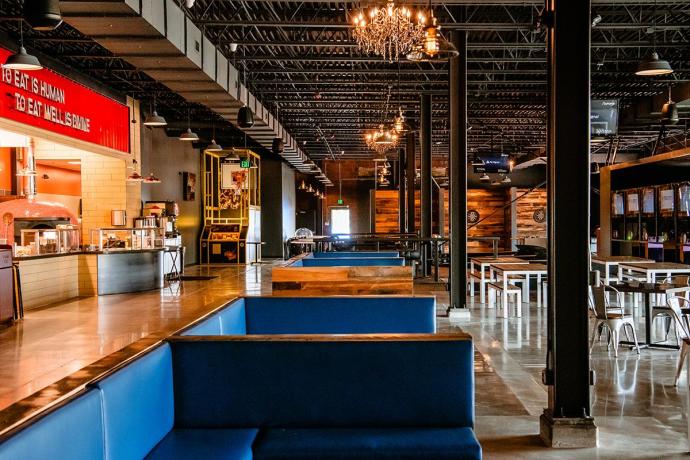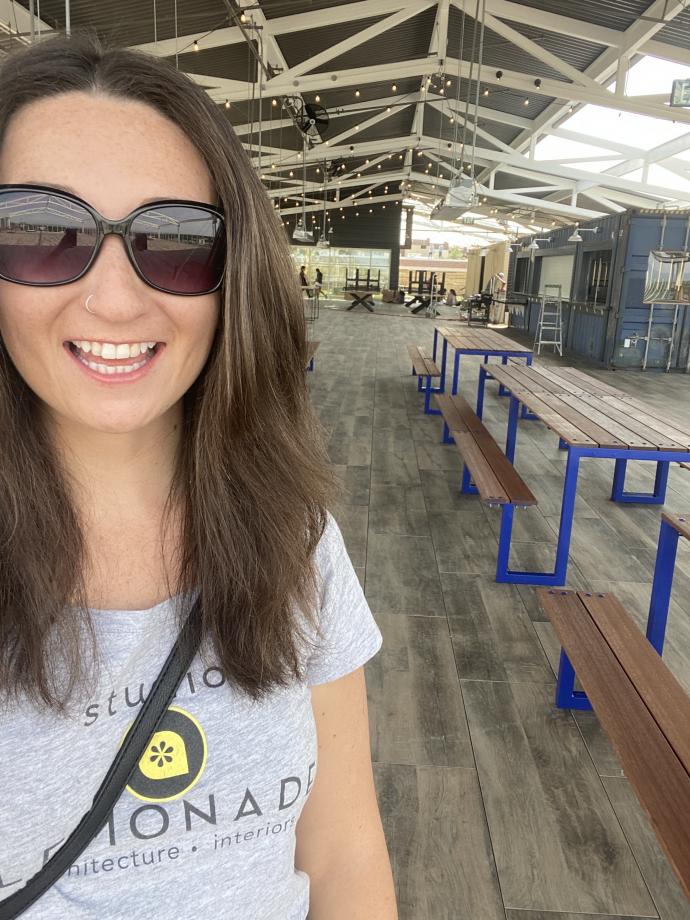 About:
Kelly was born and raised in Colorado. She graduated from the Colorado State University Interior Architecture & Design program, which is a CIDA Accredited Program, and has been an interior designer with studioLEMONADE since 2018.

For as long as she can remember, she has always been interested in everything design; from more basic arts and crafts to elaborate architecture and everything in between. Some of her favorite pastimes include snowboarding, competitively racing her 350Z, and taking the Jeep off-road to explore the beautiful outdoors. Kelly also loves to travel and has visited over 22 countries around the world.

For more please visit: 
Pindustry is for sure the biggest, baddest, and classiest place to spend your evenings. Located in Greenwood Village, Denver CO, they have over 54,000 square feet of space for games, lanes, live music, food, and drinks.
For more please visit: