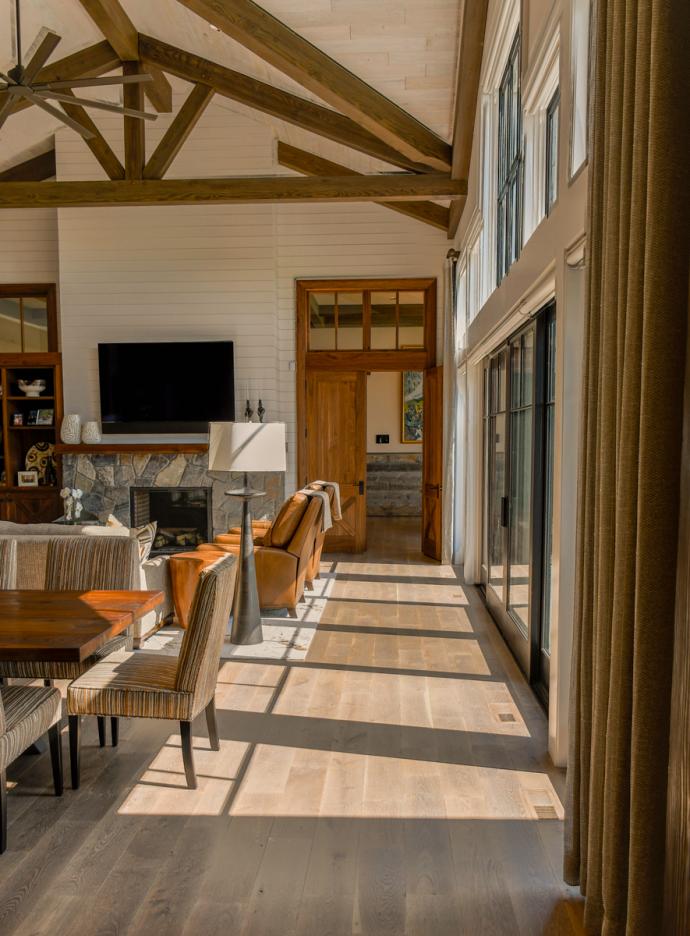 Recently Pioneer Millworks partnered with celebrated interior designer David Senise to create our new Natural Expressions Collection, a designer wide plank collection made with our sustainably harvested FSC® Certified Casual White Oak.
The Natural Expressions Collection combines elements inspired by nature to bring thoughtful sophistication and grounded aesthetics from the natural world into commercial & residential spaces for wood flooring & paneling.
We caught up with interior designer David Senise to talk about the project that started it all, a stunning home in New York's Finger Lakes Region that was the first to feature Natural Expressions flooring in our Driftwood finish and helped inspire David to create a full palate of new colors with Pioneer Millworks.
Q: What is your background as an interior designer?
A: I have been working in the Finger Lakes region as an interior designer since 1975. I started my career with a company called Spectrum Office Products, which was doing mostly commercial and office design at the time, but eventually that evolved to include residential projects and in 1998 I bought the business, which is now called Spectrum Design Group, and went off on my own.

I received my BFA in Interior Design from Syracuse University, I have a National Council for Interior Design Qualification certification, and I am a New York State licensed Interior Designer.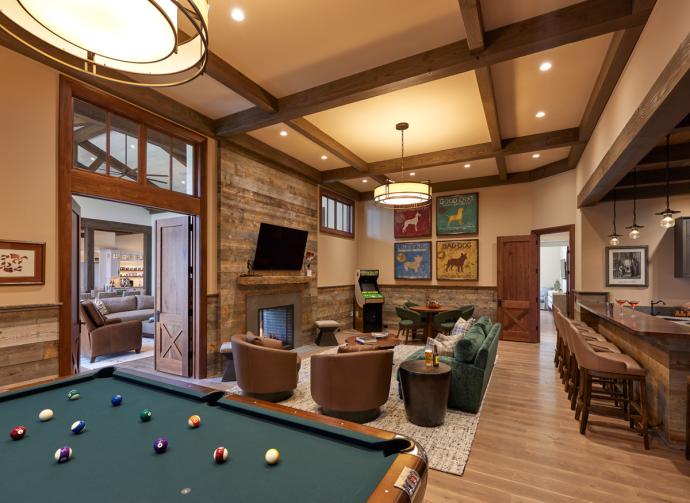 Q: How did this project get started?
A: I was referred to the homeowners on this project by some colleagues, and the chemistry was great, so I took on the project about two and half years ago. Since then, I have spent that time working on the design of the home from the shell to completion.

The clients are very down to earth people and were looking for something that was a laid-back look that mixed modern farmhouse and mountain aesthetics with a softer, less rugged, overall feeling.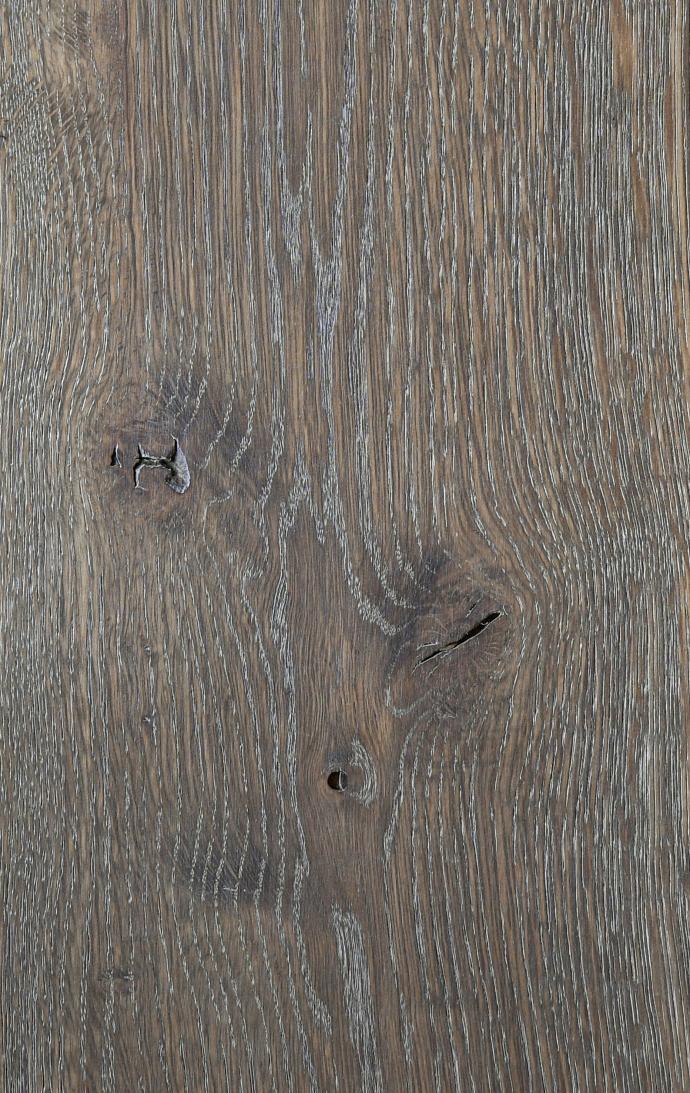 Q: How did this project set the stage for the Natural Expressions Collection?
 

A: I had found a sample of flooring that I liked for this project, but I was worried about the finish because the clients have dogs and there is added wear and tear with pets in a home. We also wanted to do a European style wide plank floor with a specific color and tone that could really tie the different spaces throughout the home together.

I had used Pioneer Millworks on a number of other projects in the past, and their sister company New Energy Works was already involved in the project providing the heavy timber work, so it just seemed natural to approach Pioneer Millworks to develop a custom floor that would fit the space.

One thing led to another after that, and I found myself in Pioneer Millworks shop in Farmington New York designing the floor finish with the team. We spent a few days coming up with the look and format, then tested a few finishes, and eventually came up with what is now known as our Driftwood finish.

That's how the Natural Expressions Collection got started, it was such an enjoyable and inspiring process to go through that it really opened the door to the idea of doing a full collection together. For me personally, developing this collection with Pioneer Millworks was a wonderful opportunity to create a more natural look and feel than other flooring options on the market and provide a truly modern palate for designers and homeowners to utilize that is also healthy and responsible.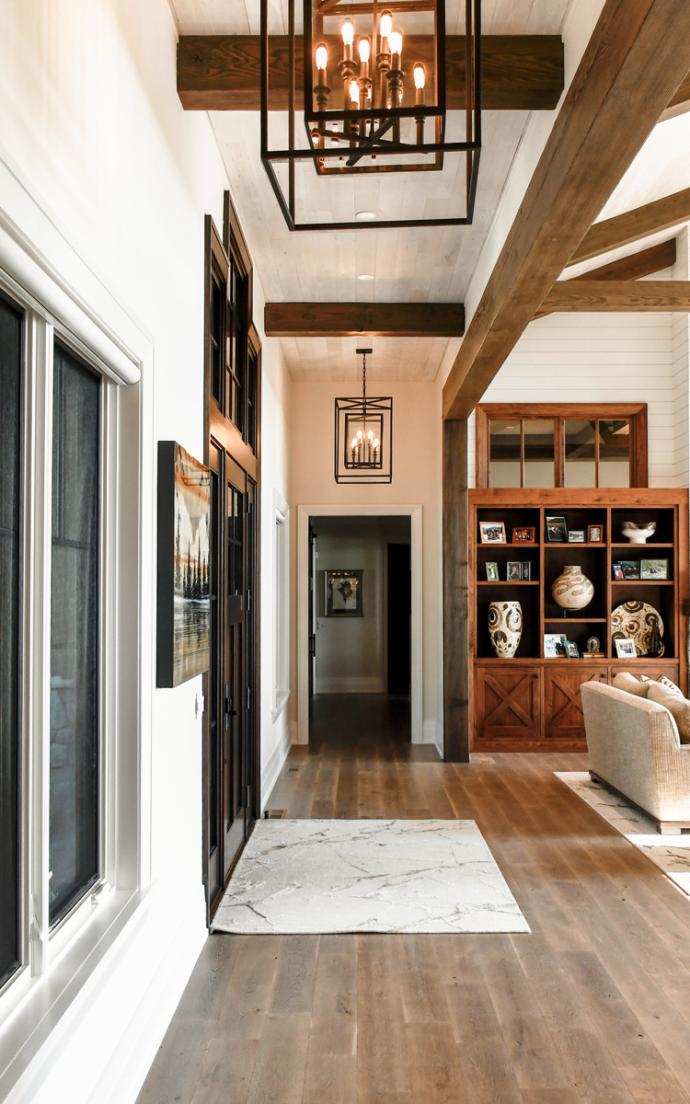 Q: Why would someone want to use wide plank flooring in their home?
A: What is special about a wide width floor, like our 8" wide European style Natural Expressions Collection, is that it gives a sense of scale to a home and lets the wood grain take center stage. In a large home, like with this project, you really shouldn't use narrow width flooring because it will look out of proportion in the space. Having a wider face to your floorboards give a sense of continuity to a larger home that has big rooms and long hallways.
Q: Why do you feel it is important to use sustainable and natural materials in your projects?
A: It is absolutely critical to me as a designer to try to incorporate responsible sustainable materials into every project I work on. I try to be as conscious as I can be about each material we select for someone's home, not only because it's the right thing to do for the planet, but because it's the right thing to do for the homeowner's personal health.

For me, making conscientious material choices is not just about being responsible for the environment and future generations, but also for the people who will be living in a space day in and day out. They will have the most direct contact with the building materials and finishes we choose, so those materials should always be as healthy and natural as possible.

I am really happy with the fact that not only is the Casual White Oak we use in the Natural Expressions Collection sustainable and FSC® Certified, but also that we use an all-natural plant-based UV Cured Hard-Wax Oil finish that is good for both people and planet. Those are the kind of thoughtful choices people don't always think about when designing a home, so I see it as part of a designer's job to think of it for them.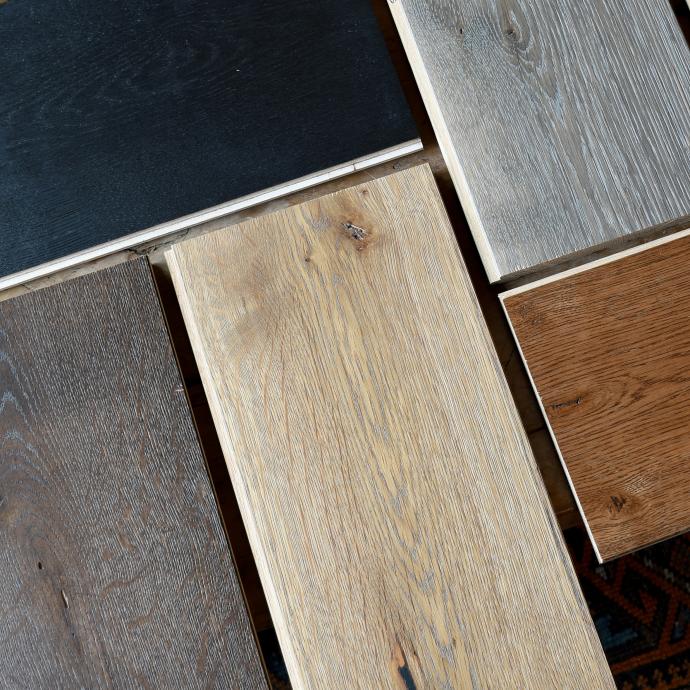 Q: What advice would you give to a homeowner or designer about selecting materials for a project?
A: The most important piece of advice I can give to homeowners or other interior designer would be to get as many samples as possible before making a product selection. With all of my projects I strive to have the design truly reflect the client's personality and lifestyle, and choosing the right materials to do that is really important.

When it comes to flooring specifically, I like to get a few samples and review them with my clients as they are going to be viewed in real life by laying them out on the floor and looking at them from above. I won't show a client flooring samples on a tabletop, I always present flooring options right on ground level, because that is how you are going to see it when it is installed. This gives you the right perspective, distance, and lighting which can change your perception of the tone, texture, color, and scale of the flooring. This is something I always do when looking at floor samples, because you have to see it from standing height and walk towards and around the samples to really see it for what it is.
About David Senise:
David has been creating unique interiors for clients in the Rochester New York area for over forty years. He has a National Council for Interior Design Qualification certification and is a NYS licensed Interior Designer. A Syracuse native, he received his BFA in Interior Design from Syracuse University and began working in the design department at Spectrum Office Products in 1975, and in 1998, David took ownership of Spectrum Design Group. David loves to travel and finds design inspiration from the many countries he and his wife, Susan, have driven through on their trips to Europe.
More about the Natural Expressions Collection:
Made with our sustainably harvested FSC® Certified Casual White Oak, the Natural Expressions Collection utilizes an 8" wide plank format and an all-natural UV Cured Hard-Wax oil finish, giving any space an organic flow by allowing each board to express a variety of wood grain patterns.
See the whole collection:  - NATURAL EXPRESSIONS COLLECTION | Pioneer Millworks
Related Content:
The Natural Expressions Collection – Why Engineered Flooring Q&A | Pioneermillworks