Hi kids; do you like science? We've spent some time discussing the benefits and features of some of the Pacific Northwest's more prominent wood species, like Larch and Douglas fir— now we're going to spread the love and talk a bit about one of our more technological wood species. Today is all about Accoya®. 
Accoya modified wood is the timber industry benchmark for performance and sustainability. Low lifetime carbon footprint, an unrivaled combination of durability, stability, and versatility. All those benefits are then packed into a 50-year warranty.  Seems like the perfect tree doesn't it? That's where things get interesting because Accoya is not actually a tree.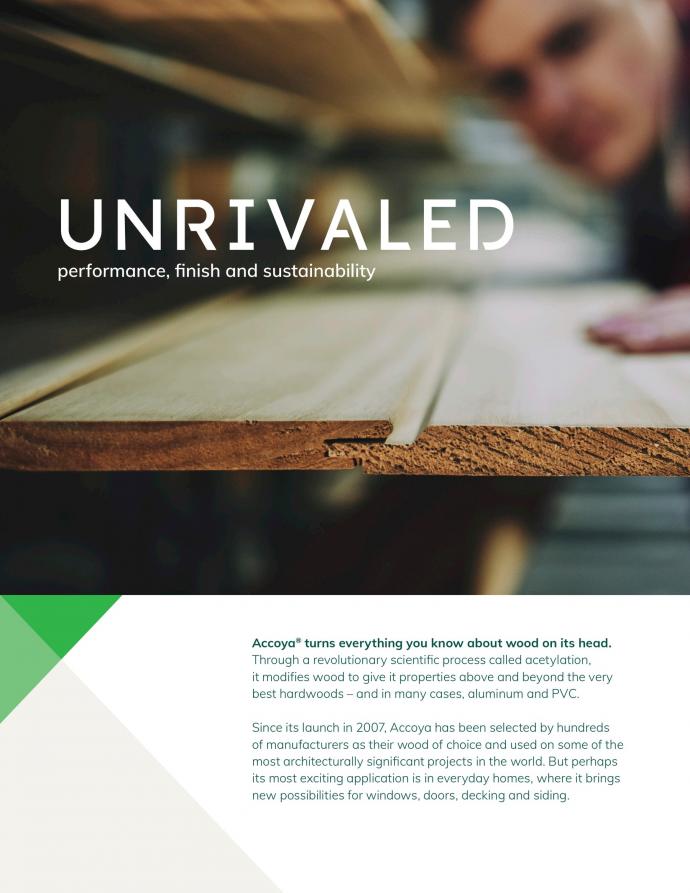 Accoya is a wood modification process that improves the technical properties of the wood fiber, through wood acetylation. Starting as Pinus Radiataor Radiata Pine, grown wild in limited areas of the Monterey Peninsula of California, it was introduced to Australia and New Zealand in the late 1800s and now a common species in sustainably managed forests.
Once the tree reaches its maturity around the 30-year mark, it is harvested, and the raw timbers begin a modification process using acetic anhydride (vinegar), which is naturally occurring in all wood, creating a stable and extremely durable wood.
Hold on—it's some kind of pickled super wood? 
Sort of, let's get into the science a bit.
Acetylated wood is the process of subjecting softwood (in this case Pine) to vinegar. This process enhances wood properties to outperform the very best hardwoods. While it's non-toxic and food-grade, it isn't the typical vinegar you'd find in the pantry next to the EVOO.
Why is acetylation important? It won't absorb water in the traditional sense. Excess moisture causes decay, rot, warping, etc. Remove that from the equation and you've got yourself the Iron Man of wood material that shows up to the party with 50 years' worth of dependability, durability, stability, and versatility in stains and finishes. But that's not all! Accoya has improved thermal insulation and carbon sequestration advantages (FSC-Certified®, Cradle to Cradle Gold, and Declare red-list free for those looking for sustainability accomplishments)—locking away the carbon emissions for a longer period of time. Ideal for facades, cladding, and siding, or any application that will be exposed to the elements; Accoya often exceeds the most durable tropical hardwoods.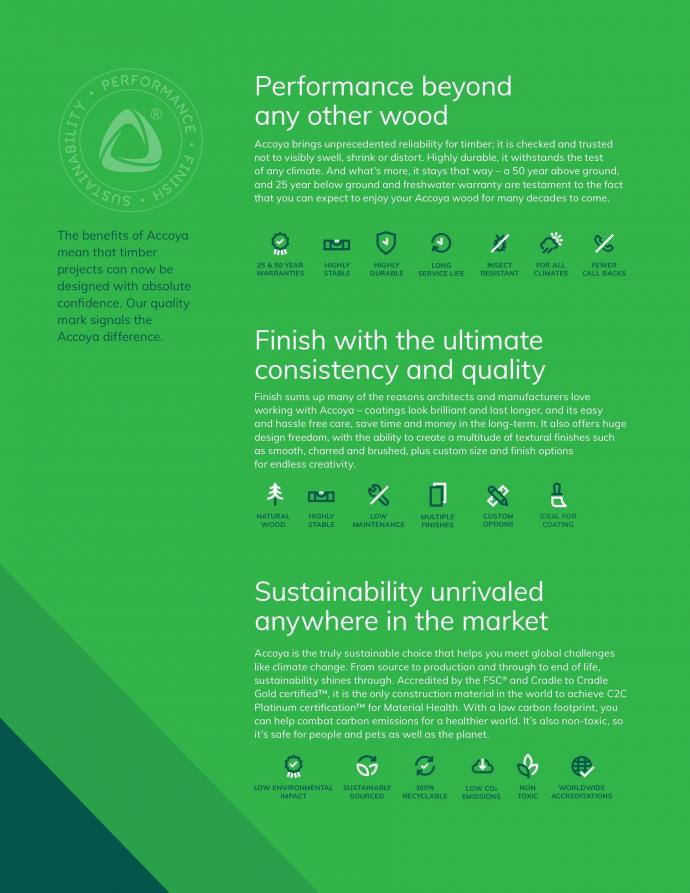 Like Larch, Douglas fir, and Reclaimed Oak, Accoya takes extraordinarily well to the Shou Sugi Ban burning process.  The deep charring effects of the burning process amplify and highlight the texture and rich grain of the wood- bringing out even more character with each stroke of the wire brush.  Naturally beautiful wood, Accoya is renowned for its ability to hold finish and stain options- creating a low-maintenance option for cladding and interior design options. If we are being honest, Accoya also provides one of the most striking charred alligator textures of all the Shou Sugi Ban deep charred woods we've experienced.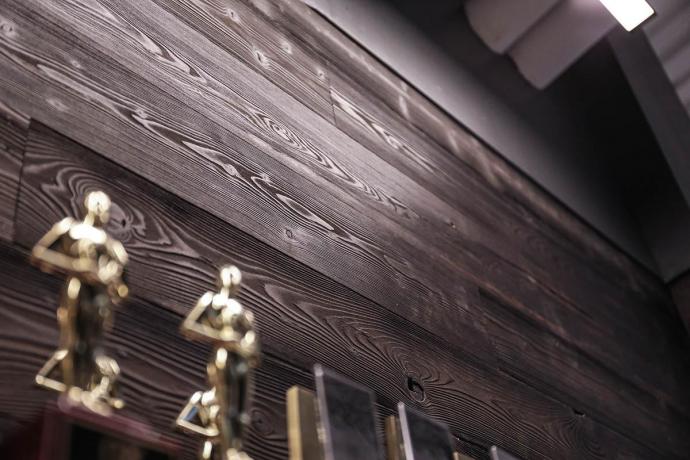 Our Shou Sugi Ban product line up consists of over 50 different finishes, from 5 different rugged yet dependable wood species.  Each as unique as the next, offering dramatic character appeal and rich blends of dark hues and natural wood tones. The Shou Sugi Ban process creates an indelible weatherproof solution to exterior siding, free from deterioration caused by moisture or damage caused by nature's little multi-legged creatures. Each level of the charring process is unique in its appeal and application, so we offer multiple options for the overall look and charm of the finished product. Prior to any finish stain, Shou Sugi Ban is offered in one of three different char levels:
Accoya Deep Char, our signature blend of rugged, iridescent, charred alligator scales straight from the fire.  Over time this finish will weather, and the ash will erode and evolve into a blended medley of cool tones and natural patina.  While the material still protects from the elements, the effects of rain and wind will eventually begin to wash and sculpt the charring to create a unique appearance.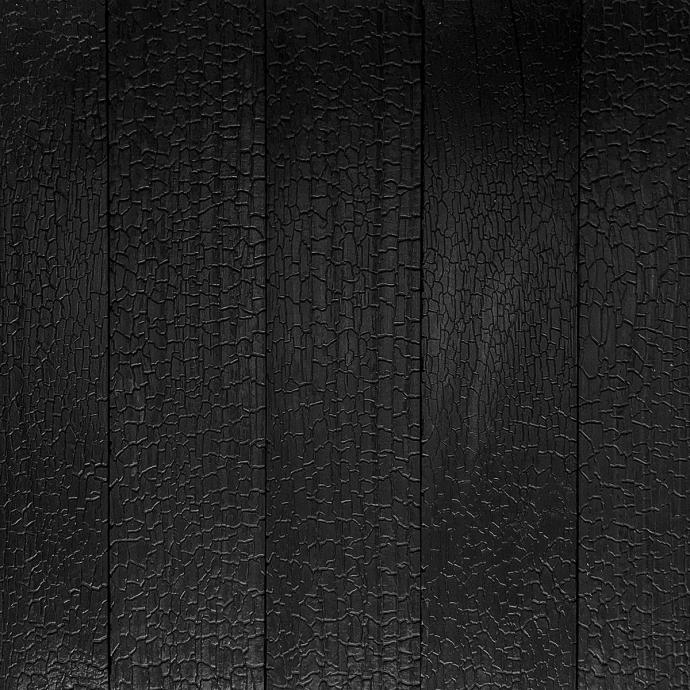 Accoya Once Brushed, after the burning process, we take each board and wire brush them a single time.  This removes a surface level of char and ash to reveal more of the wood beneath.  Some of the alligator-like texture remains and will evolve, but the natural wood grain below is also exposed, changing the complexion of the appearance to some extent.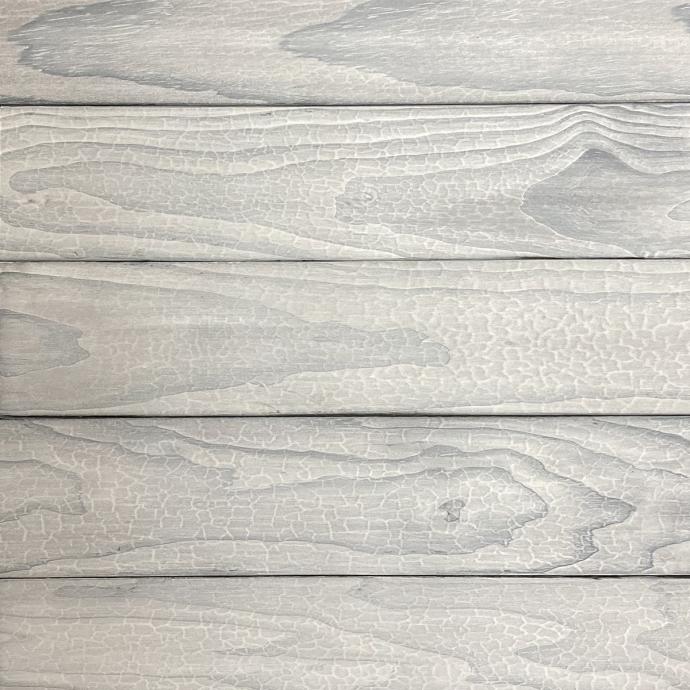 Once you've chosen how much meat to leave on the bone, the finish or stain options are virtually limitless.  Vivid colors, dark charred blacks, and charcoal greys, we even have more neutral tones like undressed, smoke, and yes- even white.  Charred wood, wire-brushed, and finished with Scandinavian-inspired whites and natural tones.  Perfect for the hygge lifestyle and Nordic décor.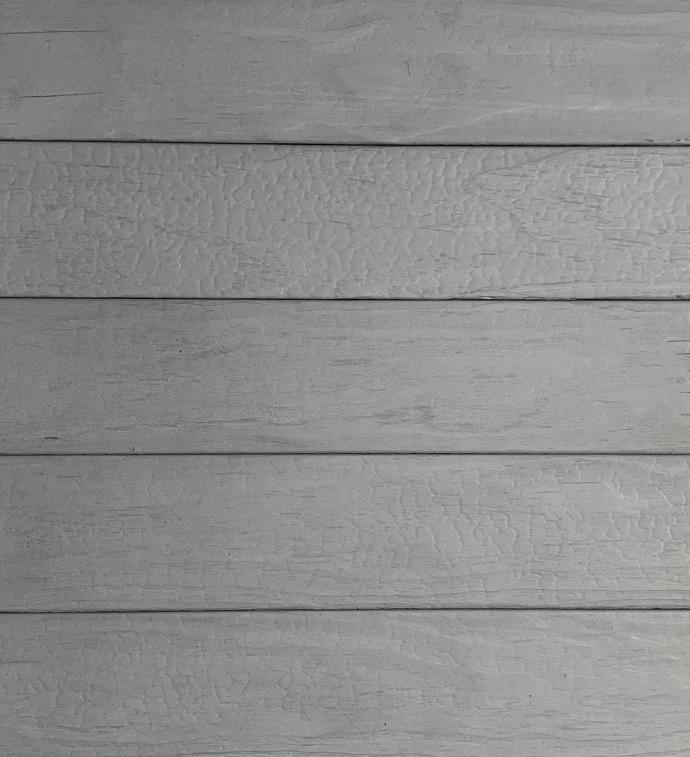 No matter what your preference, Pioneer Millworks Shou Sugi Ban product lineup of charred wood options has something that will ignite your interests and with options like our resident super-wood, Accoya or more traditional options like Douglas firand Larch—the burning desire to fire up some Shou Sugi Ban projects is getting hotter.