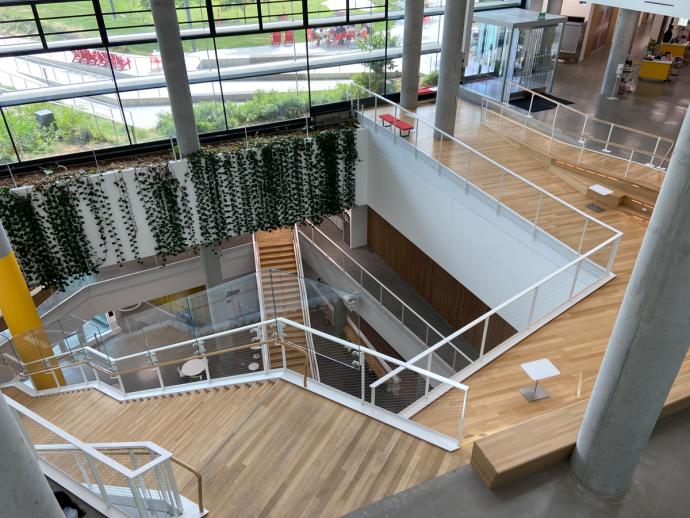 Manufacturing healthy & sustainable building materials requires a perpetual effort to improve sourcing and production techniques. Some large and ambitious projects that aspire to rigorous building standards such as LEED or Living Building Challenge help to push manufactures to develop new processes and products to meet those specific progressive construction needs.
Pioneer Millworks recently worked on a project that did just that for the Harvard University Science & Engineering Complex (SEC). The over 500,000-ft2 building is LEED Platinum certified and considered to be one of the worlds healthiest laboratory buildings. We provided our engineered American Gothic Reclaimed White Oak and Modern Farmhouse White Oak products for the project that were used for both flooring and benches throughout the complex. Because this was a project that had very specific building requirements it inspired us to make some changes to our standard manufacturing processes to meet those needs.
We caught up with Matt Root, senior project manager for Integrated Eco Strategy, the consultant firm that helped Harvard University source materials for this ambitious healthy building project, to talk about the project and why transparency in how building materials are manufactured is important to building sustainably.
Q: What does your company do?
A: Integrated Eco Strategy is a healthy building materials consultant that has developed software that tracks products as they move through the design process and into the construction phase of a building project. The goal is to help make it easier to use and understand healthier building materials and to drive the current materials marketplace to develop healthier products. We do this because the reality of the building industry currently is that there is not a lot of disclosure in most building materials/products and the use of chemicals of concern contained in those products is widespread, much more so that most designers and end users would be comfortable with I think, but that is the reality.

Some of the leading organizations within the construction industry focused on healthy building materials are Living Building Challenge and the ILFI (International Living Future Institute), which we often work with. We leverage the existing "red list" of the "worst in class" materials, chemicals, and elements known to pose serious risks to human health and the greater ecosystem that are prevalent in the building products industry, and help support projects that are perusing an effort to build with healthier materials, basically making it easier to source and vet materials that meet a healthy product criteria.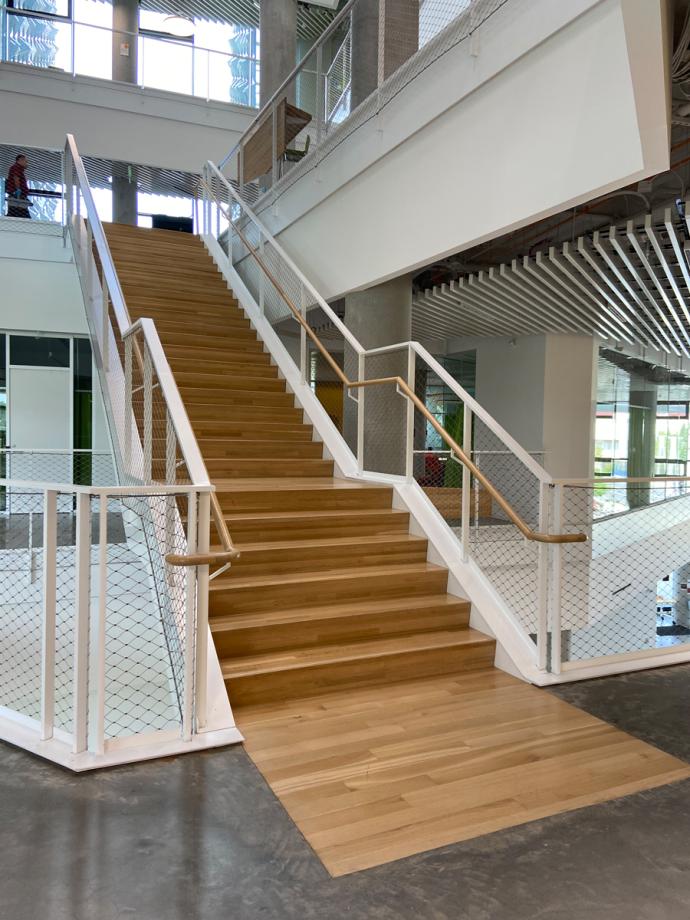 Q: How was your organization involved in the Harvard SEC project?
A: Specifically for the Harvard Science and Engineering Complex project we were the primary Living Building Challengeconsultant, responsible for coordinating the design and material selection process and ultimately approval of products that were going to be used on the project. But to clarify that a little, all the products of course had to go thought all the other partners on the project, we were just looking at them from a material health/ Living Building Challenge perspective, not from a design or architectural perspective.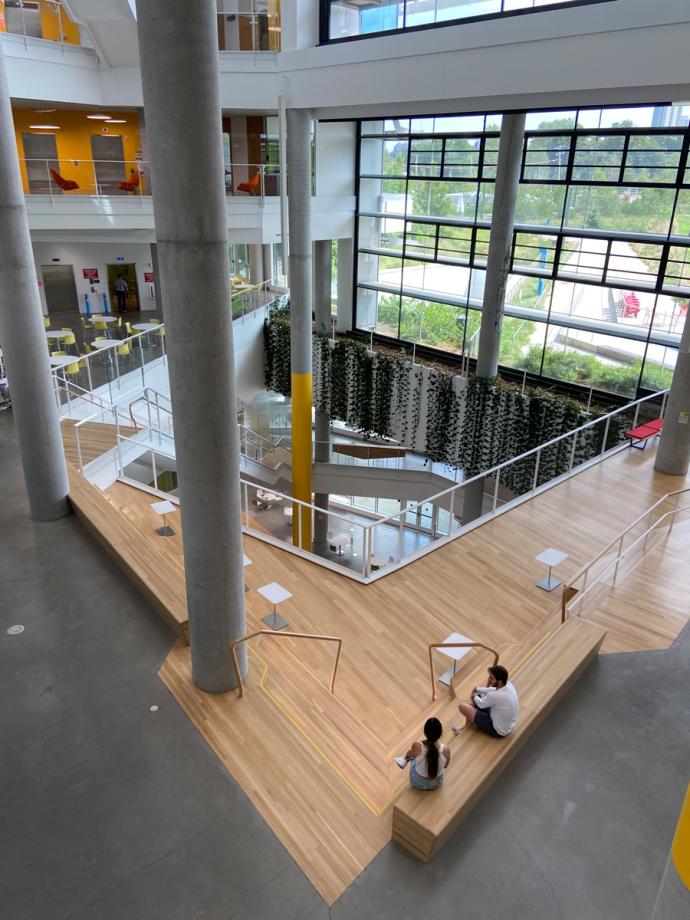 Q: How did Pioneer Millworks become involved in the project?
A: I was the lead project manager from our team working with the architect and other partners on the complex. The request for the flooring component of the building was for an engineered flooring, because of the inherent stability that type of flooring system provides, and we were also looking at the floor to count as one of the projects "salvaged or recycled" products, because the Living Building Challenge requires a certain number of that type of material be used to meet their requirements.

When our team put Pioneer Millworks forward as a potential supplier for healthy pre-finished engineered flooring with a reclaimed wear layer, it turned out that Pioneer Millworks had already done a lot of work with Harvard University on other projects, so the brand was known to them and there was already a trust and relationship there, which helped. But it was really the fact that Pioneer Millworks was willing to work with the project and adapt their products and finishes to meet the needs we had for the complex that really brought it all together.

Pioneer Millworks really pushed and flexed to accommodate the super specific needs we had for this building and used an alternative plywood substrate, worked with a different type of finish for the flooring, and was hyper selective about the reclaimed components that went into the wear layer of the flooring. Ultimately Pioneer Millworks provided their American Gothic Reclaimed White Oak & Modern Farmhouse White Oak pre-finished engineered products that were used for both flooring and benches throughout the complex after meeting all of our requirements to be included as a supplier.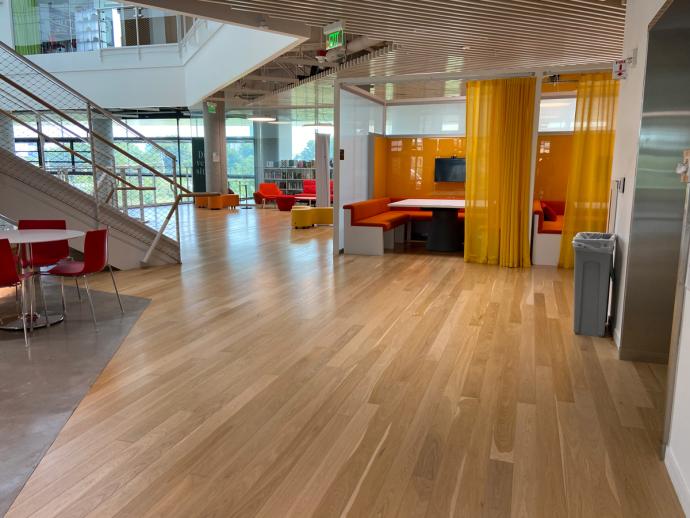 Q: Why is it important for manufacturers of building materials to work to make their products more healthy/sustainable?
A: From my perspective I think there is a growing demand from clients and end users that ultimately leads up the developers of these large building projects. Because of this push for more sustainability from those groups, there is a market opportunity for manufacturers to move into the healthy/sustainable materials space as a leader, like Pioneer Millworks has. I think you would be hard pressed to find folks who are at the higher levels of the industry that DON'T want healthier or more sustainable buildings because energy is now at the point where most projects are on board with being as efficient as possible, for example.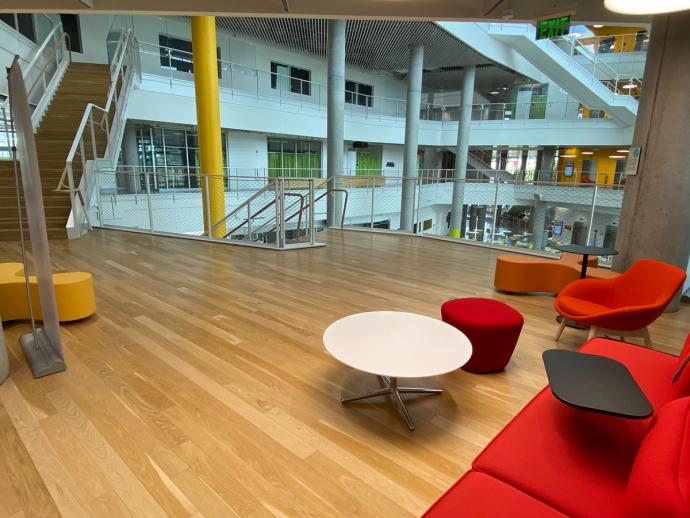 Q: How can building material manufactures do better?
A: More material transparency is our goal for manufactures, but first we need more building projects that ask manufactures for more ingredient disclosure before we can expect the material industry to improve in a meaningful way in the larger sense.

I am very sympathetic to manufactures dealing with global supply chains for their products and that those companies don't necessarily make every component themselves and rely on sub-suppliers who may or may not be transparent in their processes. Big projects that give manufacturers the financial incentive to look deeper into their products and what goes into them is really a key factor at this stage.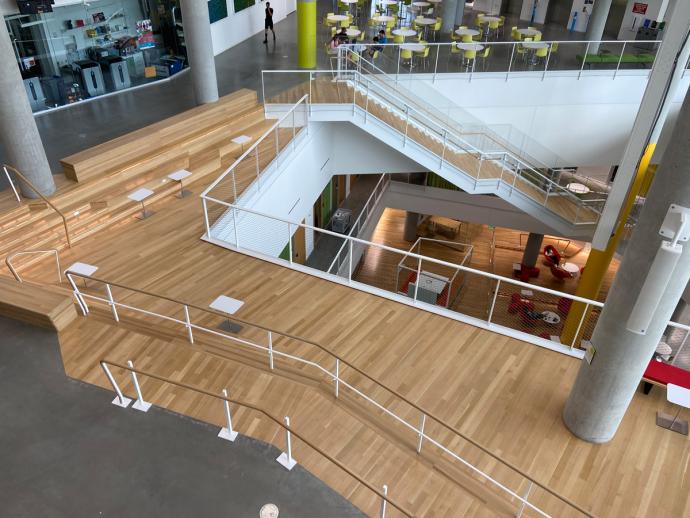 Q: How was the Harvard Science and Engineering Complex a good example of the type of project that can move material transparency forward?
A: The Harvard SEC project was important because it showed that large projects can have an outsized influence. It is a reality that because of the size and the scale of the project they could be very selective and demanding about the materials that were used.

For example, the Harvard SEC project was asking for a very large amount of wood flooring, which meant the sale was large enough that a manufacturer like Pioneer Millworks was able to accommodate the specific needs and requirements of the building, push their vendors to do the same, and ultimately take the time and resources to make positive changes that probably would not have been possible if the job was much smaller in scale.

This is just one example from a single project, but it really highlights that a few very large projects can have a huge influence in terms of driving and moving the marketplace to be even more healthy and sustainable with their products.

What I appreciated most about Pioneer Millworks approach in this was that the company was really eager and willing to take on the extra effort and see what could be done to meet the project standards. We talk to lots and lots of manufactures and that is not the response we always get.
Q: How can the Architectural Design and Building Materials communities work together to improve material and building health?
A: I think all sides of the industry could benefit from having a consistent approach and method for identifying what projects are asking from manufactures in terms of material health and transparency. I think the "red list", while it is not perfect, is a good framework that could be built on to improve communication, expectations, and benefits in the building industry. That consistency is important for manufactures especially because if they are seeing a lot of custom requests and stipulations for a variety of different building projects, it is really hard for them to know how what to pay attention to or focus on.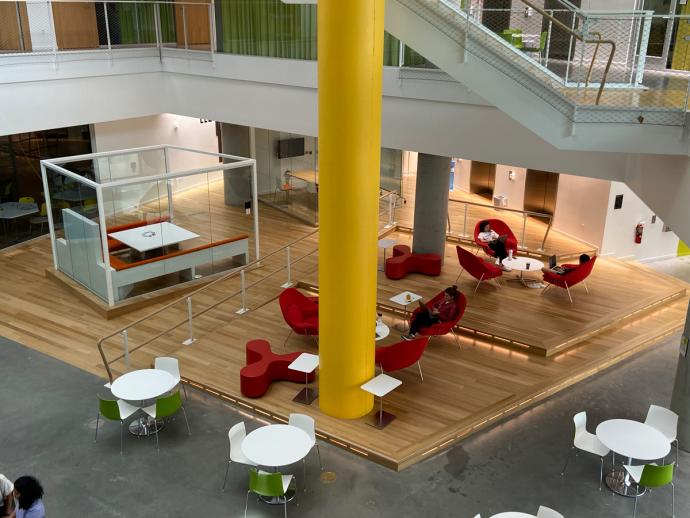 Q: What does a natural material like wood bring to the conversation about material transparency and building health?
A: Wood is really interesting from a higher sustainability perspective because of its embodied carbon attributes, that is one of its leading characteristics right now in the industry, the ability to sequester carbon. From a healthier materials perspective wood is a natural product, so it does not contain any chemicals of concern unless they are added in the manufacturing process, so it becomes a focus on how it is treated or coated, not in the material itself, which is a huge selling point.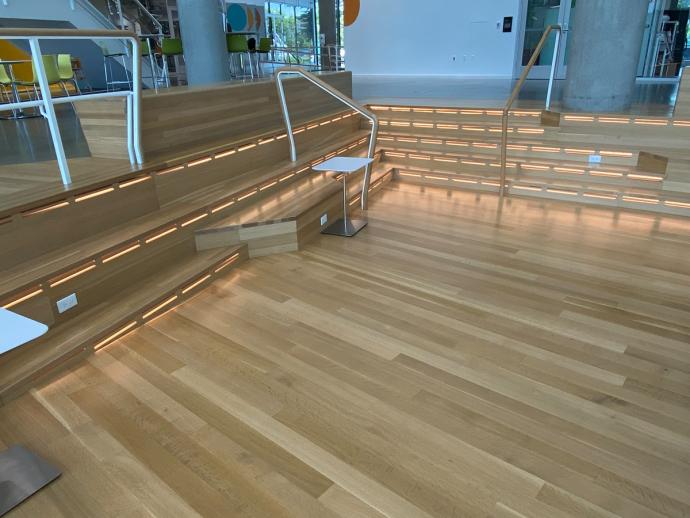 Q: What is one thing you would like to make clear to the Architectural Design community about their ability to effect material transparency and building health?
A: The point I would make is that for every project, big or small, there is an opportunity to choose from a large variety of different materials and manufacturers. The AD community has a great power in their ability to specify products for their projects and they can use it to influence the materials market.

If they choose to specify materials beyond just the visual or architectural value and demand more of the industry in terms of sustainability and transparency, more manufactures will produce products that align with those needs.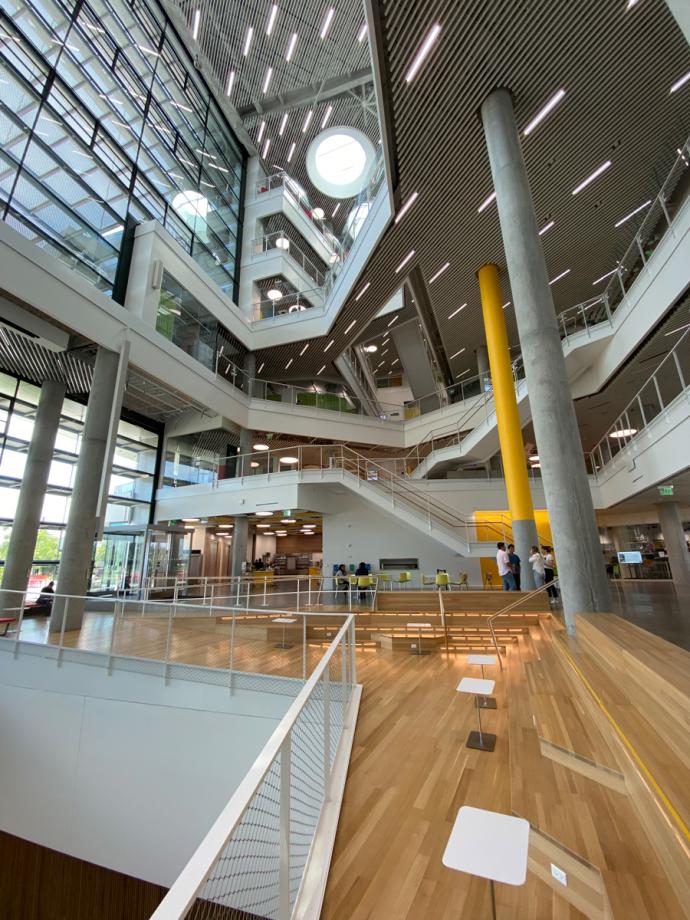 About:
Matt Root is the senior project manager at Integrated Eco Strategy, where he manages healthy materials and energy related projects for projects pursuing Living Building Challenge certification, or at least inspired by the program's intent.  He works closely with design and construction teams to implement processes that support projects in achieving their healthier materials goals. 
Pioneer Millworks Material Transparency:
Pioneer Millworks has full transparency documents (Health Product Documents) through HPD Collaborative for our products. Call to request them, or download them here.