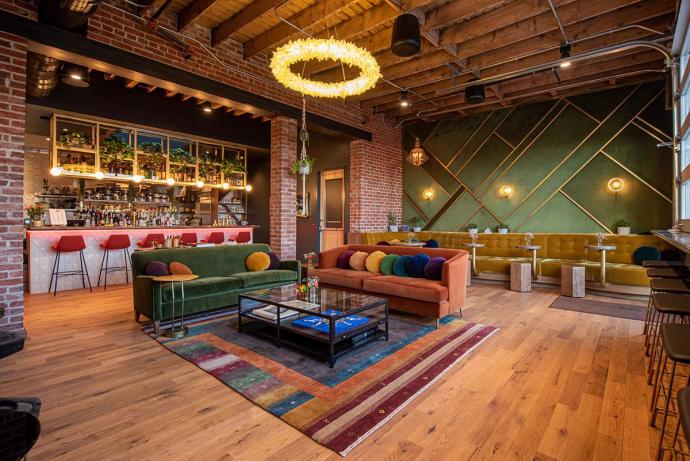 Honey Elixir Bar in Denver Colorado is a vibrant and unique place where people from all walks of life are welcomed. One part bar, one part community living room, Honey Elixir's eclectic and eccentric energy radiates throughout every aspect of its design.
The space features Pioneer Millworks Black & Tan Tan Oak flooring and holds a special place in the hearts of many residents of the art district of metropolitan Denver. We caught up with the architectural and interior design team behind the project from the UNUM Collaborative, Adam Steinbach, AIA and Nora Hoffman, to discuss the unique bar space, the ideas behind the material choices, and how the space reflects the local neighborhood vibe and thrives with diversity.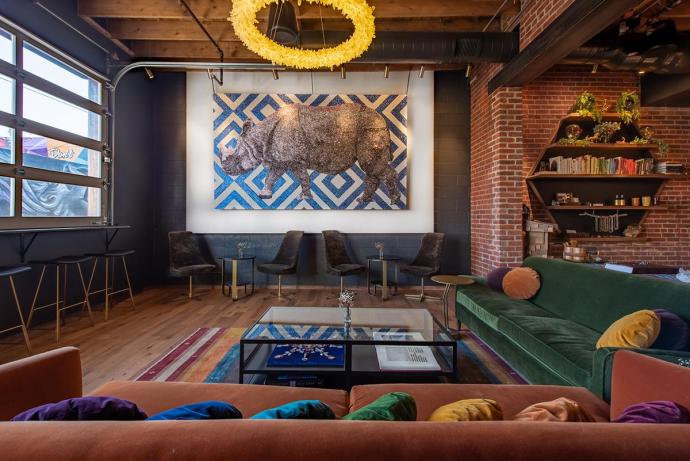 Q. What is the UNUM Collaborative and how did the group become involved with the Honey Elixir Bar project?
Adam: We like to say that we are a passionate group of architects, designers, makers, and doers based in of Denver, CO.  The Honey Elixir Bar project started the design process in Fall of 2018, which at that point our firm was only about a year old. Collectively our team had many years of professional experience in the industry working for other firms but as an office, we were still trying to establish our design ethos and identify. We felt very fortunate to work with clients with such a unique and interesting vision so early in our formation. 

Nora: This was one of the first projects I worked on with UNUM, and still one of my favorites. The project is located in an area of downtownDenver known as RiNo (River North Art District), which at the time was an up-in-coming neighborhood that has since become a booming neighborhood, so that made it really exciting to work on. The project centered around renovating anexisting warehouse space and bringing new life and warmth into the space. That in and of itself was especially rewarding as a local designer and native resident of the city.

Adam: The clients had an existing relationship with us through shared connections in the community and had come to us with specific ideas. The vision for Honey Elixir was always one of a community gathering space, a place that could be inspired by the artists and creative atmosphere of the RiNo district. The project was an opportunity to create new life in a turn of the century warehouse space, which are archetypal of the area, in hopes to build a place where people can feel like they belong without judgement and can also express their creativity. The space itself is only about a thousand square feet, but it was envisioned to contain a multitude of activities.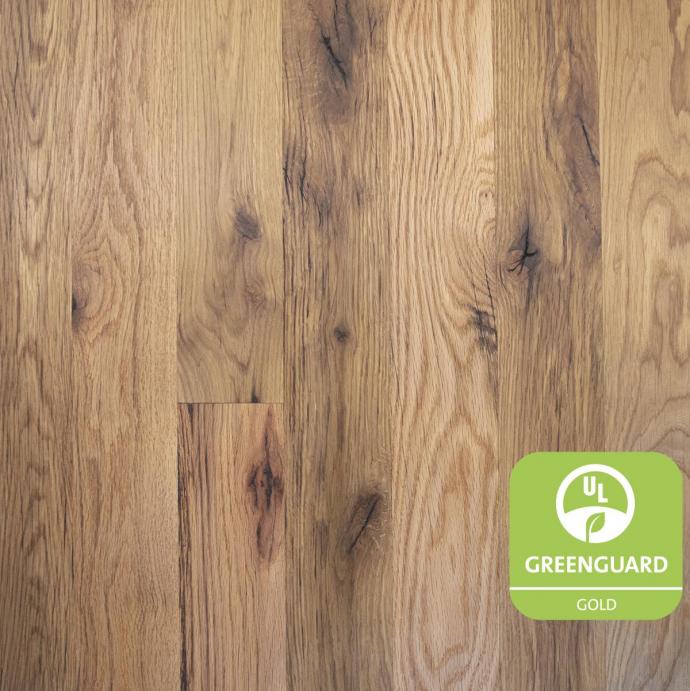 Q: How did the look and feel of the space evolve through the design and material choice process?
Adam: A lot of the space's design started with exploring textures, textiles, and more tangible materials. That was really important to the client, that the space have a domesticity to it that provided contrast to its warehouse surroundings. The tenant location itself is unique because its primary access is through an alley that has been converted to a pedestrian only walkway, so it does not have a traditional store front street presence, you almost have to search it out or stumble upon it, like a speak-easy from the 1920's. When you enter into the bar it was intended to feel approachable and unlike the stark, industrial surrounding buildings.

Nora: I think it was pretty early on in the design phase that we chose Pioneer Millworks Black & Tan Tan Oak flooring. From the beginning the client was set on doing hardwood flooring to bring in a warmth and feeling of home to the bar. With health, well-being and sustainability being integral in the core values of the bar, choosing reclaimed wood as the flooring material was an easy decision. Anytime as a designer we can convince a client to use a salvaged or reclaimed product it's exciting because it is something sustainable that had a previous life that we can give a new purpose to. I think there is a lot of meaning to that.

Adam: The existing structure had some great existing elements that were sandblasted to bring out their character, like the hundred-year-old heavy timbers and brick walls. We knew that the more conventional approach on this kind of project is to just do concrete slab, and I think that just felt wrong because the space really needed to have that sense of warmth. The Black & Tan Tan Oak material being identified so early for the floor on this project really acted as a canvas for all the other materials and textures to shine in the space. We utilizedthings like brass and velvet in the design, playing with the idea of materials that have life that you want to touch and engage with. As a material, wood does not always have to be the primary piece, it also works very well as a backdrop that lets other elements of the design become the primary characters. I think that was an important turn in the evolution of the design early on with Pioneer Millworks.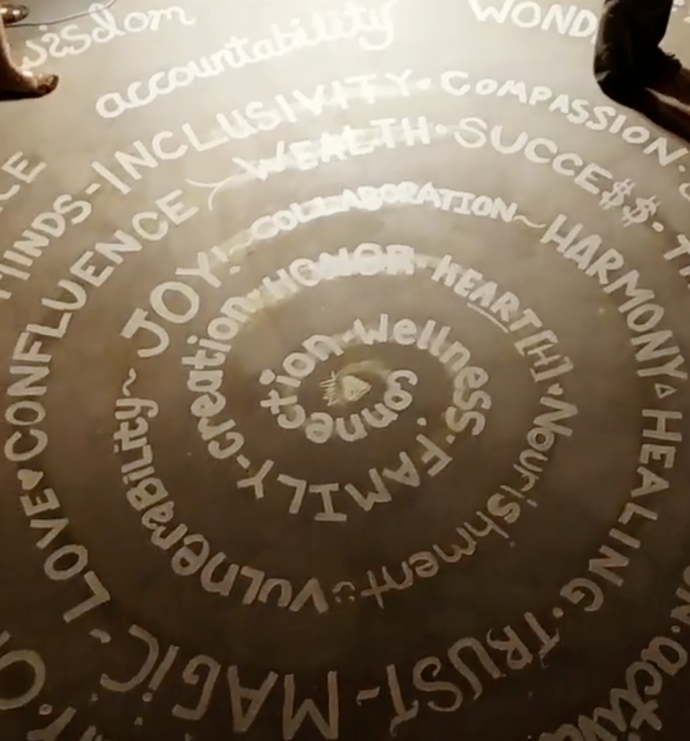 Q. Do you have a favorite aspect of this project? 
Adam: A little known story for this project is that before the Black & Tan Tan Oak flooring was laid down, the owners actually wrote out their intentions for the space on the sub flooring. They took everyone who had been part of the concept, friends, family, co-workers, etc. and wrote out this emotional spiraling message of intentions, good faith, and positive messages to set the tone for the entire endeavor. So, as you walk into the bar it's one of those things that no one really knows about, but it exists below the floor. Once you're aware of this, you begin to think of the reclaimed floor as something that is protecting that memory and those good intentions.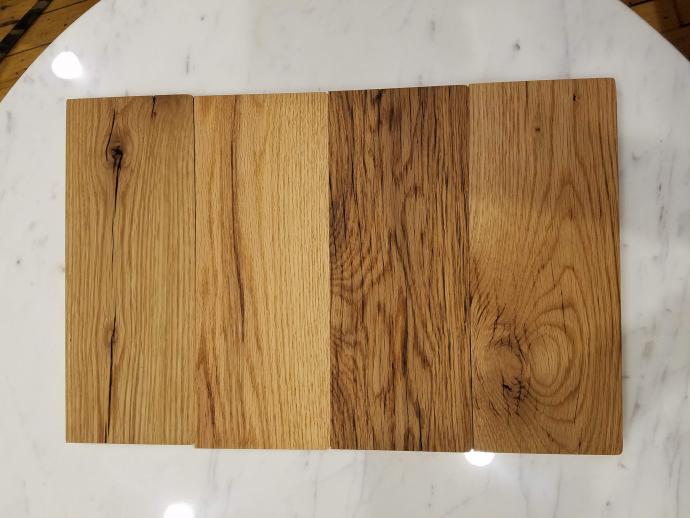 Q. What are the benefits or motivations as a designer or architect to include reclaimed wood on a project like this?
Adam: The choice to go with reclaimed wood on a project is fairly simple to make. Selecting a material like reclaimed wood that has a history, that has a past life and will continue to age is always very important when we talk about architecture and interiors. How the materials begin to take on their own unique memory is really interesting to see.

Nora: As humans we spend a lot of time indoors, so having that connection to natural materials and having them around us through design is essential. Getting deeper into the concept of biophilia, incorporating plants around us is critical. Natural wood provides the same organic presence that we require to stay connected to the outdoors. We essentially live and work in these boxes filled with artificial light and preserving that innate connection to nature is crucial.

Adam: I think natural wood brings an element of life to a space that synthetics and other manufactured materials do not. We as human beings are connected to things that are organic and living, and wood has always been part of our collective cultural memory. Wood is one of those elements that consciously or unconsciously we are attracted to, we understand it, we are drawn to its graining, to its tones. Being able to incorporate wood in different ways in a project through its sheer versatility makes it an attractive option. Having the ability to incorporate it into a floor, or a wall panel, a tabletop, etc. is what is unique about wood in general.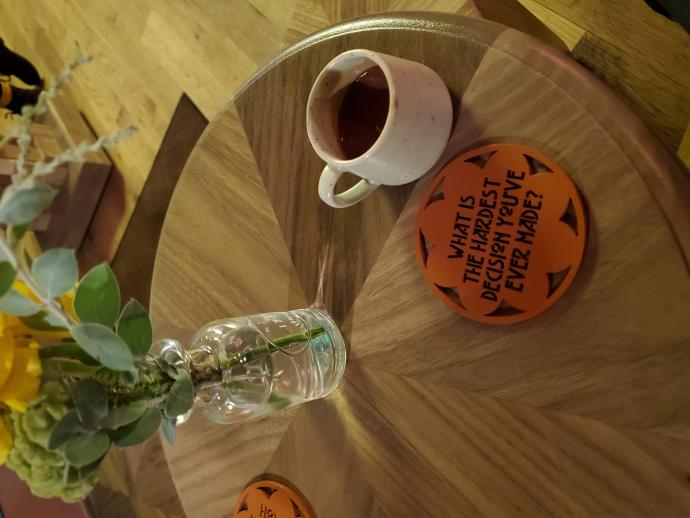 Q: What are your thoughts on this project now that it has been completed for some time and has become a thriving space in the community?
Nora: I am proud of this project. As a designer when you have a client that has a vision and knows what they want, you get to help them execute that vision and then hand it off when the project is completed and get to watch it grow, it's kind of remarkable.

Adam: As a project for the community, Honey Elixir Bar serves very well. I love the fact that it was designed as a flexible space, capable of changing and morphing for different functions. At different times they clear the furniture out and will have dance parties, or bring bands in. They have a large gallery wall where they will invite artists and have them paint live or display their artwork. It's a bar in some ways, it's a living room in some ways, it's an art gallery in still other ways, always evolving and changing. It is a catalyst for discussion and community engagement, and I am glad that we could create a space that feels welcoming in that way. It's a place where you don't feel like you are alienating any specific type of experience or person when you walk into Honey Elixir, it is much more about creating a sense of belonging and purpose for the community.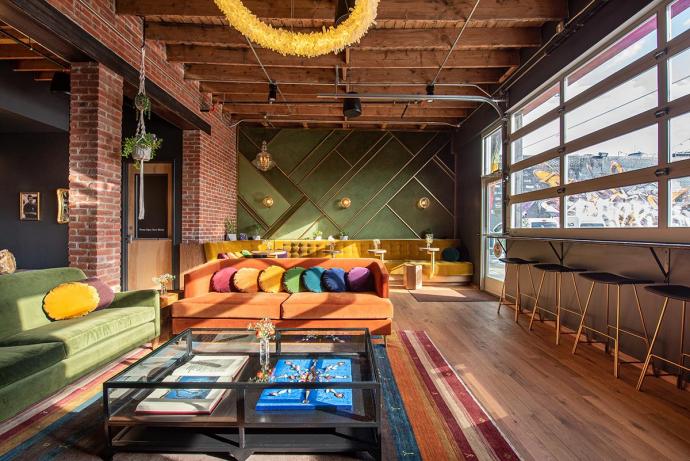 About:
Nora Hoffman is native to North Denver and has witnessed firsthand the rapid changes to the city's culture and character. In 2011, she received her Bachelors of Fine Arts in Interior Design, with an emphasis on Sustainability from the Rocky Mountain College of Art + Design. Before joining UNUM in 2018, Nora worked as a freelance designer for residential and commercial projects in the area. Nora treasures the timelessness of style and form, firmly believing in the importance of honoring the past while embracing the future.
Adam B. Steinbach AIA, LEED AP is a native to Pennsylvania and has called the charming city of Denver his home for many years. Adam holds a Bachelor of Arts degree from Lehigh University and a Masters of Architecture degree from the University of Colorado Denver. With over fifteen years of experience in the field of architecture and design, Adam has worked on a variety of commercial and residential projects both in Colorado, Arizona and along the Eastern United States. His knowledge in architectural practices combined with his desire to push the envelope in design methodologies and material exploration inspired him to co-found UNUM collaborative in 2017. He believes that bringing together multiple individuals with a diverse knowledge in art and design will yield the most interesting, appropriate, and elegant solution.
Honey Elixir Bar is a place where the community comes to connect. Their space is a carefully curated gathering point where the aesthetic of a funky lux lounge sets the stage for intimate and meaningful social connections.
Honey Elixir Bar is located at 2636 Walnut St. Denver, CO 80205
For more please visit: