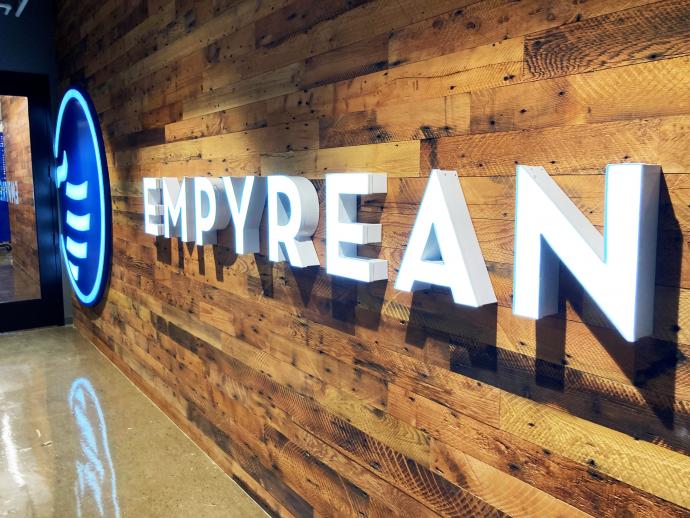 When it comes to designing office space, there are many factors that play into material choices. Careful consideration of a materials durability, the project's budget, and the atmosphere it creates for employees and clients are all important.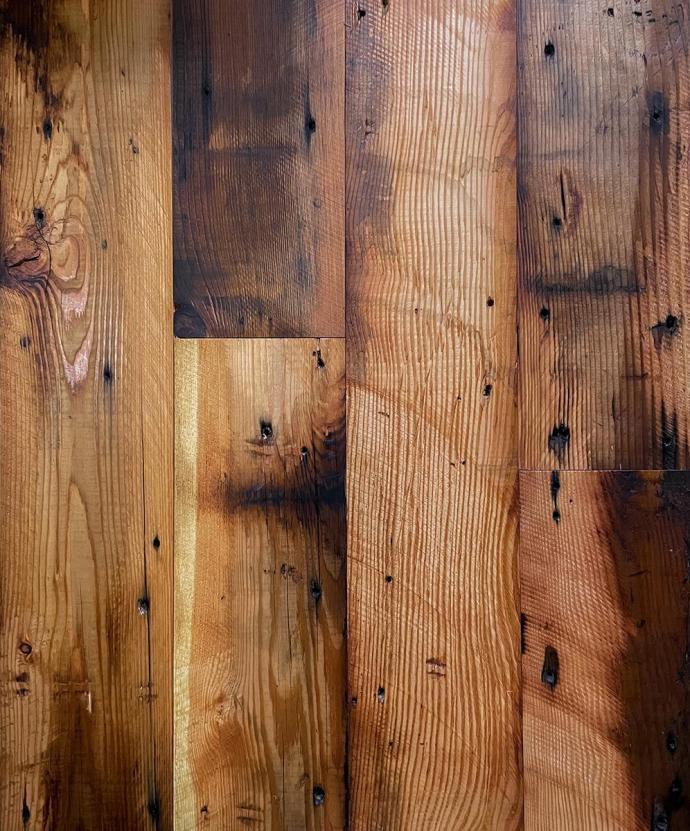 We caught up with RJ Kosadnar M.B.A., Director of Facilities for Empyrean  Benefit Solutions, Inc. in Houston Texas, who recently worked with us on two office renovation projects utilizing our Saw-kissed Douglas fir wall paneling in their corporate headquarters in Houston, TX and their office in Minneapolis, MN.
RJ shared insights into the process of choosing natural wood elements for an office space, sourcing sustainable materials, and keeping employee health in mind while designing a workplace.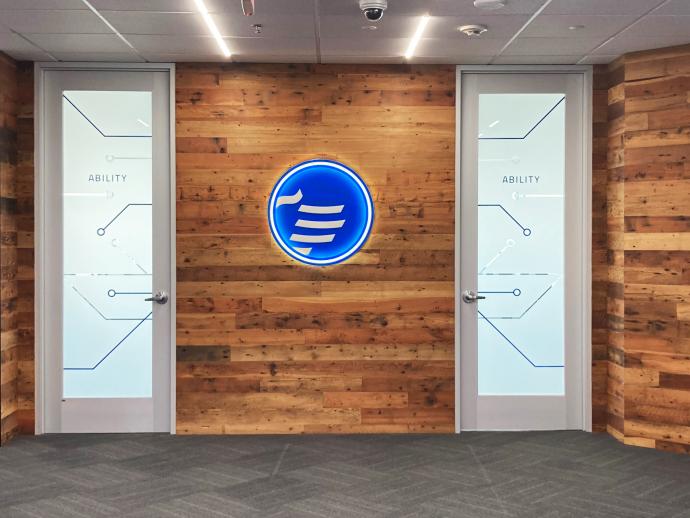 Q: Let's have a chat about the office design process and incorporating wood elements & sustainability into a workplace from your perspective. Can you tell us a little about your background? 
A: I graduated from  Texas A&Mwhere I earned a Bachelor's Degree in Business Administration, and I got my Master's Degree in Business & Strategy from Western Governors University. Currently I am the Director of Facilities and Sr. Contracts Manager for EmpyreanBenefit Solutions, Inc., a health and welfare benefits technology company company headquartered in Houston, TX, which has additional office locations in Minneapolis, MN and Nashville, TN, as well as remote teams located throughout the U.S.

I have been doing facilities management for the better part of twenty years and through that role I have project managed and with the help of my team, designed numerous office and corporate spaces over the years with budgets ranging from hundreds of thousands of dollars up to several million. While I am not an expert in reclaimed wood by any means, through the process of including wood in our recent design work I understand more about it now.  This helped my team and I understand the benefits of using wood, and what to look for.

One of the things that has been really enlightening is learning about how to use wood in specific ways, like where and when to use a particular type of wood and why. Some woods are softer, some harder, and all have different grains that do well in different situations.  Some wood can't be used on floors but can on walls. Understanding what the best uses are in terms of density, strength, and so forth really helped me appreciate what we can do with wood to make our office spaces feel warmer and more inviting to our employees, guests, and clients in a functional and aesthetically pleasing way.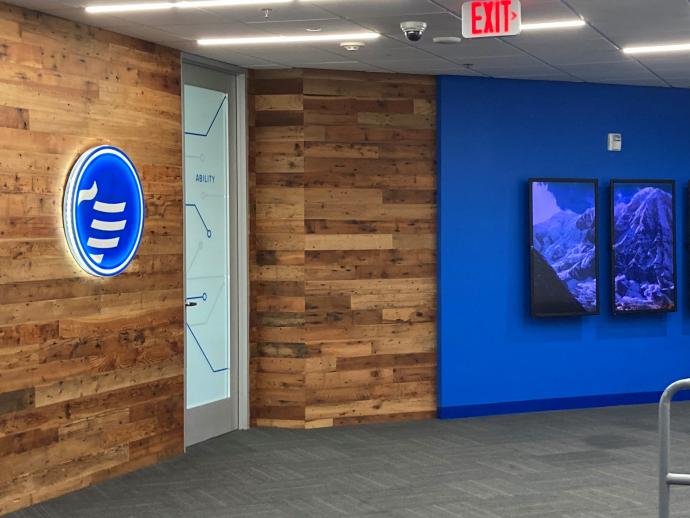 Q: When designing your recent office space renovations, what are some of the factors that came into play when deciding to use natural wood elements versus other materials?
A: For our design in Houston, we were trying to come up with a way to make the space feel warm and inviting while working around the materials and aesthetics that were already in place in our office. When Hurricane Harvey hit Houston in 2017, our previous building was basically destroyed by flood. This forced us to find a new building for our headquarters, which we had to sub-lease at the time. After the sub-lease ended, we signed a new lease in which we inherited all the furniture already in the office's location. That furniture happened to have predominate woodgrains to it, and because we were not going to be replacing that furniture, we had to come up with a way to try to merge that look to what our overall design of the space would be.

So, with our Creative Director, Anthony Shumate, we sat down and started to look at some references and began to come up with ideas for the office. We started to notice some designs that incorporated reclaimed wood that matched our color palate and we thought that would be a good way for us to warm the space up a little bit.

As a healthcare benefits technology company, we help employers manage their benefits for their employees. Some of our guiding principles have been a focus on "high touch" and "culture" as it relates to benefits and service, so to complement that message we wanted to create a warm and inviting space that was also based in technology, we really wanted to convey a mixture of that in our office design. We found that reclaimed wood really helped us accomplish that while keeping with the aesthetics we had to work with in the space, and incorporating a unique circuit design that worked well with the wood accents as well.

While researching reclaimed wood and companies that could provide us with the materials that we needed at the price that we were budgeting, I found Pioneer Millworks. Working with Pioneer was really great in terms of the sales and sample team early on, which was super important to us. We looked at a number of samples, but eventually landed on Pioneer Millworks Saw-kissed Granary Douglas fir that we used for paneling in both our Houston, TX and Minneapolis, MN offices.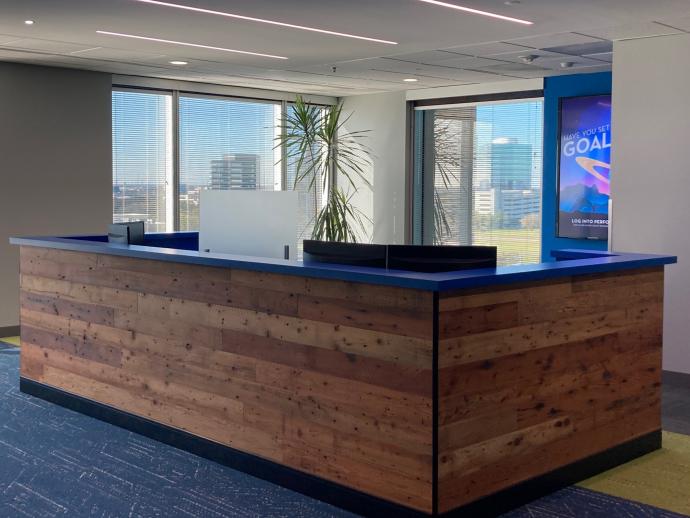 Q: How do the designs differ in the two locations you used our paneling in?
A: The look of our Minneapolis office differs slightly in overall design from our Houston headquarters. In the Minneapolis office we were moving floors within a large office building, and we had decided that we wanted to keep with a consistent overall design feel while still allowing each office to maintain its own identity.

The project ended up with a design plan that incorporated the same reclaimed Saw-kissed Douglas fir as the Houston office to help achieve continuity, which looks great. This office space has a very industrial feel to it when compared with our other locations. It is downtown in a very old office building with an abundance of concrete with exposed pillars and beams. The reclaimed wood softened the industrial feel of the space and really worked well to achieve a warm feeling in that office.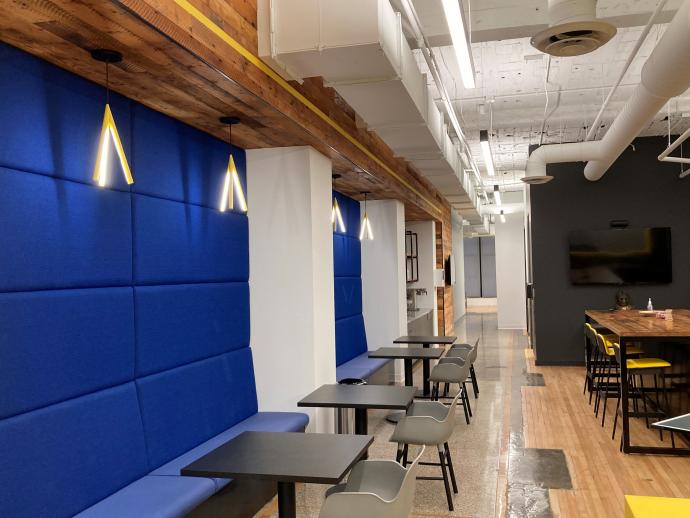 Q: From your perspective, are there any benefits to employees when using natural materials in office design?
A: I think the strategic use of natural elements like wood warms office space and makes it feel less corporate, if you will. The culture aspect you gain when you bring in materials like wood makes an office feel more inviting and less like you are stuck in a blasé workplace. Wood brings a natural feeling to the office space and makes people feel more comfortable.

In our case, everyone has expressed how much they like having reclaimed wood paneling in our offices, even the clients have mentioned it. It makes everything in the space feel and look better and I think it helps with employee mentality and wellbeing while at work.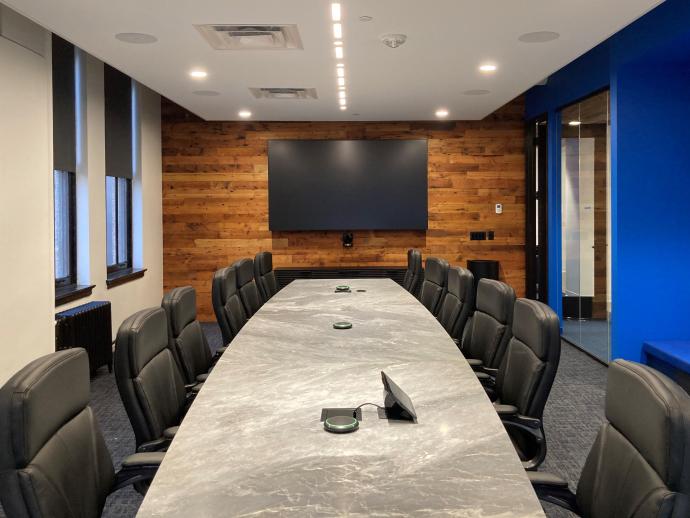 Q: As a facilities manager, are there any maintenance considerations when it comes to choosing reclaimed wood as a design element?
A: At least in terms of wood wall paneling like we have, without drywall and paint on the walls, you don't get the scuffs and traffic abrasions that you would normally have on office walls. It is also easier to clean, because you don't have to worry about pulling the paint off like you would with drywall.

On the flip side, you must be careful where you hang things with wood paneling as drywall is a lot easier to patch and paint if you need to move something, like a mounted tv screen for example. So, there are also challenges when you install wood paneling as well. If it does get damaged in any way and needs to be replaced, it can be tricky.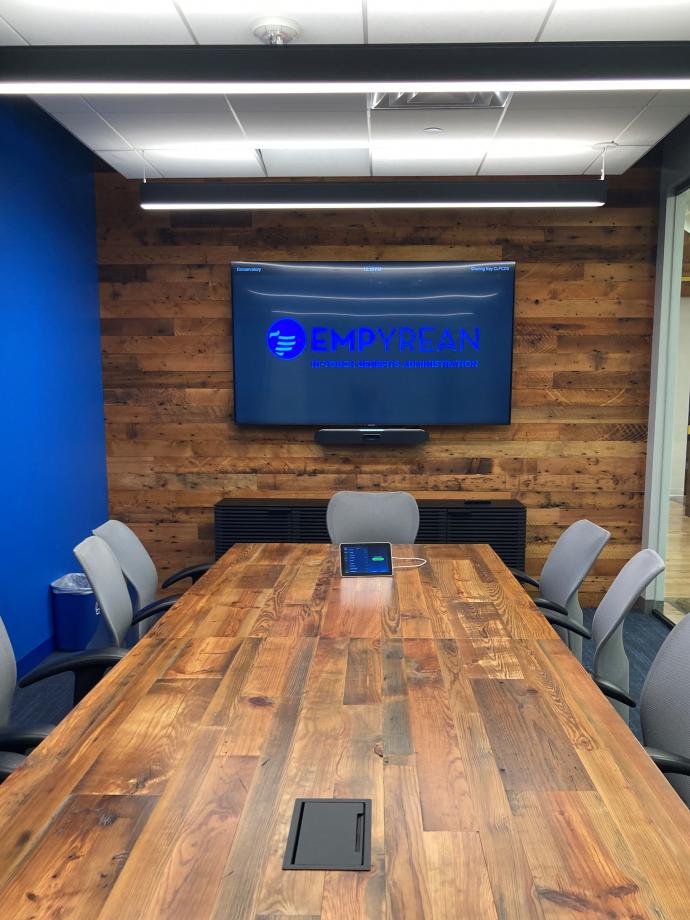 Q: Was the sustainability and carbon sequestering nature of reclaimed wood a factor in choosing it as an element of your office designs?
A: In the beginning, we were looking at reclaimed wood for its looks and to make the space work well aesthetically. But as we grew into the idea, and understood more about the product, the sustainability became an important factor to us.

Now I think sustainability is a good talking point for office design. When people come to our offices and ask, we tell them it is reclaimed wood on the walls and that it is sustainable and reused, that we didn't cut down any trees to get it. So, it's a talking point that gets people thinking.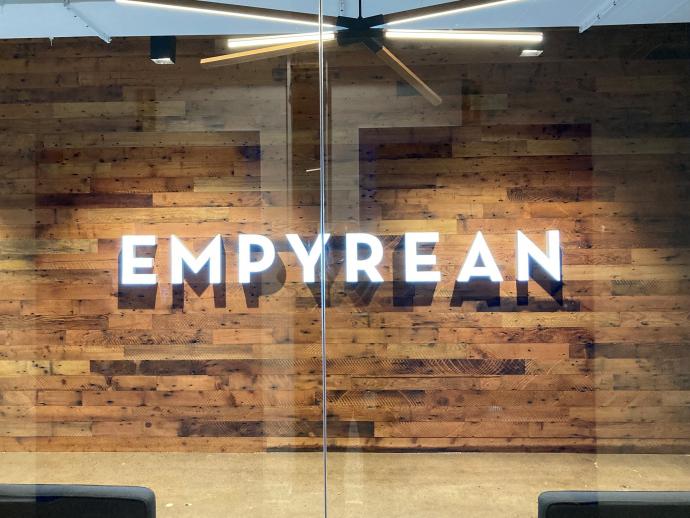 Q: As a Director of Facilities, what would be your argument for using reclaimed wood to someone who was considering it for an office design/remodel?  
A: I would argue that wood is more sustainable as a material choice and when using it as a natural accent, at times, it can even be a cheaper option. Over the course of a design's lifecycle, if you use wood sparingly in the right areas, it has a longer lasting design shelf life.

Currently things like living moss walls are trending in office design, which is a fad that will only last a set amount of time, but the reclaimed wood look will hold out a lot longer when compared to other natural design elements of the moment. Reclaimed wood seems to be able to hold onto its viability as a design aesthetic over time in a way that other elements do not, making it a better value for its longevity.
About:
RJ lives in Houston Texas, is a father of a 12-year-old daughter, and in addition to his duties as Director of Facilities he is the co-employee sponsor of the employee engagement committee at Empyrean, he also organizes the annual company charity golf tournament.