Pioneer Millworks new Accoya® Color — Grey Siding can withstand the harshest of climates without requiring refinishing – ever, backed by a 50-year warranty. The unique color retention and durability of our Accoya siding is made possible by adding a natural grey dye that penetrates the wood to the core, eliminating the need for any additional stains or finishes throughout its lifecycle.
We caught up with Jered Slusser our longtime Sales Manager to learn more about Accoya Color Grey— Siding, and what makes this highly durable new siding and paneling product so special, durable, and sustainable.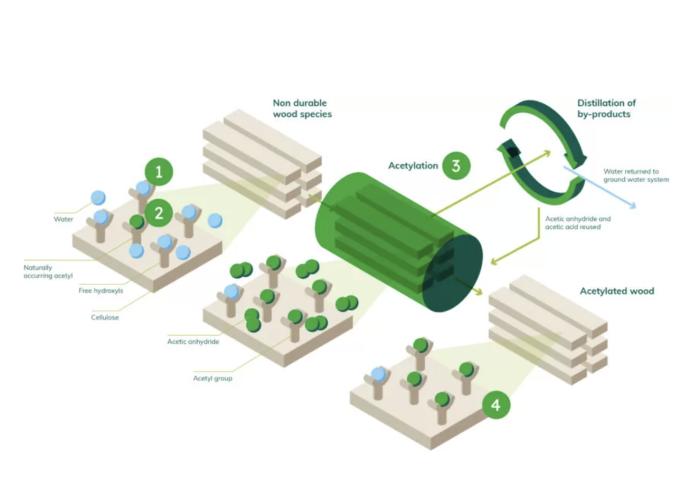 Q: What kind of wood is Accoya?
A: Accoya starts as a fast-growing Pine tree (Pinus radiata, commonly known as radiata Pine) that is sustainably grown in well managed FSC-Certified® forests. The pine timbers are harvested once they reach maturity at around 30-years of growth. The raw timber is then subjected to a modification process using acetic anhydride. This process is called acetylation, which sounds more nefarious than it is.

 

Basically, the rough-cut planks are processed with a food grade vinegar treatment which chemically modifies the softwood Pine to perform better than even some of the best hardwoods by preventing the cells in the wood from being able to absorb water. The result is high performing sustainable lumber with sustainability credentials that exceed those of man-made, intensely resource depleting, and heavily carbon-polluting alternatives, such as composites and tropically-harvested species.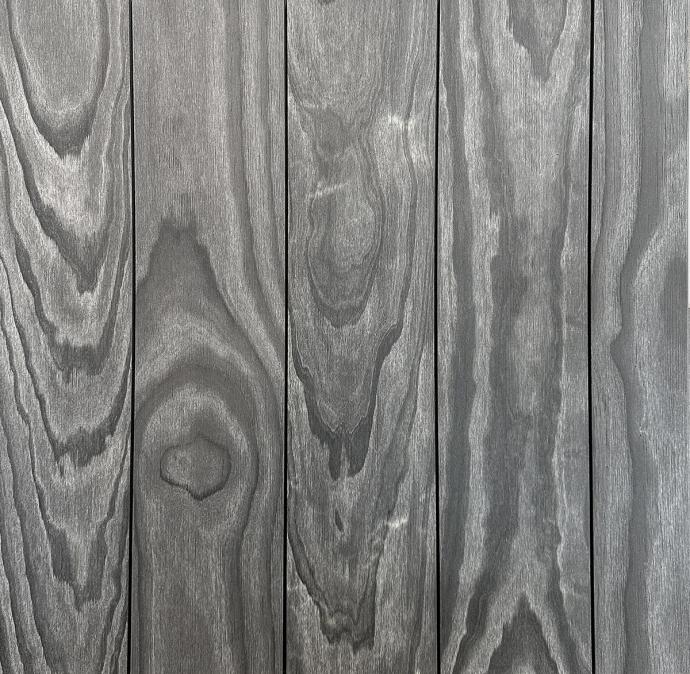 Q: How is Accoya Color- Grey Siding different than regular Accoya?
A: These siding boards start by going through the same modification process as our other Accoya products, but directly after the acetylation process a grey dye is added that penetrates the wood to the core with pigment, meaning that any cut ends maintain their color without needing any additional stains or finishes.
Q: How is this Accoya siding different than other siding options?
A: Accoya is accredited by Forest Stewardship Council® (FSC) and Cradle to Cradle (C2C) and is the only construction material in the world to achieve C2C Platinum Certification™ for Material Health. It truly is an environmentally conscious and sustainable siding product to use, not only in terms of how its manufactured, but also in the longevity of its lifecycle when compared to some of the other product choices that are out there.

 

Unlike some man-made options like vinyl siding or Hardie Board, Accoya siding will give folks a completely natural, sustainable option that will last a lifetime with little to no maintenance. It will also be an alternative to less sustainable hard wearing wood siding that offers very clean, clear appearance with a subtle flowing grain pattern and no knots.
Q: What does the 50-year warranty that comes with Accoya siding cover?
A: Accoya comes with an unrivaled 50-year warranty for siding installations that adhere to the manufacture's guidelines. This means that the wood is guaranteed to remain stable and will not rot that timeframe. A homeowner can expect to install Accoya siding once, and never have to worry about it again, which is part of the reason why Accoya is such a great siding option.
Q: What else about Accoya Color – Grey Siding makes it such a compelling product?
A: The most unique thing about Accoya Color – Grey Siding is that the grey color is the same all the way through the board, and that was achieved through a completely naturally process.

 

There are a few other products out there that are colored the same all the way through, such as thermally modified but they are sometimes not as sustainably produced, and they start out brown in color. Those thermally modified options will also still fade over time if left unfinished and turn a shade of grey on top, but not all the way though the board. One of the ways that Accoya is so unique is that it not only starts off as grey, but it is also grey to its core, and will not fade or lighten in the same way as other similar options.

 

Our sales team are really experts at talking to homeowners, builders, and designers about the different siding options that are available to them, and really guiding them through the process to choose the right materials for their project. The best way to learn about how unique Accoya Color – Grey Siding truly is would be to talk with our team and get a sample sent to your home or office. Once you have this material in your hands you can really appreciate the quality, durability, and unique nature of Accoya.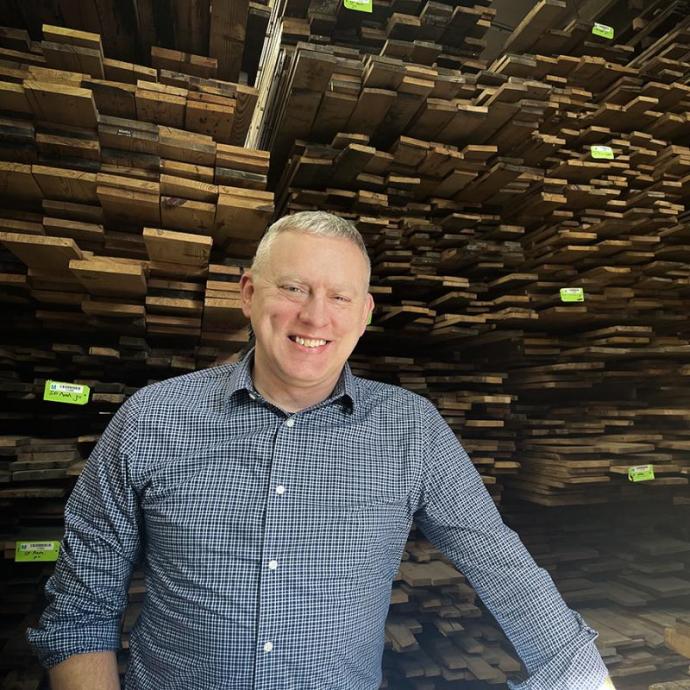 About:
Jered started with us back in 1997, bringing a BFA in Interior Design and a passion for all things wood. He works with builders, architects, and designers, helping them navigate our extensive product line to find the perfect fit for every project. He is an avid rail-fan & model railroader, creating custom-painted model trains during the winter months. Throughout the summer weekends, he and his wife, Jamie, can be found RV'ing their way around the northeast. 
Learn more about Pioneer Millworks Accoya® Color — Grey Siding:
Accoya is a sustainable material choice that helps meet global challenges like climate change. From source to production and through to the end of its life cycle, the sustainability of Accoya comes full circle. Being that Accoya is really pine-gone-science it is like all wood, a carbon sink and thus helps combat carbon emissions for a healthier world. It is also a 100% nontoxic material choice which contains no biocides or harmful chemicals, safe for people and pets as well as the planet.
Related Content:
Endless Summer – Accoya® Color - Grey Decking | Pioneermillworks
Accoya® the Outdoor Over Achiever | Pioneermillworks