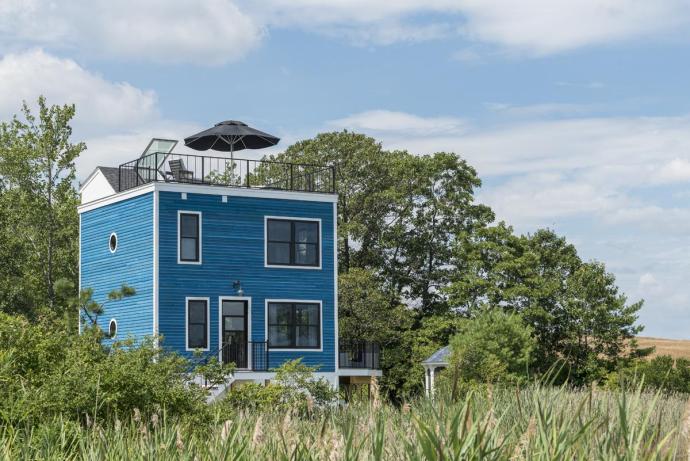 For homeowners Ed & Bianca building a vacation house/ Air B&B on a salt marsh in Massachusetts was a dream years in the making. Designing and building a custom home is often challenging under the best of circumstances but going through the process on a natural salt marsh added new challenges.
We caught up with Ed & Bianca to talk about the challenges of custom home design, the unique building conditions the project faced, and why they selected Pioneer Millworks Larch Shou Sugi Ban cladding for the exterior of their new vacation home.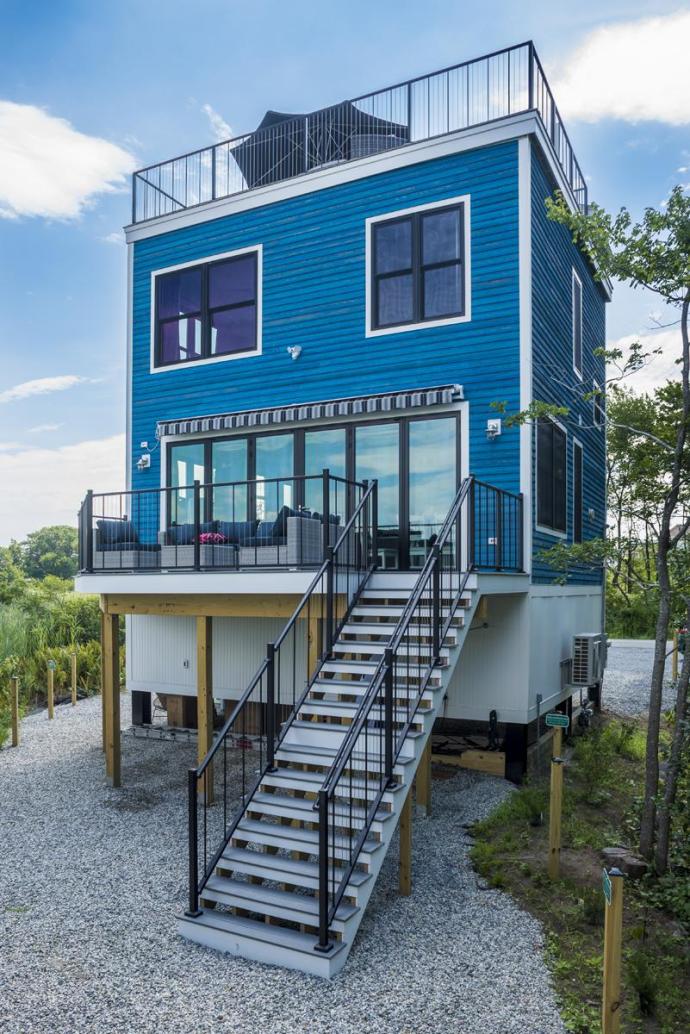 Q: How did this unique vacation home project get started?
Ed: The house has been six years in the making from when we first saw this parcel of land on the salt marsh near Salisbury Massachusetts. We really designed this house to maximize the views of the marsh wetlands and surrounding area with the addition of a rooftop deck. We felt the land had some incredible views, but we really didn't know just how incredible they were until the house started taking shape and we could see things from the different levels of the home.

This is a five-acre plot of land, but because it is a salt marsh there is only a small amount of it than can be built on, so we were limited on the footprint size our building could be. Because of that we had to keep the home small and this multi-level design with a rooftop deck really worked well for the build site.

Keeping the home on a small footprint also has some fringe benefits, especially with the rooftop deck. By being higher up you move away from the insects like mosquitos, who only fly up about 25 feet from ground level, our rooftop deck is over 30 feet up, so we eliminate that problem entirely. This is true of a number of pests, so we can sit on the rooftop deck at night by the fire pit and not be bothered by any bugs.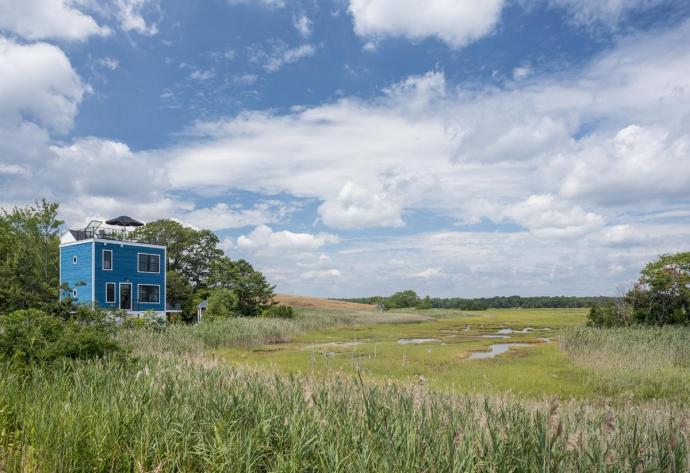 Q: Why did you choose to build a home on a salt marsh?
Ed: A while back we bought a condo on Hampton Beach and one side of that building was on the ocean and the other faced a salt marsh, and what we discovered is that we enjoyed the wildlife and natural beauty of the marsh just as much if not more than the ocean. Also, being directly on the ocean has certain disadvantages in terms of maintenance and associated costs due to severe weather, salt, and sand. This home is close enough to the beach but set back enough into the marsh to enjoy the peaceful, quiet, and serene abundance of nature all around it.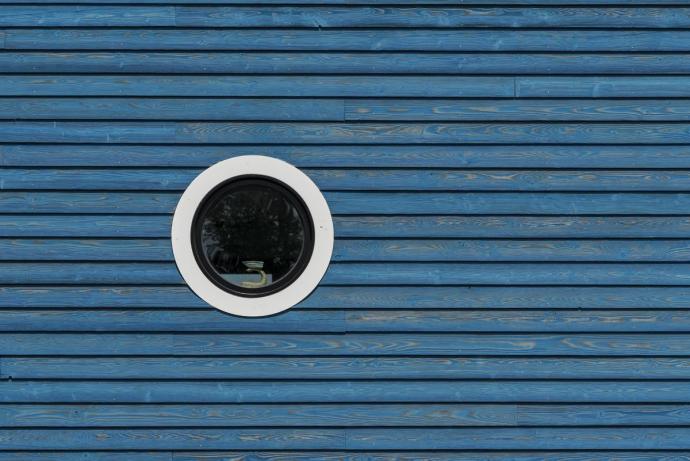 Q: Why did you select Pioneer Millworks Shou Sugi Ban Larch for the exterior cladding of the home?
Bianca: We chose the Shou Sugi Ban Larch in Cobalt to match the ocean, and because we absolutely love things that are a bit more eclectic and draw your attention. I am definitely an extroverted personality type, so I loved this shade of blue. As soon as we got product samples and could compare the different options that were available, I was drawn to the cobalt blue color. It took some convincing, but the samples that we got from Pioneer Millworks were just so gorgeous, it was clear to us that this was the right choice for a home like this.

Because the home is such a small design, we felt that you could do the exterior in a color like cobalt, and it would not be overwhelming because it's not a gigantic house. We think that material choice was extraordinarily effective visually, and it makes me very happy.

Ed: The texture of the siding is also so beautiful, to be able to see the swirling grain patterns so clearly. With the cobalt color and the location on the marsh, it gives the home almost like a wave like pattern that just fits the surroundings so well.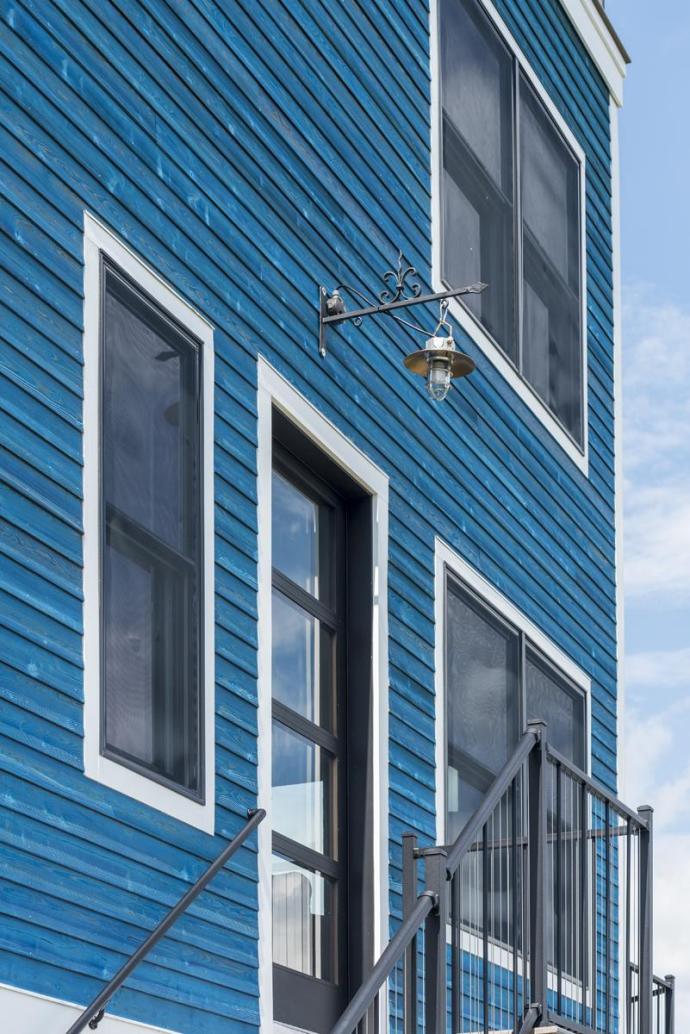 Q: Because the home is built on a marsh, were there any special considerations needed when choosing an exterior siding?
Ed: When I started this project, I looked at a lot of different material options that work well on costal homes near the sea, because there are very specific conditions out here that can affect a home's siding. When I started to learn about the history of Shou Sugi Ban as an exterior siding option, I found that it was a very durable and resistant to things like mold, mildew, insects, fire etc. it has so many positive attributes for use on the sea coast we thought it would do really well over time in this marsh location.

Bianca: I am also a crafter and have seen the Shou Sugi Ban technique done in a much smaller scale in creative ways. To be able to utilize that technique on the whole exterior of a house, it is incredibly exciting for me. So, this siding choice was partially for artistic reasons but also because, like Ed said, there are tremendous benefits for maintaining a house on a salt marsh.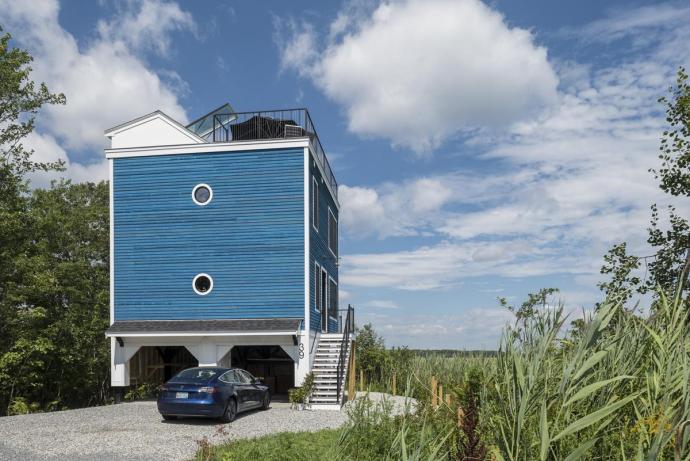 Q: Having gone through the process of building a new vacation home, do you have any advice for folks who may be considering doing the same?
Ed: My best advice, especially because of the Covid environment we are still in, is to plan ahead with materials and components of your project, even if that means bringing in a container to store things on the build site for a while. Making sure all your materials are readily available to you in the right quantity will make things much easier.   

Bianca: My big take away from this process was to be careful who you choose to install your siding. The way a contractor installs this material makes a huge difference. The one thing I think we have learned is that most contractors and installers have never worked with this type of material before, and it is different to work with than more common material choices, so there is a learning curve, and you can't just run to the hardware store and get more of it if something goes wrong. It is very important that whoever you have do your instillation do their research and familiarize themselves with how to install these products correctly and efficiently, so you don't end up needing to order more halfway through the job and have to wait for it to be manufactured and shipped to you.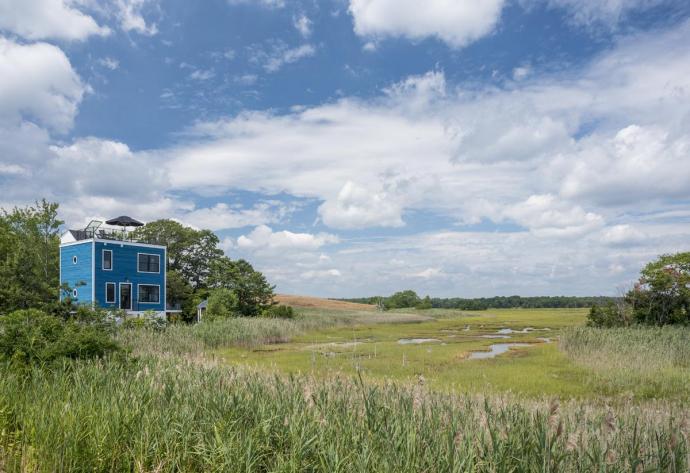 Q: Now that the project has been completed, how do you feel about your new vacation home?
Ed: We love to visit this vacation home and we also have it listed on Air B&B where it has quickly caught on. We have had six rentals so far and the folks that are in there right now told us that it is the best Air B&B they have ever stayed in. We are hoping that through the process of having different people come stay at the house that we can educate them on the different features of the home like the siding, windows, and some of the other unique features.

Bianca: I can tell you this; this project took so long to complete because of a number of factors, least of all covid delays, that there were times that we though: is this worth it? We were way over budget and way over our original timeline, but now that it is completed, we are kind of blow away at how beautiful the house is, so in the end I feel like it all turned out BETTER than we originally thought it would, and that is a really nice feeling. When people walk by and say things like "I love that blue house!" it makes the whole process feel worth it.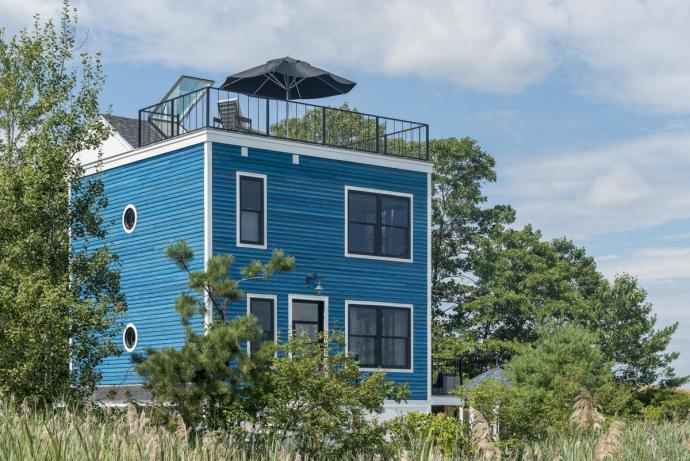 Pioneer Millworks materials used on this project:
Shou Sugi Ban — Charred Siding & Shiplap | Larch Cobalt| Pioneer Millworks
Visit the Air B&B listing for this home:
Pirates Hideaway - Sanctuary on the Marsh - Vacation homes for Rent in Salisbury, Massachusetts, United States - Airbnb
Visit them on Instagram: Eddie & Bianca (@pirates_hideaway) • Instagram photos and videos