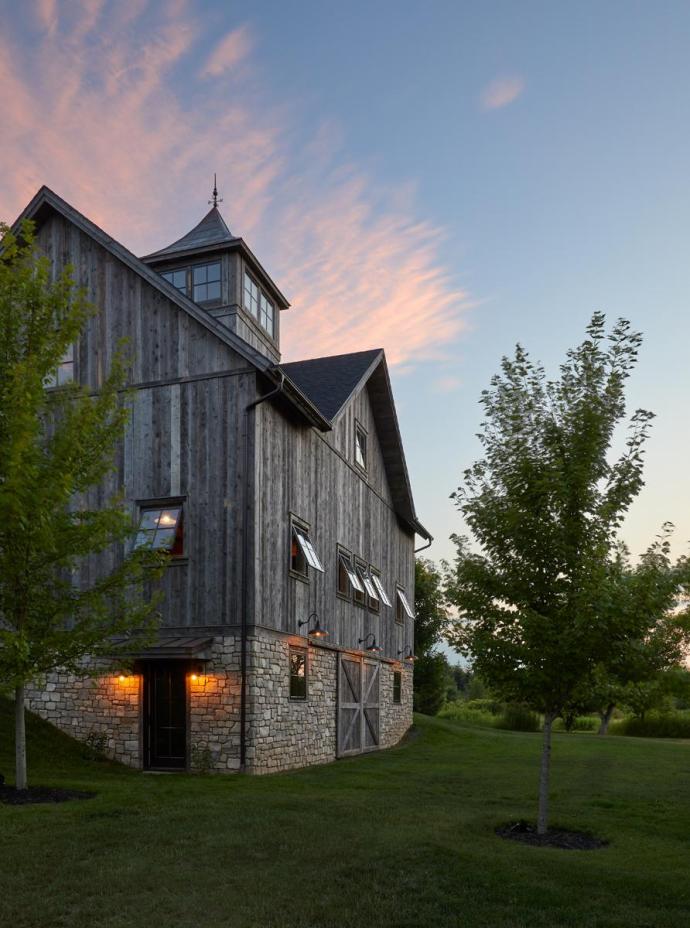 When homeowners Mike & Carrie bought their farmhouse in the Finger Lakes region of New York 23+ years ago, there were foundational remnants of the original turn of the century barn on the property, which they always dreamed of one day rebuilding. More recently the couple, who now have four adult children, realized they might actually need a barn for additional storage and a place to socialize near their backyard pool area.
The construction of their new traditional bank style barn was a collaborative effort with the barns classically styled timber frame provided by our sister company New Energy Works as well as other partners Hanlon Architects, and Russell Builders.
We caught up with Mike & Carrie recently to talk about their new barn that was intentionally designed to look like a vintage structure clad in Pioneer Millworks Farmed Board, which helped to give the barn its timeless appearance. The interior of the barn also features some custom wide plank Hickory floorboards that help to carry the antiqued look in from the exterior with plans already in the works for further finishing details.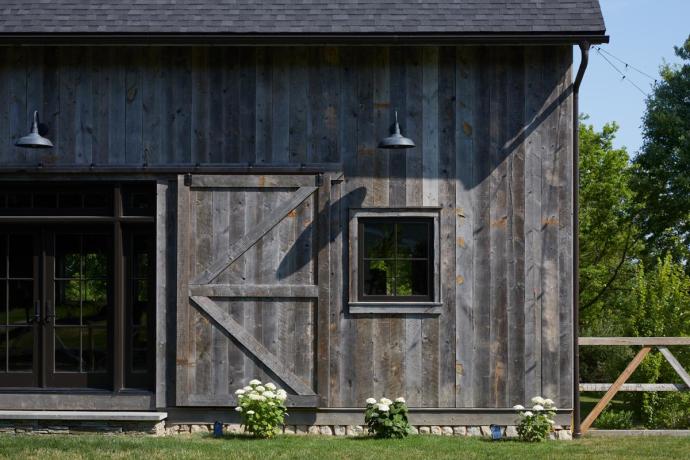 "We knew Pioneer Millworks from many years ago when we used them for some of the flooring in our home, so we were familiar with the team and relationship between Pioneer Millworks and their sister company New Energy Works, who provided and raised the timber frame of the barn," Mike told us. "When we were designing our barn with the help of New Energy Works some of the reference photos we were looking at had exterior siding from Pioneer Millworks that had a look we really liked. The Farmed Board siding really had the right weathered feel we were going for, so that is why we ended up using it, because we knew the company and their products, which made the decision a lot easier for us. "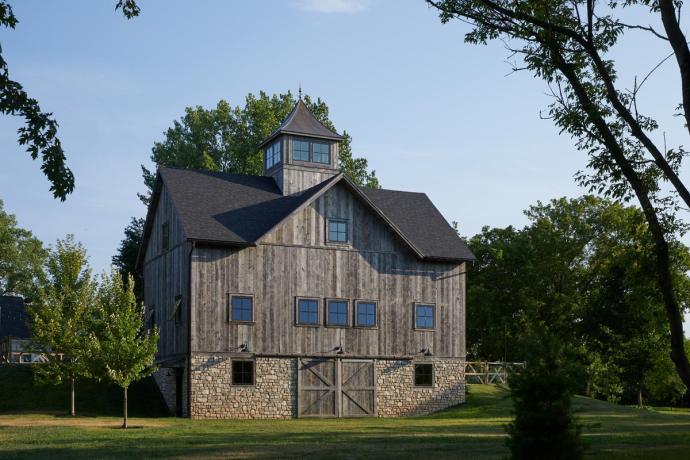 "It was a fun project beginning to end. It never felt difficult or tricky. All the decisions were easy, and they were made easier because everyone we worked with had the same vision that we had for the barn, so they were able to recommend things like the siding and flooring because they knew exactly the look we were going for," Carrie added. "That made it really fun, because it removed all the stress."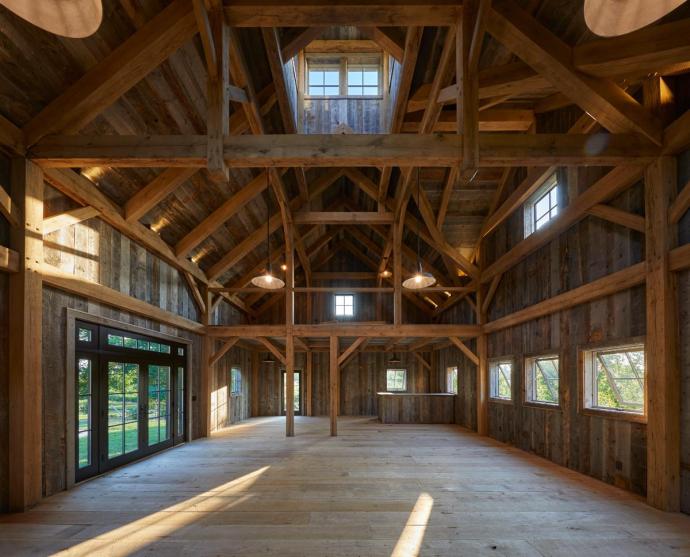 "The next phase is we are going to finish the interior loft and put in a staircase and a few rooms on the upper level with Pioneer Millworks paneling to match the rest of the barn. We are also planning to put in a kitchen, maybe a bathroom, and furnish the living space," Mike explained. "We are very happy with our team of Hanlon Architects, Russel Builders, New Energy Works, and Pioneer Millworks. This barn is something that brings our family, and hopefully future families, lots of joy, that's how we think of it. "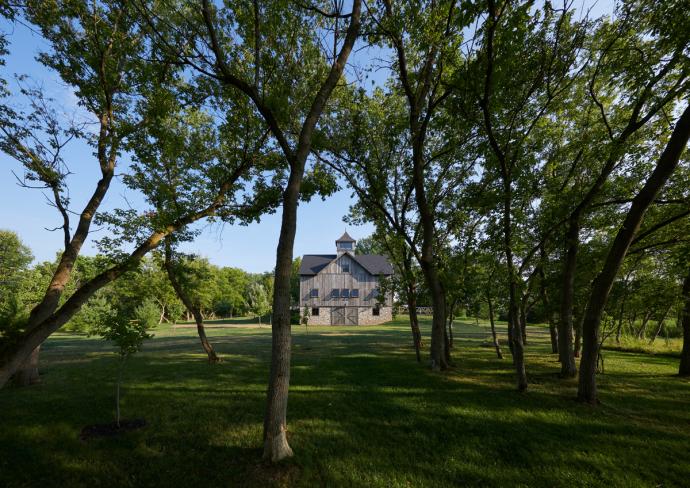 "I do love the fact that this barn is standing in the space where an old barn used to be. When we bought this turn of the century farmhouse property 20+ years ago there was an old crumbling barn foundation complete with old cow stalls," Carrie mused. "You could clearly see where there was once a functional barn with a life and history here, and I think it is really cool that we have put a new structure there right in the same footprint and brought that barn back to the farm. "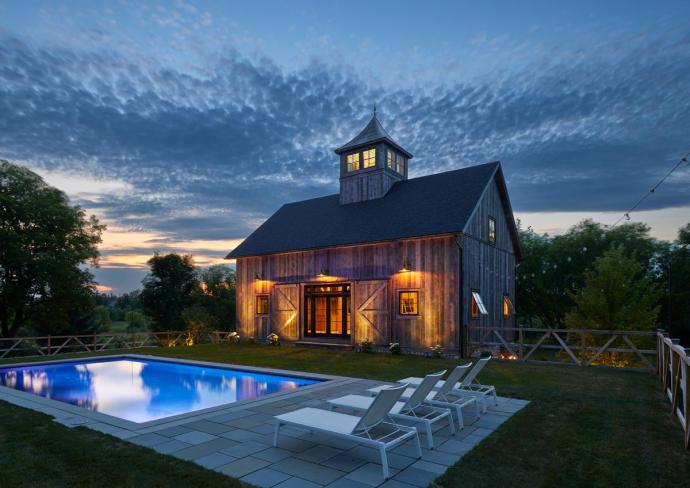 About Farmed Board: 
Pioneer Millworks Farmed Board – a new siding and paneling product that is crafted in the U.S.A. from domestic softwood lumber that has been carefully exposed to natural elements, weathering gracefully over time to give them a classic barn-board appearance.
These boards develop a distinct aged patina as they naturally weather with surface colors that vary from graphite to silver grey. Best of all they are available in long lengths and wide widths, making them a consistent option for siding applications and larger projects.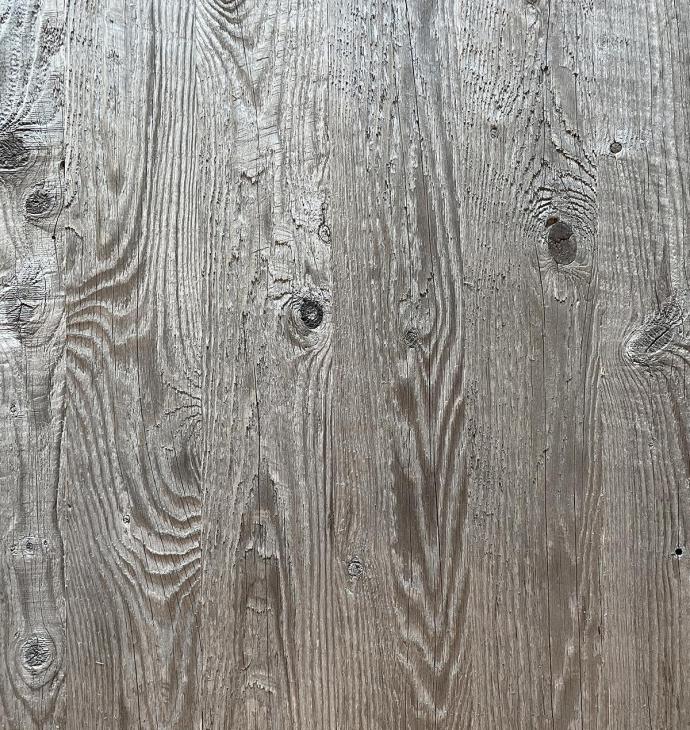 See more:
Farmed Board: New Product Q&A | Pioneermillworks
Private Residence—Upstate, New York | Pioneermillworks
New Energy Works Case Study:
The Wedding Barn | New Energy Works