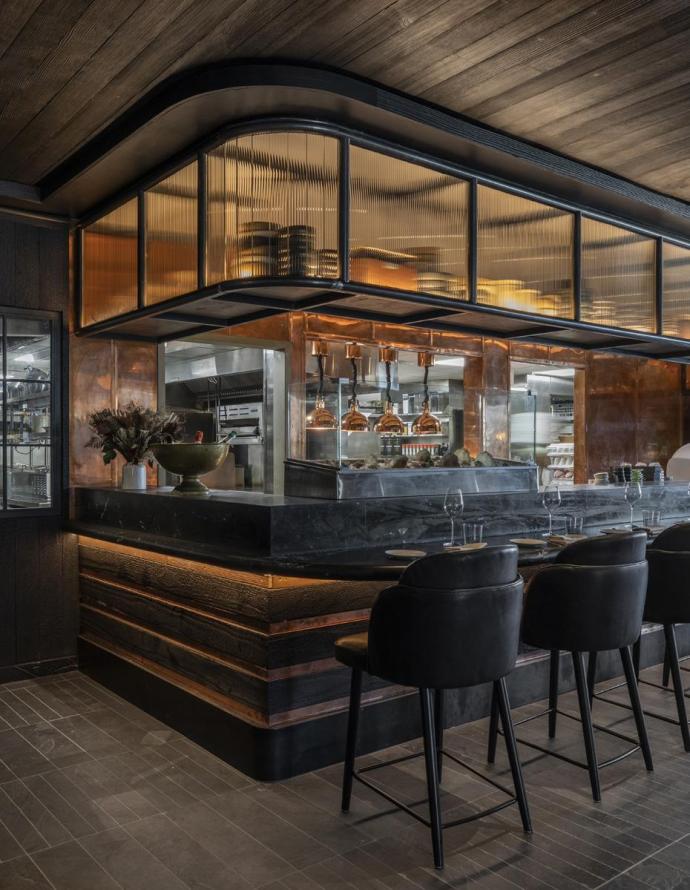 Andiron is an atmospheric fine dining steak-house restaurant in Houston Texas that features Pioneer Millworks Shou Sugi Ban Douglas fir in Carbon & Toasted, as well as Accoya®Deep Char throughout its lavishly decorated interior. The variety of burnt wood cladding gives the space an upscale modern dark-deco feel with a nod to sustainable material choices.
We caught up with Senior Design Manager on the project Andres Lamos from the team at AvroKO — Interior Design to discuss the unique look of the steak-house, the ideas behind the material choices selected for the project, and how the space fits into the tradition of entertaining and hospitality in Houston Texas.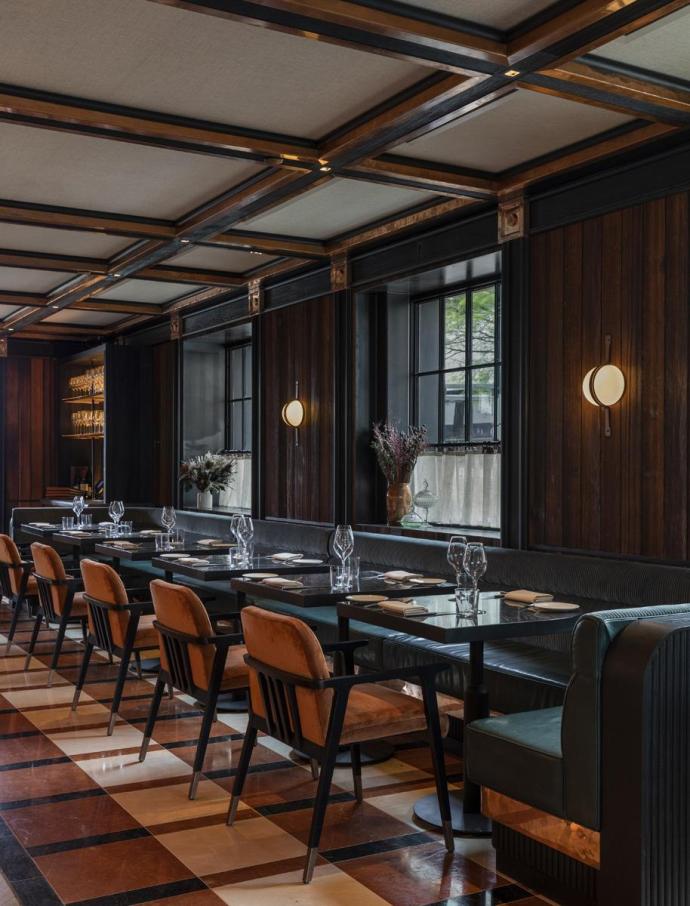 Q: What was your role in this project and how did it get started?
A: I am a Senior Design Manager at AvroKO, and my main role/responsibility is to lead the design and management of projects, like Andiron. For this restaurant in Houston, Texas the client came to us with some of the fundamental ideas that this restaurant was going to represent, and our team took those ideas, looked at them through many lenses including the history of the Houston Texas region in terms of design & hospitality, and created core concepts for our overall design narrative.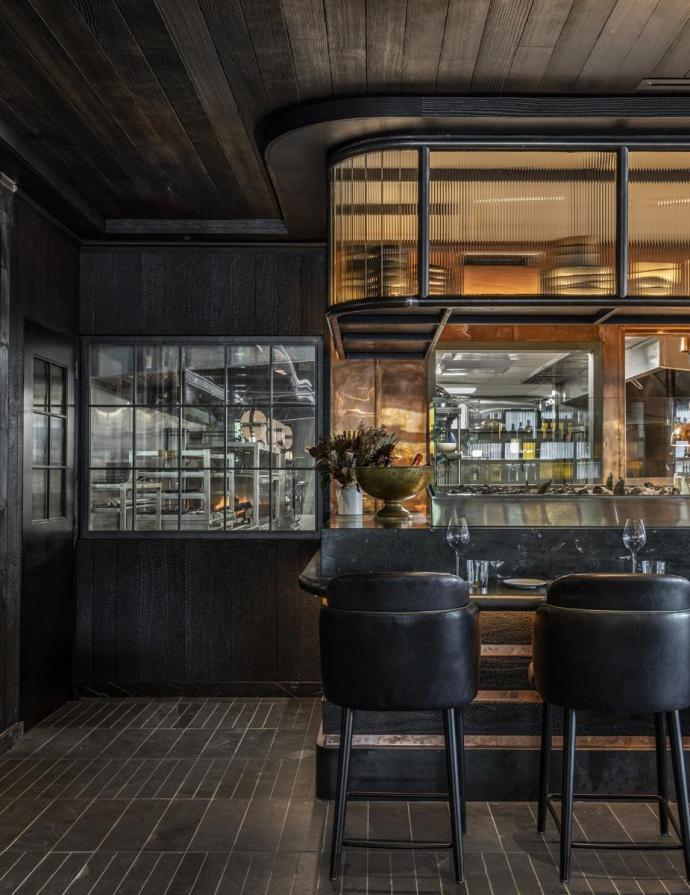 Q: What were some of the ideas behind this project's aesthetic and material choices?
A: With this project the client wanted to elevate the tradition of live-fire Texas barbeque in a fine-dining context with a forward-thinking presentation and diversity of menu offerings. Knowing that, our team leaned into that concept to develop the welcoming nature of the space with a nod to the 22-foot open fire grille much of the food would be cooked on.

The personality of the owner, Michael Sambrooks, and his history in Texas were also major design components. We wanted the space to feel like you were walking into his home and to give a feeling of hospitality and intimacy – so much of the design is modeled after the layout of traditional upscale Texan homes from the early 1900's paired with the familiarity and comfort of the Houston, TX food scene.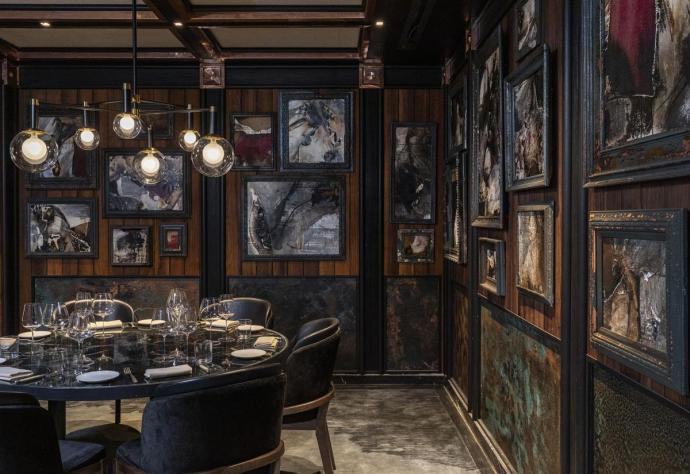 Q: Shou Sugi Ban cladding is a unique choice for a fine-dining steakhouse, how did it become such a prominent material choice for the project?
AvroKO has worked with Pioneer Millworks on a number of other projects, but for Andrion we felt that Pioneer Millworks had a great selection of burnt wood that really matched exactly what we wanted to do with the space. We worked with the sales team from Pioneer Millworks who provided great samples and advice to help us dial in our options, and they did an excellent job.

The variety of Shou Sugi Ban burnt wood products we chose for the walls, ceilings, and bar areas came from the concept of "what it's like to be touched by fire" paired with our open kitchen concept for the restaurant, which prominently features a live fire grill. Bringing that sense of flame to the guests in the dining room and bar areas to immerse them in the sense of the live fire cooking that is happening in the kitchen was a core concept in our design narrative.

The design also included the strategic choices of materials to not only create a richly textured space, but to also cut down on noise to help preserve the intimacy of the dining experience for guests. We used acoustic paneling in the ceilings and heavy fabrics in the seating areas, pairing this with the Shou Sugi Ban paneling was the cherry on top and really helped with the acoustics in the space.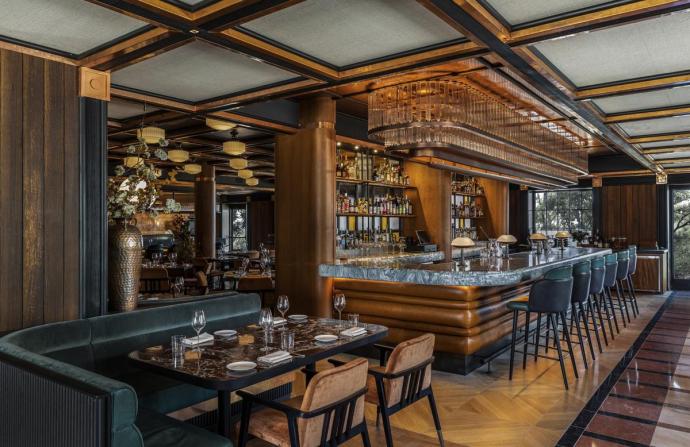 Q: Why is choosing sustainable products and materials for the projects you work on a focus at AvroKO?
A: Sustainability is very important to us, and our team does our very best to approach material and design choices responsibly and sustainably. AvroKO tries to emphasize the importance of sustainable material choices, not only because we feel it's the right thing to do, but also in terms of longevity of a design.

Ultimately, I think the projects that make sustainable material choices throughout the design process last longer, not only physically, but emotionally, because the story of sustainability in a space resonates with people.

We work on a variety of different projects all over the world, and when we think about natural and sustainable materials for those projects, stone or wood etc. we know that they are going to last longer than synthetic options, they are going to look better, and even though they may come at a higher price point, it is an investment that will pay off not only in the future of the space, but for the future of our planet.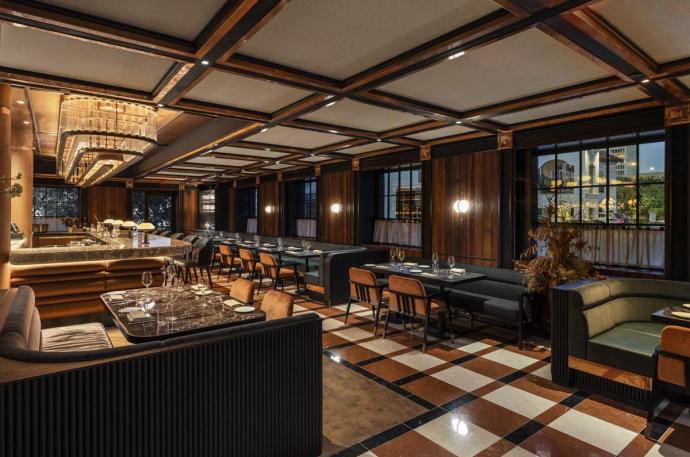 ABOUT:
Andres is a strong, multidisciplinary design leader who has found a way to bridge gaps between the well-established architecture and interior design fields with new brand concepts and the ever-evolving technology market of today. Having had the opportunity to work across multiple global regions on high profile architecture and interiors projects, Andres brings this international experience and approach to impact both the micro and macro details of a project's design.
Before joining AvroKO, Andres managed numerous projects for Meyer Davis including amenity spaces within the renovated Address Downtown Dubai, the re-envisioning of Dream Hotel Group's guest room for the flagship brand and aided the design and construction of Crown Resorts' One Barangaroo tower in Sydney. In just five years with AvroKO, Andres led the design of Justin Timberlake's 12:30 Club in Nashville, TN.
He recently spearheaded the refresh for the Hudson Eats food hall and all of the office lobby spaces for Brookfield Place that surrounds the Winter Garden area in downtown NYC. Andres also has been a key design leader to the AvroKO Hospitality Group self-designed / -owned / -operated food & beverage venues, such as the Ghost Donkey which is being successfully rolled out across multiple cities in the US, and he is currently helping design, manage, and open over half a dozen hospitality projects of varying scales in North, Central and South America.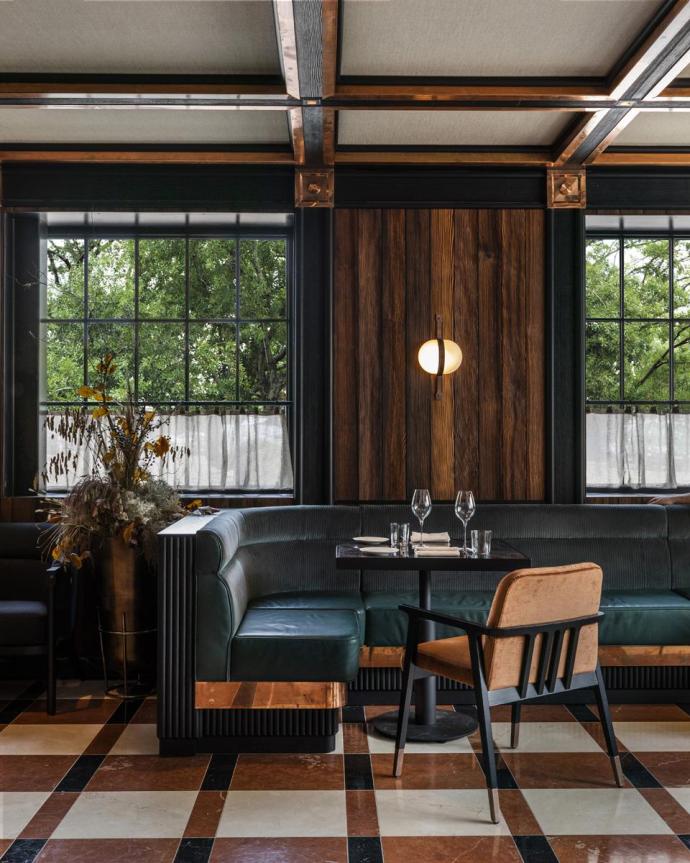 Also see:
Helmed by executive chef Louis Maldonado, who brings plenty of star power to the table with experience cooking in Michelin Star restaurants, including French Laundry in Yountville, and Aziza, Mourad, and Cortez in San Francisco, Andiron sets itself apart by combining the classic elements of traditional steakhouses with a modern small plate progressive dining experience. The focus is on simply treating quality meats and fresh seafood and preparing them over the restaurant's 22-foot live fire grill.
Since its launch in 2001, AvroKO has earned a reputation as one of the world's most innovative design firms, due in large part our integrated design process and focus on creating emotionally connected experiences. In the past decade, the firm has grown to four offices (New York City, Bangkok, San Francisco, and London) working on projects across 22 countries in 32 cities, launched over a dozen company owned-and-operated restaurants, created a furniture and lighting company (Goodshop), and established a stand-alone hospitality branding and strategy agency (Brand Bureau).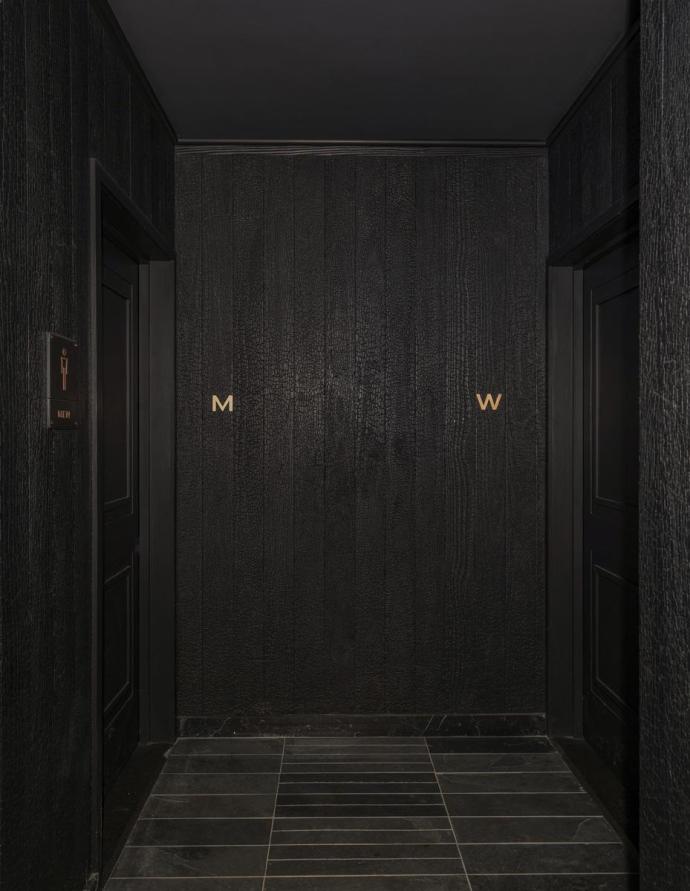 Related content:
Andiron - Houston, TX | Pioneermillworks
Wood in Bars & Hospitality: Pindustry Q&A | Pioneermillworks
Wood in Bars & Hospitality: Honey Elixir Q&A | Pioneermillworks
Products:
Shou Sugi Ban — Douglas fir Carbon | Pioneer Millworks
Shou Sugi Ban — Douglas fir Toasted | Pioneer Millworks
Shou Sugi Ban — Accoya®  Deep Char | Pioneer Millworks
Photos by: Julie Soefer